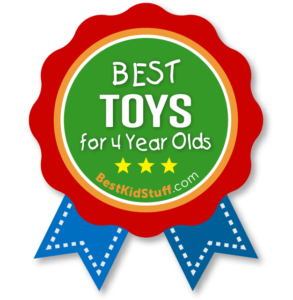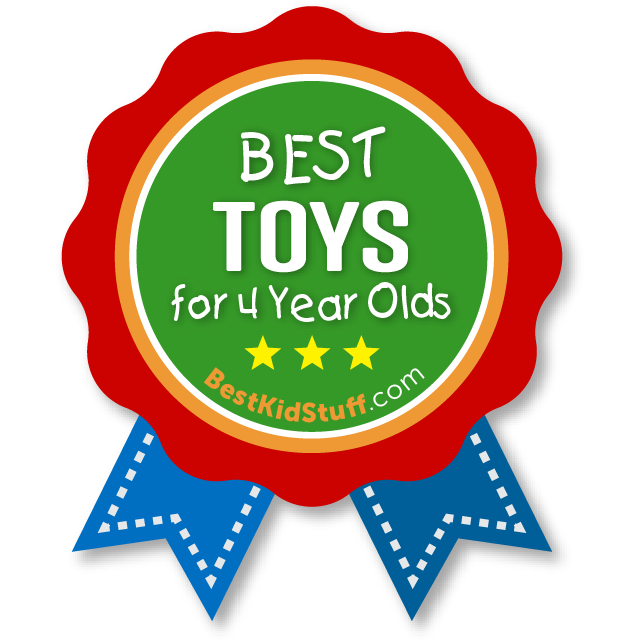 Whether you're a parent, a teacher, an aunt, uncle, grandparent or family friend, you've probably realized that there are more occasions to buy toys for four year olds than you'd have ever thought. Whether you're celebrating entering kindergarten, the birth of a sibling, a birthday, holiday, or dance recital, a new toy is welcome and expected. Four is an age of rapid change as well, with new language skills and independence. Four year olds are quickly outgrowing their toddler toys and are ready for new toys that will challenge and entertain them.
Some toys for four year olds are stimulating and exciting, others promote calm and reflective play. Some are meant to be used in pairs or singly, others work best in a group. Many toys give kids a goal, and engage their problem solving ability through a game or challenge. Other toys are open-ended, and can be used for free exploration or creative play. Toy art materials, sports equipment, or cooking sets can even allow kids to try out their own simple version of adult activities. The best toy chest will have a combination of each of these different types of toys for four year olds, so they can explore a range of activities according to their mood.
Toys for four year olds are more than just fun- play is the main way kids at this age learn about their environment, develop social skills, gain fine and gross motor control, grow their ability to communicate, and acquire basic knowledge about science, numbers, and letters. The best toys for four year olds are ones that keep kids laughing and having fun, either alone or with family and friends, while also helping them develop, grow, and reach age appropriate milestones.
When shopping for toys for four year olds, you'll want to look for toys that promote development, whether that's educational or creative. You'll want toys that are safe and durable in materials and construction, so they can withstand the rough play little kids subject them to. And you'll want toys that will remain interesting and fun for them as they get older, so they can continue to be used for many years. And, of course, you'll want a toy that's affordable and widely available.
Every item in our list of Best Toys for Four Year Olds is safe, durable, and long-lasting. They are also all affordable. Each one has a total cost of $30 or less, making them reasonably priced for birthday gifts, as well as any of the many other occasions that calls for a new toy.
1. Melissa & Doug Dinosaur Jigsaws in a Box, Four Wooden Puzzles

Our top pick in Best Toys for Four Year Olds combines two well-beloved childhood staples: dinosaurs and Melissa and Doug. Few companies are as beloved by parents as Melissa and Doug. The founders are experts in play, with a family of six kids, and understand what parents want in toys for kids: simplicity, quality construction, and economical pricing. It's no wonder that NBC News has called this company "the gold standard in early childhood play."
At a cost of just $11, this beautiful set of four wooden dinosaur puzzles represents the best bang for your buck in kids toys. All kids love dinosaurs, and this jigsaw puzzle set introduces the younger players to four of the most famous: Stegosaurus, Triceratops, Apatosaurus, and T-Rex. The designs are simple and colorful and, though they're definitely cartoonish instead of realistic, the proportions and anatomy are accurate enough that these dinosaur puzzles have true educational value.
Each of the four puzzles is simple enough for four year olds to solve, with just 12 large pieces. The sturdy wooden box keeps pieces together, and the lid has a frame that can be used as a surface for assembling the puzzles. The box has four compartments, so the puzzles can theoretically be sorted into separate compartments. In practice, it's more likely that the pieces will become mixed together, of course. That means solving these puzzles may require a little help from mom and dad at first. Kids as old as 5 or 6 will likely enjoy solving these puzzles on their own, and with its sturdy construction means it will last for years- provided you don't lose any pieces, of course.
The low price and convenient availability of this toddler toy make it an excellent birthday gift. Last-minute shoppers will be pleased to know that in addition to a low price of just $11, this Best Toys for Four Year Olds winner is eligible for free and fast shipping through Amazon Prime.
Pros and Cons
Pros
Wood pieces are durable and resist the bending and tearing that happens to cardboard puzzles
Colorful dinosaurs introduce the youngest kids to well-loved species: Stegosaurus, Triceratops, Apatosaurus, and T-Rex
Jigsaw puzzles develop fine motor and problem solving skills
Outstanding quality of materials for a low price of just $11, with free Prime shipping
Sturdy construction means this toy can be passed on to younger siblings
Carrying box doubles as a puzzle board and keeps puzzle pieces organized
Cons
Losing even one piece makes entire puzzle a far less desirable toy
While almost all kid naturally love dinosaurs and paleontology, dinosaurs are often associated with boys, and parents may feel that this is a less traditional toy for girls
Dinosaur pictures are cartoonish, rather than realistic, making them less technically educational
Jigsaw puzzles require fine motor control to solve, and can be frustrating for kids who haven't yet mastered these skills
Multiple puzzles in one set means the pieces for each will become mixed together, making the puzzles more difficult to solve
Score
Cost: 96/100
Durability: 96/100
Availability: 100/100
Education/Imagination Value: 100/100
Length of Use: 90/100
Overall score: 95.2/100
2. Magna-Tiles 15 Piece Stardust Set

Magna Tiles is one of the most lauded brands making toys today. They've won a bevy of awards from sources like Parents Magazine, Purdue University, Independent Toy Awards, and Parents' Choice. They've also gotten plenty of press from sources like the New Yorker and The Talk. Part of the reason for the buzz is that STEM (Science, Technology, Engineering and Math) is all the rage in education these days. Magna Tiles is a top pick in toys for four year olds that combines creativity and entertainment with engineering education.
Kids learn through free building play with these tiles, which don't come with a model or pattern to copy. Each of the 15 pieces has magnets along the edges, allowing them to easily stick together in an endless number of configurations. There are a total of 15 brightly colored, shiny and glittery shapes: 7 glitter squares 4 mirrored squares, and 4 equilateral triangles. The pieces are each about 3 by 3 inches, and are made from extremely strong plastic that can easily stand up to rough play, throwing, being stepped on etc.
The greatest strength of this toy is its long age range. Four year olds will love it, and can develop math, science, spatial and tactile skills playing with this set. Kids as old as 8 will still enjoy Manga Tiles, and can build complex constructions. To get the most out of this toy, however, you'll want to eventually invest in additional Magna-Tile sets.
At a price of $30, this set is tied for most expensive toy in our ranking of Best Toys for Four Year Olds. Still, the high quality of materials, great length of use, durability and educational value more than justify the investment. Buyers can save on shipping, which is fast and free through Amazon Prime.
Pros and Cons
Pros
Award winning toy with top-tier educational value
Durable construction and open-ended engineering play experience means this toy can be used for many years to come
Combines creativity with STEM-based learning
Mirrors and glittery pieces add visual interest for youngest users
Losing one piece won't prevent kids from using this set to build, since the set is meant for free play rather than assembling a set project
Cons
Only 15 pieces limits the range of projects kids can build with this kit, which is more of an introductory set than a full Magna-Tile set
Small magnets are choking hazards and can be very harmful if swallowed. While the tiles are very sturdy, rough play by an older sibling or household accident could theoretically crack open a tile and allow a small, powerful magnet to become loosened
Parents may have gender-specific associations with this toy, since sparkly toys have traditionally been given to girls
High price of $30 makes this the most expensive toy on our list of Best Toys for Four Year Olds
Score
Cost: 76/100
Durability: 100/100
Availability: 100/100
Education/Imagination Value: 100/100
Length of Use: 100/100
Overall score: 95.2/100
3. Fat Brain Toys Original Squigz Starter 24 piece set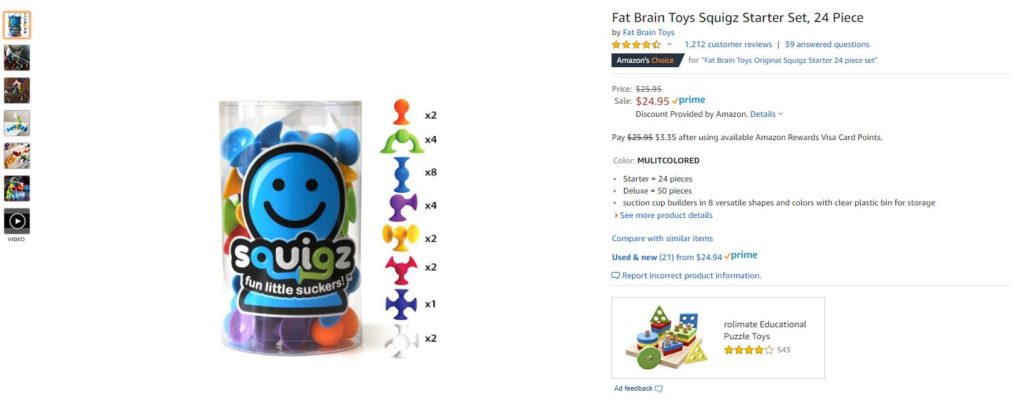 Squigz has a lot in common with Magna-Tiles- both are designed for open-ended building, both are colorful and durable, and both bring together education and creativity. But while Magna Tiles naturally lead kids to build architecturally, Squigz lend themselves to more whimsical building. That's because these are building toys with rounded shapes instead of straight edges. Like Magna-Tiles, Squigz have won numerous awards, like Best in Play International Toyfair, Best Toy for Kids Award, Parenting Magazine, and Oppenheim Toy Portfolio Gold Award.
Each brightly-colored rubber Squig has one or more suction cups, which can stick to smooth household surfaces, such as windows, counters and tabletops, as well as to one another. Kids can assemble creatures, environments, and patterns, and experiment with the physical properties of suction cups by building vertically or even upside down. The starter set comes with 24 pieces of assorted colors, all packed neatly into a clear plastic bin which can be used for storage. There are 8 different shapes and 8 different colors included.
They can be used on high chairs, in cars, and in the bath, keeping kids busy during down time and daily routines. Parents will appreciate that they leave no residue or marks on surfaces, and can be easily cleaned in the dishwasher. They are safe, too- Squigz are constructed from high quality silicone rubber, and are latex- and BPA free. The Squigz starter kit costs $20, making this a great value in kids toys.
Pros and Cons
Pros
Unbreakable, having no separate parts which can become separated
Combines creative play with education, as kids explore construction possibilities
Losing one piece won't prevent kids from playing with this set. Pieces are compatible with other Squigz, so new sets can be added over time
Portable and versatile- these waterproof and dishwasher safe toys can be used at mealtimes and bath times
Cons
One of the higher-priced toys in our ranking of Best Toys for Four Year Olds, costing $20
This is a starter kit, with 25 pieces, and doesn't have as much play potential as the full 50-piece set
Clear storage bin is convenient but is not durable
Score
Cost: 88/100
Durability: 100/100
Availability: 90/100
Education/Imagination Value: 95/100
Length of Use: 100/100
Overall score: 94.6/100
4. Funcorn Toys Ocean Sea Animals, 52 Pack Assorted Mini Vinyl Plastic Animal Toy Set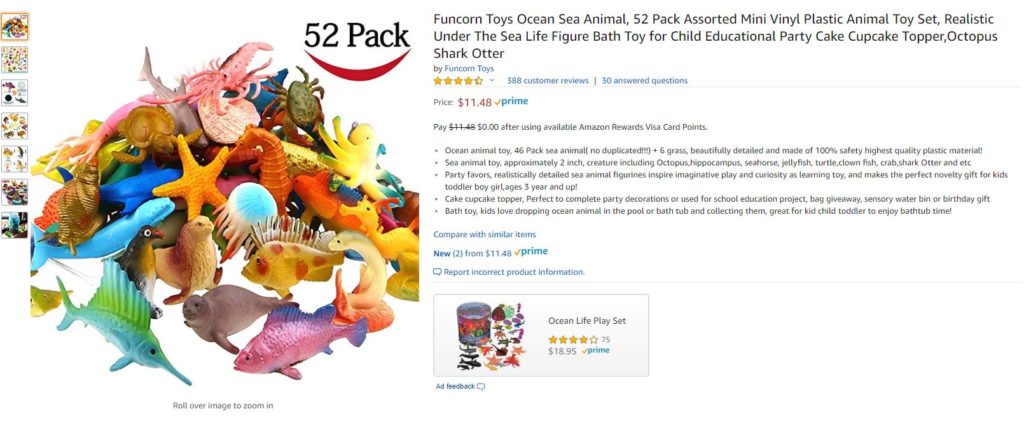 Funcorn's giant pack of Toys Ocean Sea Animals is a great toy to have in your arsenal. These charming and realistic little sea creatures can come in handy as a last-minute birthday gift for boys or girls, cupcake toppers, stocking stuffers, party favors, small prizes, or halloween favors.
This toy is perhaps the best value of any on our list of Best Toys for Four Year Olds. For a price of $11, you get a huge bag of 52 sea creatures, including seahorse, jellyfish, turtle, otter, clown fish, crab, shark, octopus, seal and so on. Each piece is made from non-toxic vinyl and is around 2 inches is size. The figures are realistic, giving them an educational value, as they introduce kids to new animals.
These charming little figures can be used in the bath, and are portable, allowing you to grab a handful to take along for car rides, restaurants and so on. The lack of movable parts means these pieces can stand up to being stepped on, chewed or thrown around. We love how this economical toy invites free imaginative play, and how kids of all ages can engage with these fun little figures. Buyers with Amazon Prime can get this set with free and fast shipping as well.
Pros and Cons
Pros
Massive variety of sea creatures, including seahorse, jellyfish, turtle, otter, clown fish, crab, shark, octopus, seal etc.
Low cost of $11 for 52 animals means you'll pay only 22 cents apiece
Realistic set has educational and imaginative value, as kids learn about se animals and create stories with them
Cons
Small pieces, measuring just 2 inches each
Large set of 52 means a lot of tiny toys to keep corralled together
Some of these marine animals have rather pointed find and tentacles, meaning kids can get a bit of a poke or scratch if, for instance, they step on them
Not as high in quality in terms of materials or construction as the other toys on our Best Toys for Four Year Olds list- this set is more about quantity
Includes sharks, squids, sea slugs and other potentially "creepy" critters
Score
Cost: 98/100
Durability: 90/100
Availability: 100/100
Education/Imagination Value: 90/100
Length of Use: 90/100
Overall score: 93.6/100
5. Tomi Music Wooden Percussion Toys- 18 Piece Musical Instruments Set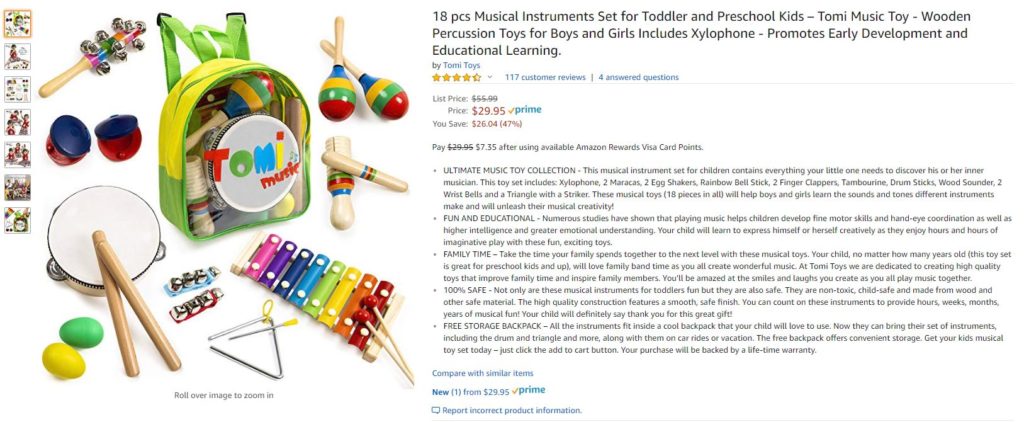 Tomi Music Wooden Percussion Toys makes a Musical Instrument Set that's sure to impress. While some kids' toy music kids have flimsy or undersized musical toys, this kit features quality materials, including metal, wood and fabric. There are 18 instruments in all: a Xylophone, 2 Egg Shakers, 2 Maracas, a Rainbow Bell Stick, 2 Finger Clappers, 2 Drum Sticks, Tambourine, a Wooden Sounder, 2 strap-on Wrist Bells and a metal Triangle with a Striker. These simple percussions are easy for kids as young as a four year old to figure out how to use on their own, but the whole family can join in to teach musical skills and play together. All instruments in this kit are colorful, and the whole set fits into a clear vinyl backpack, so kids can take their show on the road.
Kids can develop motor skills and learn about how instruments work through exploring with these instruments and develop an interest in music through creative play. Percussions are also a great way for tantrum-prone little ones to express strong emotions, as they allow kids to bang and hit without aggression. As a bonus, kids can continue using these instruments in more sophisticated ways as they get older, develop their motor control, and learn more about rhythm and music.
At $30, this set its tied for most expensive toy in our list of Best Toys for Four Year Olds. But, in the balance, the high quality and sheer number of pieces make this a great value. Shipping is also free and fast through Amazon Prime, and the Tomi Music Wooden Percussion Toy set is backed by a life-time warranty.
Pros and Cons
Pros
Playing music promotes fine motor skills, hand-eye coordination, and emotional regulation
Teaches kids about instruments and encourages creativity
Storage backpack keeps things organized and makes this kit portable
Nontoxic and durable materials make this a safe and durable toy
Can be used by kids as they get older in increasingly complex ways
A full 18 pieces makes this a great value
Cons
A high cost of $30 puts this at a tie for most expensive toy in our Best Toys for Four Year Olds ranking
Instruments are miniatures, with small sizes well suited for four year olds but probably too small for kids ages 7 and up
Backpack for storage is convenient but not durable
Noise, noise noise! The sounds of kids playing with this set can quickly become irritating to parents and other siblings
Score
Cost: 78/100
Durability: 95/100
Availability: 100/100
Education/Imagination Value: 95/100
Length of Use: 100/100
Overall score: 93.6/100
6. Boon Building Bath Pipes Toy Set, Set of 5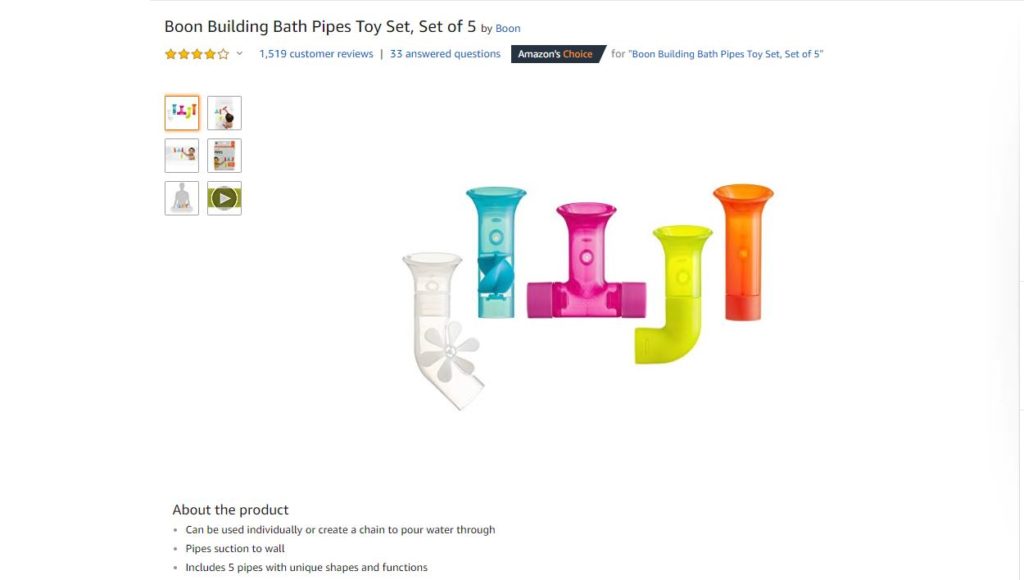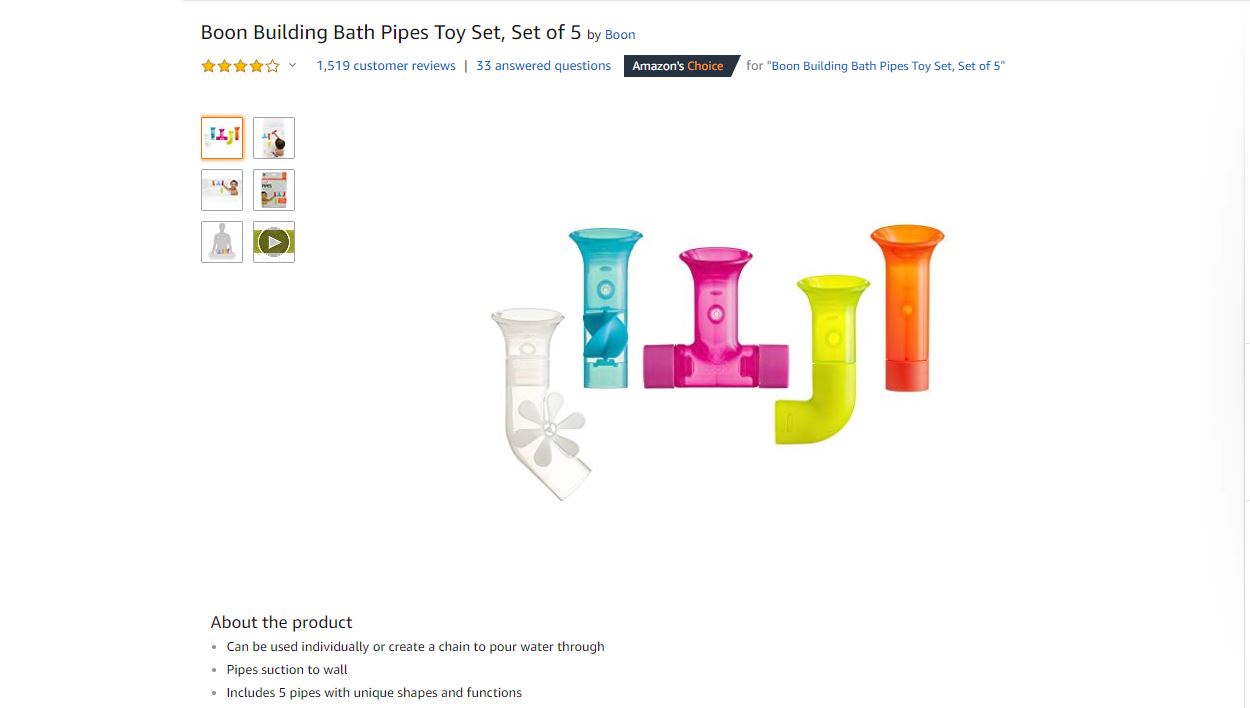 Who wants a leaky pipe in the bathroom? Your kid will, with these toy bath pipes from beloved toy company, Boon. Each sturdy plastic pipe features a funnel on top and a small hole in the bottom, so little kids can pour water through to see it squirt out as it drains. The pipes are colorful and attach to the side of the tub with suction cups with real sticking power- customers confirm that they really don't slide around the way many suction cup tub toys do. Parents will love how they keep little bathers entertained while they get clean in the bath.
There are five pipes in all, each with its own color and shape. Two of these include wheels that twirl when water is poured through. Kids as young as 1 can expire cause and effect by pouring water through, while kids as old 6 will love arranging the toy pipes into different configurations to create water pouring chains. The pipes are durable and safe, made from plastic without BPA or PVC. They can air-dry and don't get milder or mold, as do many tub toys. This set costs a total of $15, and is eligible for free and fast Amazon Prime shipping.
Pros and Cons
Pros
Great value at $15, for a total of just $3 per pipe, along with free shipping
Keeps reluctant little bathers entertained while parents get them clean
Combines informal education and fun
Can be used by little kids for simple water pouring ad older kids for arranging and building
Safe and colorful plastic easily air dries to prevent mildew
Cons
Needs to be rinsed out occasionally to remove soap scum
Limited arrangements possible with just 5 pipes- parents may want to purchase more for older kids
Can only be used at bath time
Very small kids can get frustrated when pipes rotate upside down, preventing pouring
Score
Cost: 92/100
Durability: 95/100
Availability: 100/100
Education/Imagination Value: 90/100
Length of Use: 90/100
Overall score: 93.4/100
7. Melissa & Doug Wooden Town Play Set

Another outstanding toy from Melissa and Doug, this Wooden Town Play Set is an excellent value, and has the simplicity, quality, and imaginative value that are the hallmarks of this brand. The whole set costs a total of $22, and is eligible for fast and free Amazon Prime shipping. With this 32 piece set, kids can learn explore how cities and streets work, and can create their own environments for imaginative play. The elements like trees and signs also work well with blocks and figures from other play sets and other brands, allowing four year olds to seven year olds to use old toys in new ways.
The best thing about this set, aside from the great value, is its longevity. Little kids can set up simple arrangements, while older kids will still be interested in using it to create more elaborate environments, potentially with items like trains and figures from Melissa and Doug's other excellent play sets.
Solid wood construction means there's nothing that can break down, and the sturdy pieces can withstand some seriously rough play. With play sets with many small pieces, there's a strong likelihood that one or more pieces will be lost. Fortunately, with this wooden town toy, the set works perfectly well even if a couple of trees or buildings go missing. The included wooden case will help prevent that, though, by keeping things neatly tucked away.
Pros and Cons
Pros
Incredible value-32 pieces for just $22, plus free Price shipping
High quality wooden pieces can't break, and the materials are safe and long lasting
Can be used by a wide age range in novel ways
Promotes imaginative play
Usable by a wide range of ages and long-lasting construction means this toy will be played with for years to come
Cons
Kids frequently refuse to clean up their toys when they have carefully created an elaborate set-up, as this wooden town set invites them to do
To get the most out of this play set, additional figures, vehicles etc. may be required, either from other Mellisa and Doug sets or other brands
Pieces are fairly small, though there are many included
No carrying case or box included to keep the large number of pieces corralled together
Score
Cost: 86/100
Durability: 100/100
Availability: 100/100
Education/Imagination Value: 90/100
Length of Use: 90/100
Overall score: 93.2/100
8. Toysmith Hoppy Ball (18-Inch)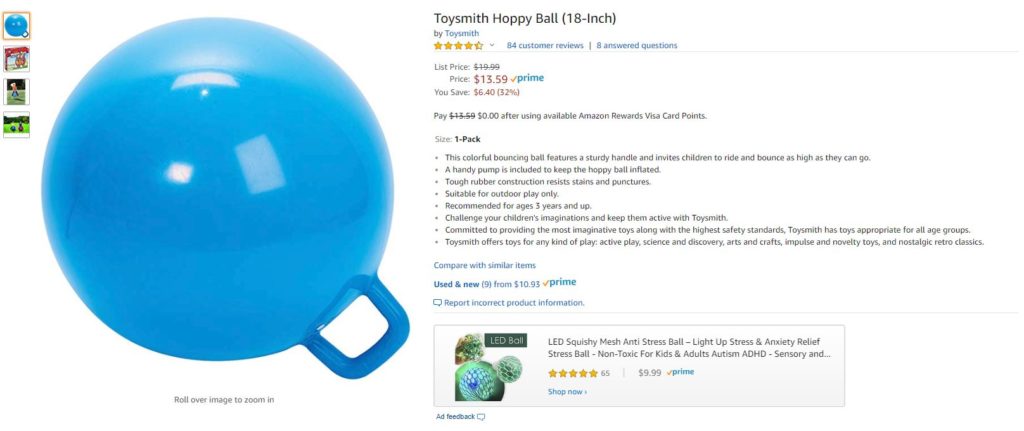 Parents are always happy to find a toy that will get their kids outside and wear them out through active play. The Toysmith Hoppy Ball fits the bill, with a fun bouncing action that will have kids happily bopping all over the yard and worn out by nap time.
The Toysmith Hoppy Ball is a classic hoping ball- a large inflated ball topped by a handle for gripping. Kids sit on the ball with their feet resting on the ground and hop up and down. Kids can bounce in place or propel themselves in any direction. Bouncing on this ball develops strength, balance, and motor coordination. A hand-operated pump is included to keep the ball fully inflated- more air means a tighter ball and higher bounces. The ball is made from tough rubber which resists stains and punctures. The ball is recommended for ages 3 and up, and supports up to 175 pounds.
Toysmith states that their hoppy ball is suitable for outdoor play only. This won't be an issue for most parents, who'd prefer that kids not bounce and crash around the house indoors, anyhow. Assorted colors are available, but Amazon customers won't be able to choose which color they receive. At a cost of only $14, along with free prime shipping, this ball offers lots of active fun for a low price.
Pros and Cons
Pros
Low price of $14 makes this one of the cheapest toys for four year olds included in our list. Free shipping also available through Prime.
Lightweight, arrives deflated, making this an easy gift to transport for a holiday trip or vacation
Pump included, so you can inflate to desired fullness any time
Encourages active play. A great choice for kids with a lot of energy or who need to be encouraged to get up and moving
Customers agree that this hopping ball stands up to heavy use in a way that many do not, resisting popping and deflating
Promotes athletic strength, balance, and motor coordination
Cons
Falls and bumps are inevitable, as young kids, especially four year olds, are bound to struggle to master the bouncing technique at first
No color choice available when ordering through Amazon- you'll have an equal chance of getting pink, blue, green or other color, so kids who are particular about their color preference may be disappointed
Recommended for outdoor use only
Can only be used by one child at a time- you'll need to encourage turn-taking or purchase additional hoppy balls if you have multiple kids
Ball can be used for hopping only, seriously limiting the range of ways it can be played with
Needs to be pumped full initially, then periodically to maintain complete inflation
Score
Cost: 94/100
Durability: 90/100
Availability: 100/100
Education/Imagination Value: 90/100
Length of Use: 85/100
Overall score: 91.8/100
9. iPlay, iLearn Kids Bowling Play Set, Foam Ball Toy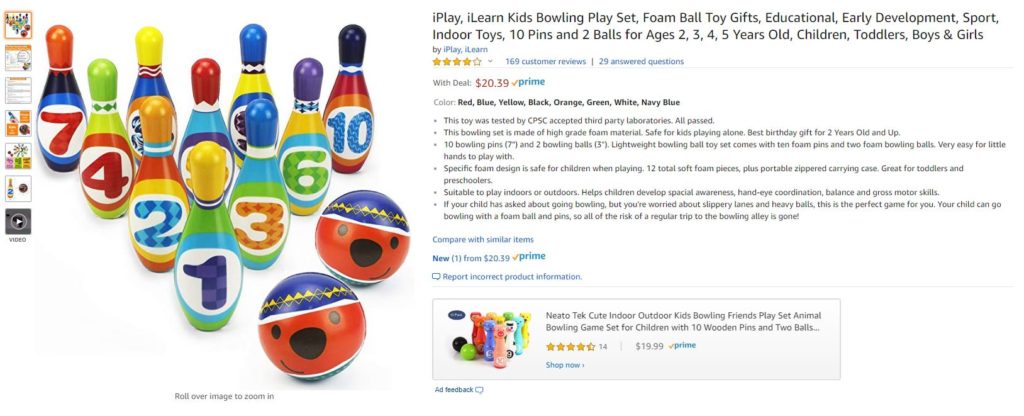 Whether it's beginner roller skates or toy cooking sets, parents love toy versions of activities for big kids and adults because they provide an easy-to-master introduction to activities their kids will eventually need to master. Little kids love this type of toy because it gives them the chance to do the things they've seen mom and dad doing. This Kids' Bowling Set from iPlay, iLearn is a great first introduction to bowling.
The colorful and durable set from iPlay, iLearn stands out for its colorful design and quality materials. The set features 10 bowling pins (7″) and 2 bowling balls (3″), all made from strong, safe, and lightweight foam. The bright colors and contrasting designs are simple and visually appealing, and the numerals on each help little kids get familiar with numbers. Group games such as this are wonderful for keeping little ones active and teaching turn-taking. Little kids can knock down the pins, while older kids can continue using the set more independently, setting up the pins in numerical order as well as knocking them over.
The set can be used indoors or outside, and comes with a convenient portable zippered carrying case, so you can easily take this toy along on picnics and other trips. The cost is a bit higher at $24, but the quality of the set makes it a great overall value, and you can save on shipping with Amazon Prime.
Pros
Keeps kids moving around with active play
Can be used indoors and outdoors
Bright colors and design make this visually appealing
Teaches numbers, hand-eye coordination, cause and effect, motor planning
Can be used independently, in pairs, or in groups
Cons
More expensive than most of our Best Toys for Four Year Olds choices, at a total of $24
Works best as a complete set- losing a single pin or the ball will really detract from the play value of the bowling set
Pins fall over easily, making setting them up potentially frustrating for four year olds
Small children probably can't use the bowling set independently, and will require parent help until they have mastered setting up the pins and rolling the ball
This is the largest toy in our list, and will take up a good bit of space in a closet or toy chest
Score
Cost: 82/100
Durability: 95/100
Availability: 100/100
Education/Imagination Value: 95/100
Length of Use: 85/100
Overall score: 90.4/100
10. Walkie Talkies for Kids 22 Channel 3 Mile Long Range

Most parents would agree- kids today play too much indoors and with games or projects that have a limited range of ways to engage. Rather than giving them a kit to complete, consider these cute little walkie talkies. With them, kids can pretend to go camping or exploring, share secret club communications, enhance their outdoor games, and more.
These brightly colored yellow walkie talkies are 5.7 by 2.2 by 1.4 inches, and have 22 channels and a 3 mile range. Three AAA batteries are required, which are not included. The small size makes them just right for little hands, and the LCD backlit display screens are easy to read. A couple of brightly colored green lanyards also make them easy to carry. Kids as young as four year olds and as old as seven year olds will find novel uses for this set, meaning that you'll be able to get plenty of use out of it. The set costs $24, and is eligible for free shipping through Amazon Prime.
Pros and Cons
Pros
Encourages communication and cooperative play
Can be used to enhance other games, such as hide and seek, pretend, capture the flag, etc.
Promotes active and imaginative play
Long range- 22 channel and 3 mile distance range
Design makes these toys look like rugged grown-up walkie talkies while still being bright and colorful
Cons
Batteries not included
Electronics are, in general, more prone to breaking than analog toys
Noisy toys can annoy siblings and parents
Requires a partner to use
Additional walkie talkies may be needed if more than two kids wish to play
Small size makes these little walkie talkies easy to lose
Score
Cost: 84/100
Durability: 85/100
Availability: 100/100
Education/Imagination Value: 85/100
Length of Use: 95/100
Overall score: 89.8/100