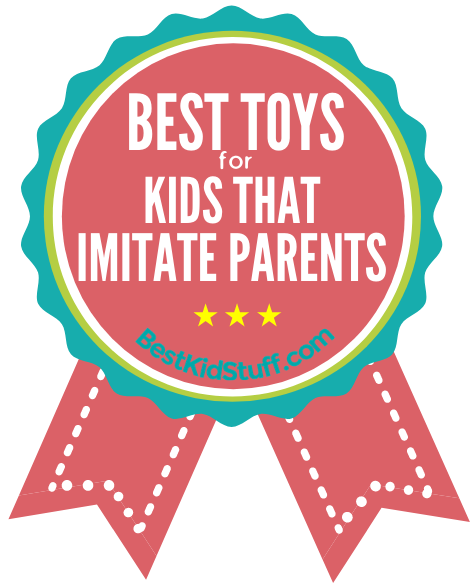 Toddlers are regarded as the best "copycats" or imitators! In their waking moments, they pay attention to the outside world. They learn from their guardians, babysitters, and parents or the characters they see on television.
Kids observe their caregivers' and parents' conversations, interactions, reactions to situations, and eating habits. Toddlers and even infants are extraordinary "students" because they can remember what their babysitters, guardians, and parents say and do even after days, weeks, months, or even years have passed. These adults are considered the child's first teachers.
However, did you also know that television educates your kids in ways more than parents like you ever realize? According to research, kids typically watch television for an average of three hours a day. Most babysitters make the kids watch movies and TV shows to keep them occupied. Most families admit that they leave the TV on all day long, even as the family shifts to other activities like mealtimes and bedtime.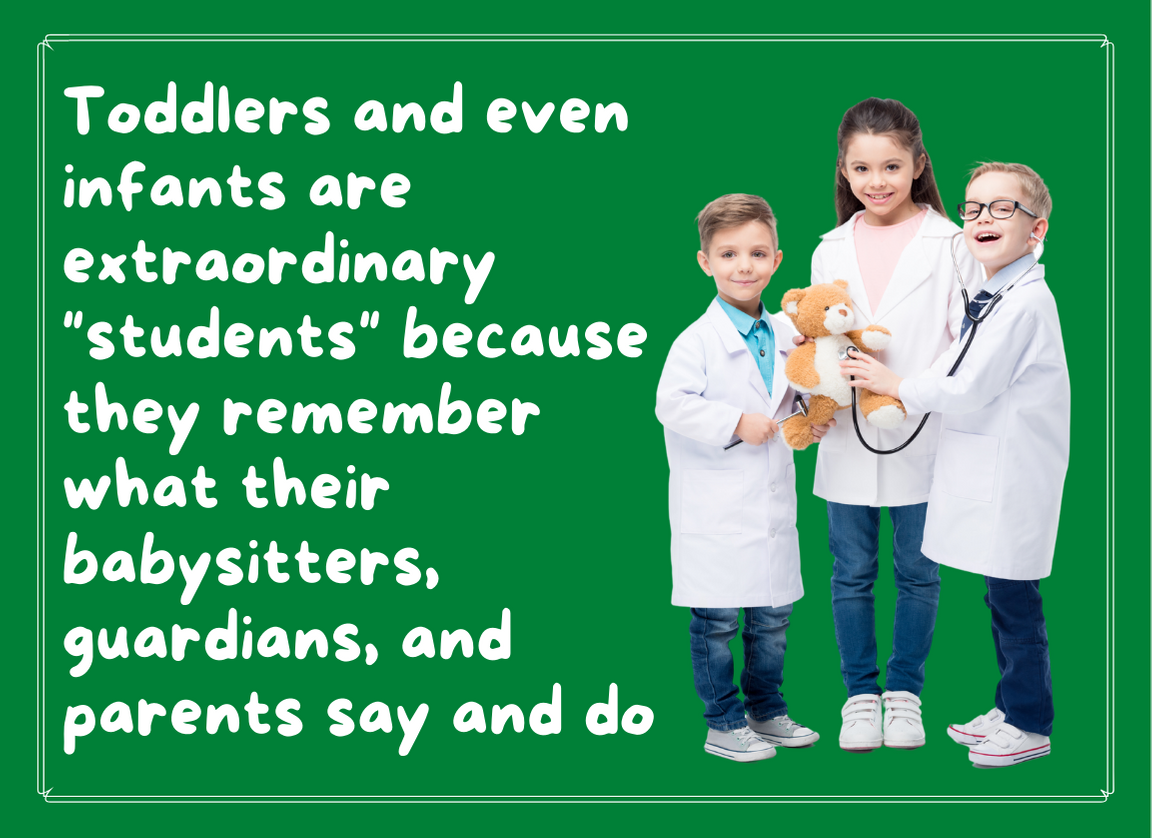 Managing Kids During Pretend Play
Remember that your home is considered your kid's first classroom. Kids imitate and learn from the people in your home from the very beginning! As a parent, you need to make the most out of these learning abilities.
Kids are copying and observing everything that parents are doing. Each person that your kid observes teaches them something. Parents need to take extra caution, choose their actions or words wisely, and set a positive example for children of any age—the toddler stage included.
Infants usually love to imitate the facial expressions of adults. Sometimes, even babies that are as young as only a few hours can imitate someone who sticks their tongue out at them. If you smile at them, they are quick to reciprocate it with a smile as well.
As infants get older, they become better at imitating your actions, tone, and words. This is why we need to teach our kids what we want them to emulate from us as we start guiding them on the path to excellent behavior.
Your children need to reduce their television time. Bear in mind that television teaches your children what they might copy in the long run, whether good or bad. Check what they are watching from time to time whenever possible.
To reduce screen time, allow your kids to participate in home chores and activities and take all these as an opportunity for them to learn. Provide toys that will allow them to copy what you are doing! Here are the five toys we recommend: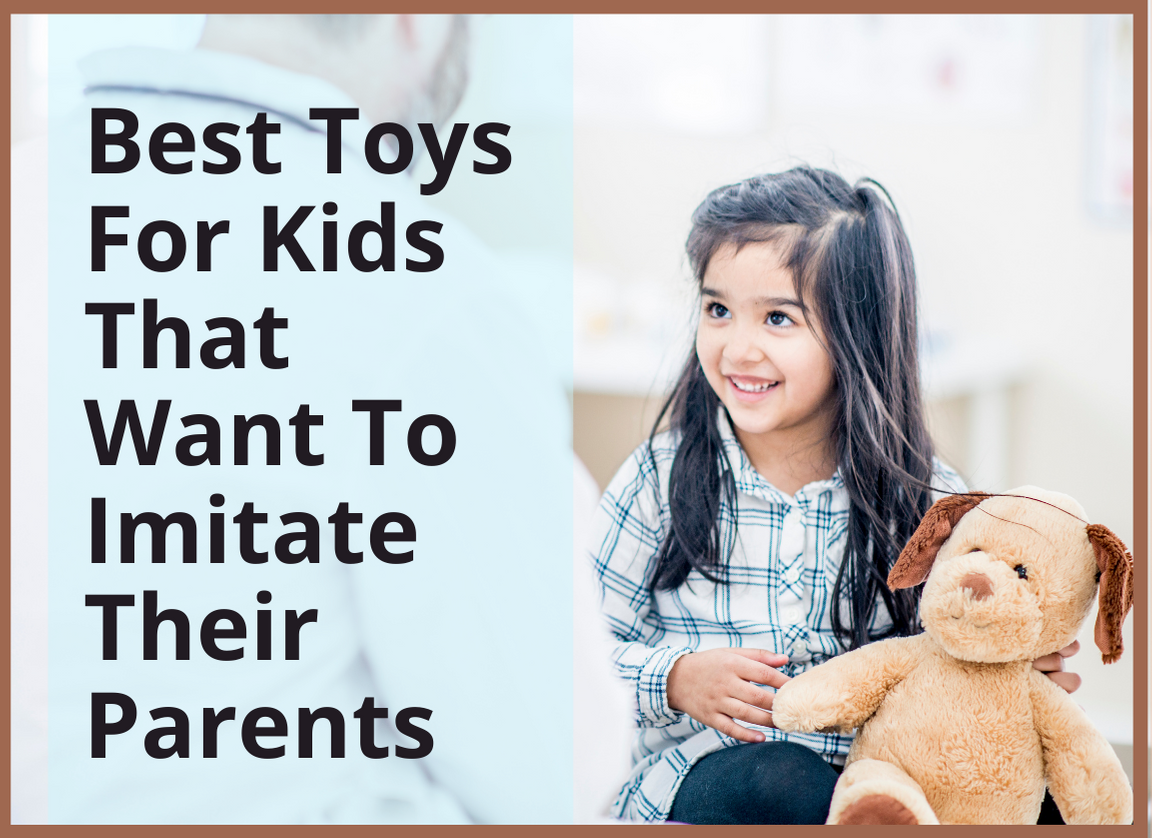 ---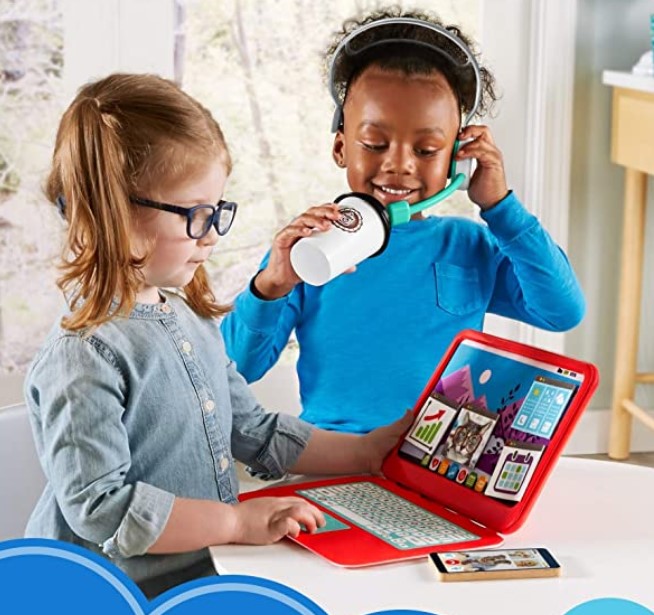 The Fisher-Price My Home Office/Pretend Work Station set allows toddlers to become the boss or manager of their business meetings.
This eight-piece playset features a to-go cup for children to "sip" their preferred beverage, a pretend headset and smartphone to make and answer urgent business calls with the cat, four fabric "apps" to the computer screen, and a wooden laptop for "business projects."
Here's why this toy is great for your kid:
This home office set allows your child to assume that they are the boss of their workstation at home.
It stimulates your child's focus on the tasks that need to be accomplished in this "pretend" office.
With the recent pandemic, many parents are working from home. Let your little one "pretend work" while you REALLY work!
2. Fisher-Price Head Chef Set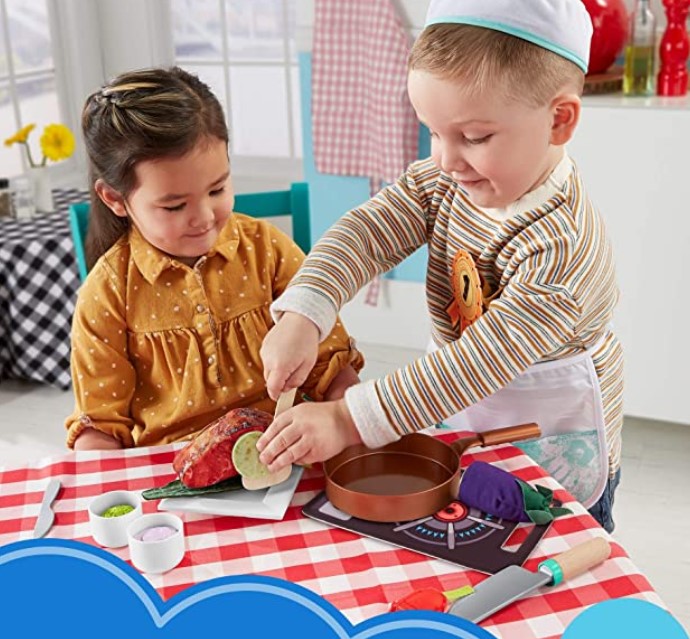 The Fisher-Price Head Chef Set has everything that mini chefs need to craft all kinds of gastronomic pretend meals. It features wood-accented play cooking equipment, a full place setting, a double-sided stovetop and cutting board, a metal-finish pan for food preparations and cooking, a wearable apron and hat to aid children in their pretend play, and fabric food pieces for "sauteing" and "slicing."
Through these, toddlers can establish their play restaurant and kitchen. They can also book reservations at a faster rate.
Through this head chef set, children can roast marshmallows in the living room and make a limitless supply of cake pops without any mess.
Consider this toy for your child due to the following reasons:
It trains kids to create better plating and food presentations. Through this toy, children can practice plating because of the place setting.
This fun collection provides children the materials they need to imitate their parents whenever they cook and make up recipes and stories about these recipes in their mind.
It provides all the ingredients for mini chefs; for them to be able to "slice," "saute," as well as plate and serve sumptuous meals with endless possibilities.
This pretends kitchen playset is an ideal gift for any toddler who likes eating.
Most often, the kitchen is the gathering place of the home. While you are cooking dinner, let them "cook" with you!
Through the Liberty Imports Adjustable Dumbbell Toy Set, you will be able to take your children to the gym. They can play this barbell set at home or outdoors.
The dumbbell set has two lock collars, one dumbbell bar, and six weight plates. You can place the weight plates on the dumbbell bar and lock it in place using two lock collars.
The dumbbell measures 14″ x 6″ x 6″ fully assembled and each weight can be filled with water or sand if you choose.
Liberty Imports is committed to giving its clients innovative and high-quality toys. It aims to assist families in having fun while building great memories through pretend play. Liberty Imports is also dedicated to manufacturing and selling high-quality products for maximum satisfaction.
Below are why you should consider the Liberty Imports Adjustable Dumbell Toy Set as a toy for your kid who wishes to imitate you:
It offers an interesting way to introduce your child to proper weightlifting and exercise routines and forms.
It teaches your kid how muscles move and how they work when they do powerlifting and bench pressing.
It is ideal for children ages three to eight years old.
This supreme quality toy is durable due to the excellent materials used in making it. The toy is incomparable in durability and quality. It is guaranteed to withstand all the clanging and banging that children love to do.
The toy is safe and can be stored easily.
Do you have a home exercise routine every day? Are the kids bored while you are working out? Let them join in the fun with this cute dumbbell set for them!
BONUS: Check this out for some additional fun: Hey! Play! Toy Bench and Leg Press-Children's Play Workout Equipment for Beginner Exercise, Weightlifting and Powerlifting
4. Fisher-Price Bubble Mower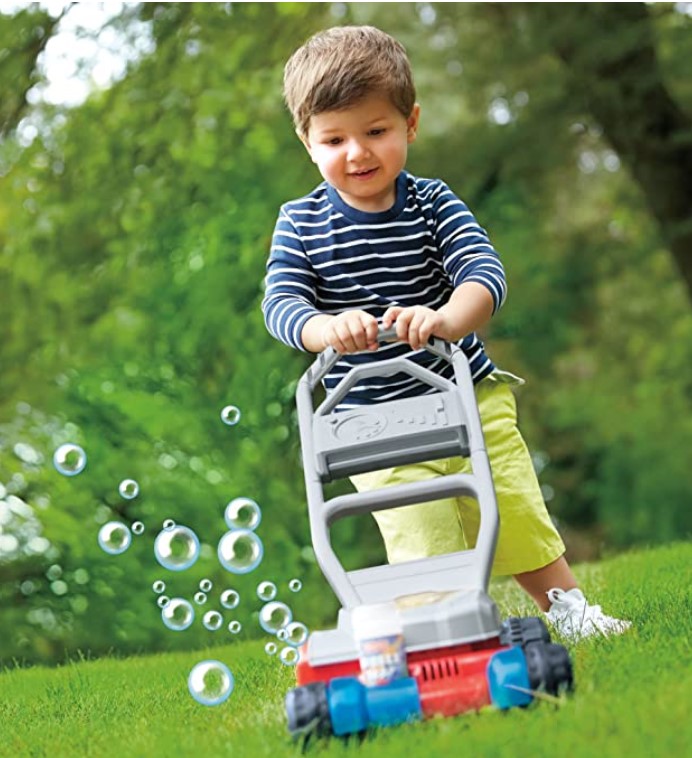 The Fisher-Price Bubble Mower aids your kids in mowing while they enjoy the bubbles that are blowing. It is one of the most entertaining and interesting ways to imitate you when mowing the lawn since it appears as a lawnmower, where your kid can roll it along and have fun while the motor spins.
As children push the mower over the driveway, sidewalk, and grass, the motor can spin, and the engine can rev up like a real mower. A bubble solution, which can be used to fill up the tank, is also included as part of the bubble mower kit. Yard work can be more entertaining once bubbles are added.
Here are the benefits of considering this bubble mower as one of your child's toys:
Completing a "grownup" task such as lawn mowing boosts your children's self-confidence.
More outdoor chores can be done efficiently through this bubble mower.
Pretend play is made more fun because of lifelike action and sounds from the "mower."
Kids can experience a sense of accomplishment once they have completed adult tasks such as "cutting" the lawn.
It has a lighter handle for more convenient pulling and pushing. It also aids in evading tip-overs.
The mower helps encourage healthy physical activities and aids in improving gross motor skills.
Of course, they want to imitate you mowing the yard… but they're just not old enough to be around dangerous yard equipment… so let them "mow" their own playground area space with this cute bubble blower lawnmower by Fisher-Price!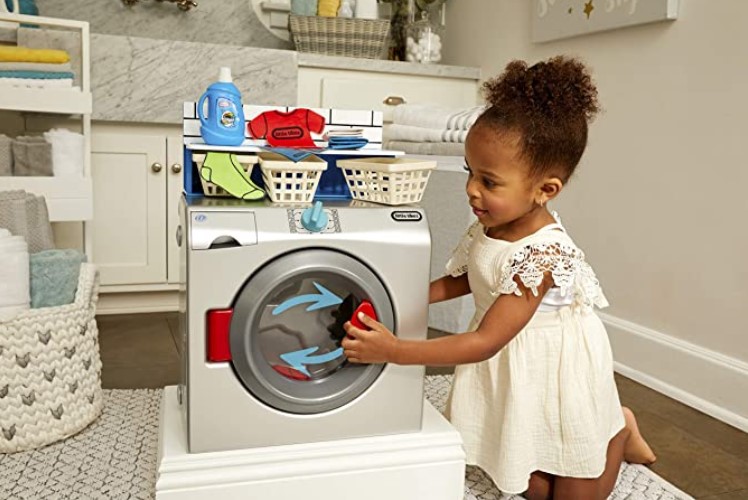 The Little Tikes First Washer Dryer allows children to pretend to wash and dry their clothes, similar to their parents.
This futuristic and stylish pretend play washer-dryer is equipped with dynamic features like built-in slots for storage baskets, a tabletop for folding laundry, a sliding detergent drawer, and a tumbling drum.
The dial can be turned to activate the spinning drum to begin the wash/dry cycle. It features laundry baskets, a working detergent drawer, twisting knobs, and more.
The First Washer-Dryer is convenient to assemble, and it can accommodate 11 included accessories for easier cleanup. The accessories include a pretend bottle of detergent, 2 towels, 2 socks, 2 shirts, shorts, and three small laundry baskets.
Here's why this toy works for kids imitating their parents:
Encourage children to participate in imaginative pretend play like doing laundry for several hours of pleasurable fun.
Pretending to wash and fold clothes aids children in being able to gain a sense of responsibility.
This is ideal for children who like pretending to do the laundry.
How cute is this? Teach them how to do laundry while they are interested in imitating you!