Kids are indeed a blessing from heaven. As soon as your son reaches his first year, he will be more aware of his surroundings and have a deep interest in the world around him.
Curious, he moves around touching, feeling, and tasting whatever catches his attention. Pushing buttons, repeated actions, and throwing toys are some things he may do out of inquisitiveness.
Creativity in children can be fostered further by allowing them to play one toy at a time. While most of the interactions happen between parents or caregivers, children are likely to play alongside other kids with no interactions happening.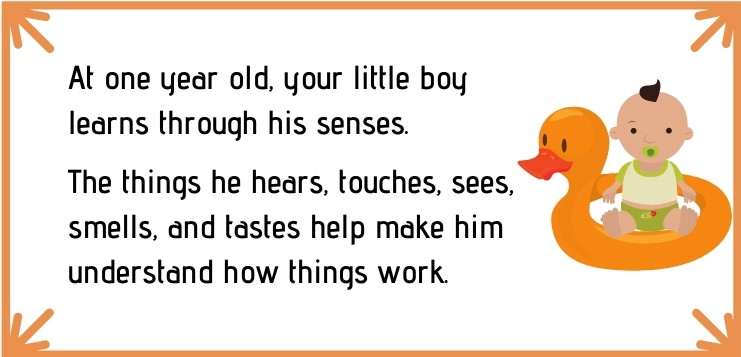 Basic word patterns such as "mama" and "papa" are well-articulated, and repetition of heard sounds or melodies is also prominent.
Children this age also learn through their senses. What they hear, touch, see, smell, and taste helps them establish experiences and knowledge on how things work.
Age-appropriate toys for this age are attractive, colorful, melodic, or enhance motor skills such as pounding or drawing. Pretend to play toys such as tool sets, costumes, and toy cars are also ideal for 1-year-old boys. Toys sets with smaller parts will require parental supervision to avoid choking.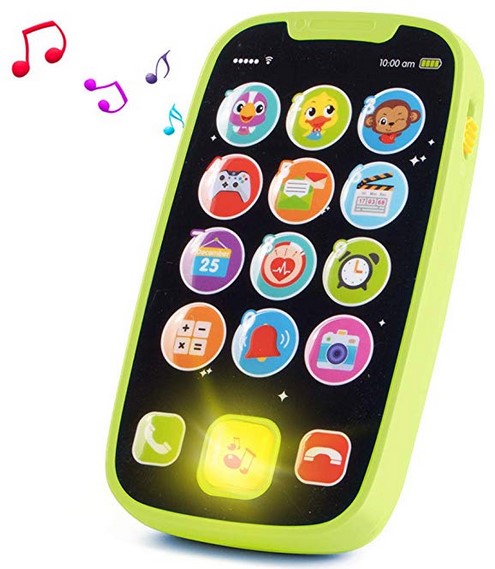 Say 'hello' with the Sing and Count Toy Cell Phone! With an attractive light green against a black backdrop, this toy phone is sure to make your child giddy and curious.
This phone contains a variety of sound effects, such as a dial tone and end call tone, mirroring a real phone call. By pressing the home button, the phone immediately lights up and plays lively animal sounds or sound effects mesmerizing and entertaining your child.
This full-screen pretend phone is equipped with 12 apps with adorable icons such as animals, movies, games, a camera, and email. Now your baby can pretend to talk on the phone just like Mommy and Daddy. The beautiful and eye-catching animal picture also keeps the child engaged with this toy and encourages them to learn.
Take the opportunity also to teach your children the animals printed on the phone. Why not mix fun with learning? This toy phone also teaches your kids to learn to count from 0 to 9. By pressing the app button again, they get to hear various animal sounds.
Many parents feel wary with musical toy gadgets since this may harm their baby's delicate ears. But don't fret as this product only goes up to 55 decibels, which is safe for their hearing. It's also suitable for small hands. This toy phone doesn't have any sharp edges that will scrape or scratch.
This fun learning tool is powered using 2 AAA batteries. Give your kids an early jumpstart towards learning!
The Sing and Count Toy Cell Phone by your little one's ear will take his cuteness level up a notch!
2.

Kids' Piano Toy Mat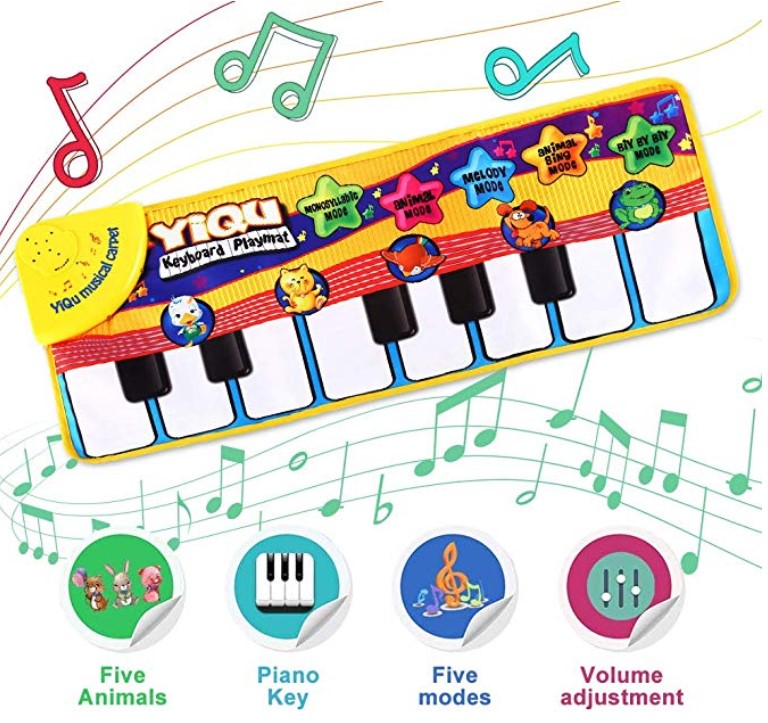 Does your child enjoy music? Do they pretend as if to 'pound' on keys to produce melodic tunes? Bring the best auditory experience to your kids with the Kid's Piano Toy Mat.
This toy is specifically intended to help develop their auditory senses and hand-feet coordination by stepping on the mat keys producing the sounds. It's a 27.6 X 11-inch mat piano key featuring a selection of 8 piano keys, five animal sounds, and eight musical demos to delight their hearing senses. Cool lighting effects keep your kid entertained while listening to melodic tunes. You can interact with your kids and teach them the animals producing the sounds.
After using, fold this mat neatly and tuck it in the corner of your storage for its next use. This is also a portable toy you can bring with you to schools, trips, and vacations to entertain your child whenever and wherever. Portable, funky, and educational!
Parents always worry about product safety. Rest assured that this material is made of kid-safe non-woven fabric with plastic pieces and powered using 3 AAA batteries.
Amazon has your little guy's musical back! And, with Prime, he'll be jamming in no time!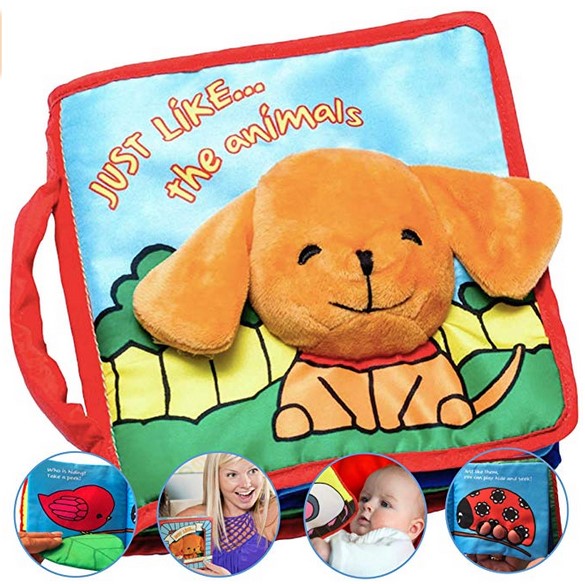 The Premium Soft Interactive Baby Book is better than your traditional baby book! This is a fun and interactive toy book with vivid colors and plush pop-out toy characters. Peek-a-boo flap has a velvety soft texture unique to modern baby books.
Each page has a story to tell, so when you open it, your child can experience visual delights and learn at the same time. It's also an excellent toy to encourage kids to verbalize what they are taught, 'mimic' sounds, or socialize with other kids as parents read through rhymes and stories.
Durable handmade cloth material with quality stitching keeps the plush toys and pages from detaching. It's also non-toxic since every plush toy and page is safe for your kids. While strolling, you can hang this within his reach in the stroller so he can play with it while you're moving around the park.
The Premium Soft Interactive Baby Book will be a hit with your little one!
4.

Wooden Race Track Car Ramp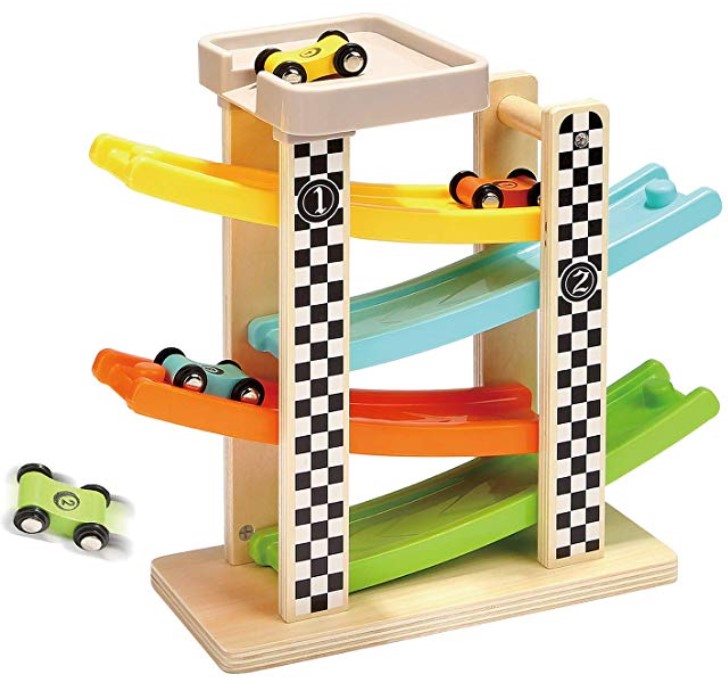 Give your son an expensive toy for this birthday. The Wooden Race Track Car Ramp is not only fun, but it also fosters hand and eye coordination. This car ramp track toy is made of high-quality wood, BPA –free, and safe for kids. Bright ramp colors set on wooden frameworks encourage children to play race cars.
Have them play with their brother or sister and see who finishes first! Start with the top parking lot and push these small toy cars onto the ramp to get the vehicles moving in a continuous motion. As the toy cars move, your child will hear the rattling noises as vibrantly colored cars rush down. Foster interaction and create opportunities to play alongside his brother or friends.
It's easy to carry too! So the next time you're out in the playground, they can interact with other kids and share with a playmate. Each set contains a ramp track, four cars, and an upper parking lot space.
It's best to supervise your kids when they're playing this set.
This adorable Wooden Race Track Car Ramp will keep them entertained for hours!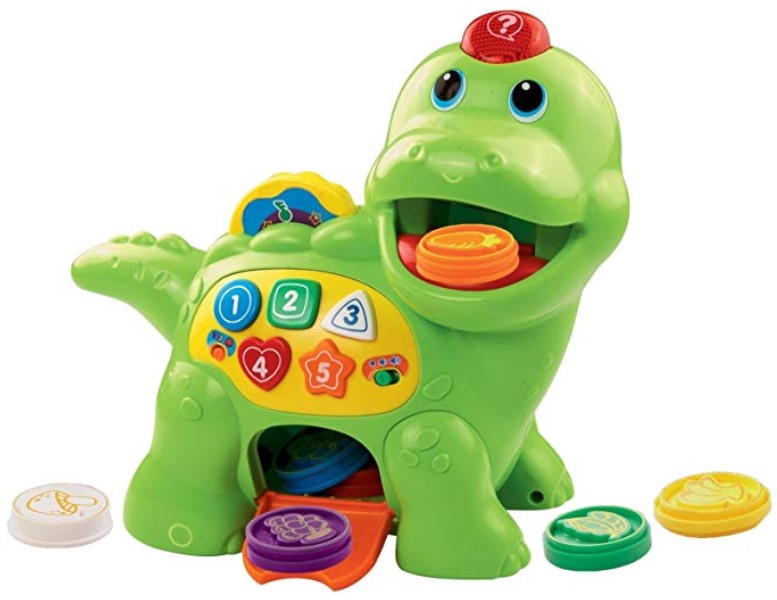 Have your son learn various shapes, sizes, and numbers the fun way with Chomp and Count Dino. The adorable Dino design is sure to appease your child's visual senses with complimentary colorfully-stimulating buttons and play pieces.
This toy is genuinely functional but fun at the same time. Teach them the primary colors found on its numerical buttons and play pieces. You can make this a teaching tool to help them to be familiarized with numbers and colors. Feed this Dino treat play pieces to elicit entertaining responses.
It also churns out fun phrases as they push any numerical button to tell its shape and number. Melodic disc found on the back can play a variety of melodic songs much to your kid's delight! Frolic to its dancing tunes as you turn the disc clockwise.
Volume control is just right for your son's delicate ears. It also comes with an auto-shutoff function if it's inactive for a specified period. This toy is powered using 2 AA batteries. Learn and have fun!
Feed this cute Chomp and Count Dino! What kid wouldn't want to feed a dinosaur?! You guessed it… it's on the 'Zon!