Every child's pacing is unique when it comes to their developmental phase. Their interests, personalities, and abilities contribute to their overall growth. Most children of this age are more active at school than at home. A noticeable change in thought processes and relational attributes are also prominent as they age.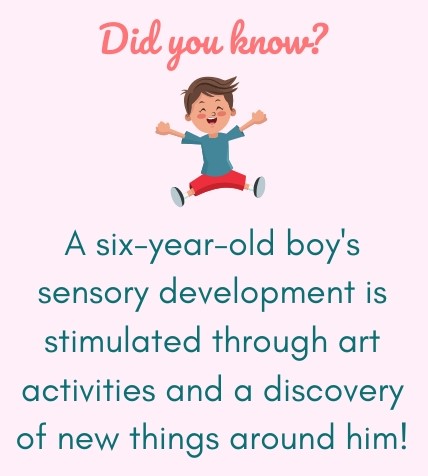 Six-Year-Olds…
As a 6-year-old boy, this phase is marked with a yearning to be accepted by peers, teachers, and parents. They want to 'please' the people around them to gain social recognition. The need for "role play" games diminishes considerably in exchange for "real" things. Girls at this age tend to be more cooperative and leaning toward hobbies involving pretend-play, such as playing dollhouses.
They sure can be active…
On the other hand, boys tend to be more competitive and take on physical games such as jumping, running, or playing ball. Sensory development may also be stimulated through art and discovering 'new' things.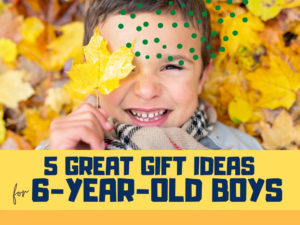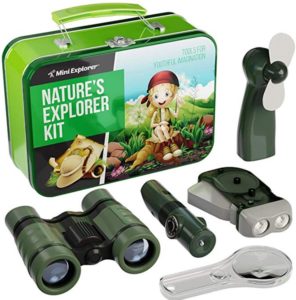 Explore the great outdoors and make learning enjoyable with the 9-in-1 Explorer Kit.
Stored in a beautiful green case, this explorer kit contains the essential tools for new discoveries. Open the case using its easy-to-open lock and surprise them with this fun and bright-colored toy tools. It's portable so you can bring this toy set with you whenever and wherever!
A pair of moss-green binoculars can be found on one side. Measuring 4mmX30m, it is made of shock-proof rubber to keep it safe from bumps and falls. A set of comfortable protective rubber surrounds each eyepiece as well. A strap locks both sides of the binocular, so they easily hang around the neck. Set their eyes in far off creatures such as birds, squirrels, insects, and other neighboring surrounding animals. They might even spot a grazing deer nearby!
Explore the kingdom of small life forms using the magnifying glass. This pocket-sized toy lets them explore insets such as ladybugs, ants, beetles, leaves, wood, and much more.
The self-energizing flashlight is a perfect companion when they're out for camping, trekking, or exploring crevices. No batteries? No problem. This flashlight is suitable for prolonged usage outside without the need to add batteries to function. Turn on the handle to activate the 'recharge' mode.
Exploring under the heat of the sun can be exhausting. Help them cool off using the portable and battery-operated handheld fan. Soft fan wings prevent scraping the child's skin when accidentally moved too close.
And lastly, there is a small multi-functional piece that serves as a compass, thermometer, whistle, micro-flashlight, and micro-magnifying glass all in one. Some kids just needed to have a 'go-to' item whenever they feel the need to explore. This tool makes a beautiful toy to bring for a quick visit to nature parks, lakes, and other nearby gardens. This kit is a fun and functional toy suited for boys of ages four years old and up.
Exploring is always fun! Feed their need to discover with this 9-in-1 Explorer Kit!
2. Dino Egg Dig Kit
Go back in time and let your kids know more about dinosaurs with the Dino Egg Dig Kit.
In this kit, kids will discover unique dinosaur characters they've only heard about from school or Jurassic Park. Kids aspiring to become paleontologists can start with these kits to get them immersed in the ancient days where dinosaurs used to rule the earth.
Every kit contains 12 eggs with unique dinosaur characters inside, 12 chisels, 12 brushes, and an activity guide. These dinosaur toys are encased in soft and ruggedly-designed brown eggs. Get creative and have them dig down the earth to emulate what real paleontologists do. Have them excavate these eggs in playgrounds or even in your backyard garden!
This kit comes with chisels and brushes so your kid and his friends can start exploring. Once the eggs are found, give them a good soak in the water for about 15 minutes to soften the outer clay layer. It's an exciting and exquisite treat indeed for this neophyte paleontologist as he starts to take away the outer layer and discover a toy dinosaur inside.
Be sure to supervise your children as they start digging into these eggs to avoid damaging the toys inside. Make this an exceptional gift for kids who love science and discovery. Surprise your kids with this unique set!
You just can't go wrong with dinosaurs as a gift for ANY child, boy or girl! The Dino Egg Dig Kit is fun for all ages as well!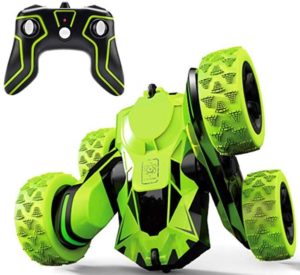 Experience a different kind of toy car with the Off-Road Truck with Remote Control.
These stunt cars are toys for the small boys that come in two colors: green and red. It features a flexible differential that can do a full 360-degree rotation flip when it hits a bump. Designed to trek rough surfaces, this toy has 3D double-sided tire rims, making it flexible enough to move in backward, left, right, and forward directions. Your kids experience maximum driving pleasure with tires that adjust according to the terrain.
Unlike most toy cars, this one runs at a maximum speed of 7.5MPH or 12KMH built for tough roads. It comes with a remote control that covers a distance of up to 60 meters. Your little boys will have fun exploring other terrains such as sandy grounds, grasslands, and rocky roads.
No matter the adventure, your kids will surely enjoy bringing this 1:28 stunt car with them in places such as school playgrounds, parks, and even nearby beaches. This toy is made of quality materials to endure rough conditions such as bumping, crashing, and treading uneven terrains.
For 6-year-old boys looking for some thrills, this toy car has a built-in 700mAH rechargeable battery to last a 23-minute play session. This toy can dance, flip, and glide smoothly on slippery surfaces much to the entertainment of your kids.
Two words: Stunt Car. Brighten your little fella's day with this super cool Off-Road Truck he can control with a remote!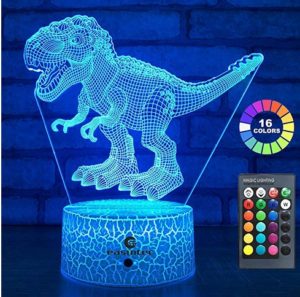 Keep them company and let their minds dream the impossible with the 3D Dinosaur Night Light.
As soon as your child's room turns dark, switch this night light to produce a softly lighted 3D T-Rex visual effect in your child's room. This unique toy light comes with remote control and smart touch switching to 7 to 16 different colors in gradient to static colors.
This night light is powered using a USB cable connected to a PC, 3-AA batteries, or home adaptor. It would also make an excellent soother to provide a calm environment for them to sleep peacefully with low lights on.
Now, dream seamlessly with this illuminating light your 6-year-old boy can use for many years ahead! Get this affordable Dinosaur night light companion for your kids!
This dinosaur will watch over your young'un at night and he will feel safe and secure with it on! It's the perfect gift for a boy!
5. Build & Paint Your Own Wooden Cars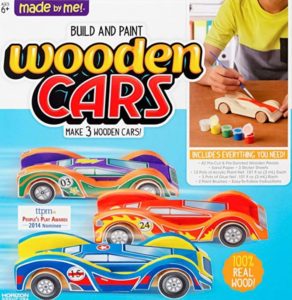 Get affordable and customized wooden cars your kids will love with the Build and Paint Your Own Wooden Cars.
It's time to put on those tinker hats and explore! This DIY toy race car set comes with 42 smoothed and pre-cut pieces that your child can quickly assemble into three sets of wooden cars. This set contains sandpaper to smooth out uneven surfaces. Designed to bring out your little boy's creativity, this toy also comes with 12 small containers of acrylic paint, three tubes of glue, three sheets of stickers, and two paintbrushes to paint the wooden cars. Each wheel adapts to different terrains, including any rough and smooth surfaces where play is permitted.
Bring out the artist in every child with a customizable car set they can freely design! You can make every moment count as you play with your kids with this fun and creative toy.
It's best to supervise your children as they assemble the toy to avoid gluing the sides and resulting in immobilization. This toy is most suitable for children ages 7 to 15 years old.
Customizable cars will be a definite hit with your boy! Using their imagination and creativity to design and their need for speed when done!
recommendations for younger and older boys