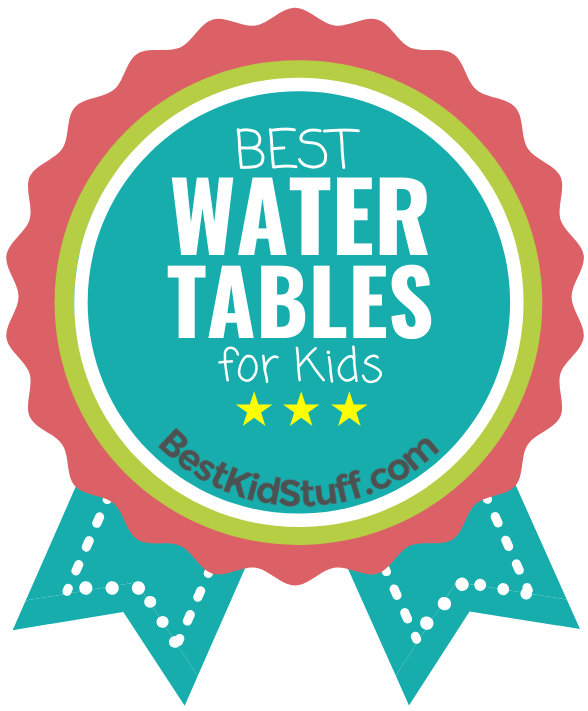 A crucial aspect of parenting is ensuring that your child lives a balanced life. This means providing them with ample opportunities to play, have fun, and discover the world around them.
It's no secret… kids love water!
While some toys are fit for indoor use, outdoor toys promise an enjoyable day under the summer sun! For kids who love playing with water, a water table is an ideal way to allow them to enjoy all sorts of activities without having to bring them to the beach or the pool.
The benefits of water play…
They can spend hours in a day indulging their creativity and imagination, all the while getting the chance to cool off. An enjoyable and educational game, this playset offers a wealth of benefits. It includes developing eye-hand coordination and learning various math and science concepts.
It can also significantly help them in shaping and nurturing their social skills and encouraging cooperation, especially if they play with other kids.
Pouring, squirting, scrubbing, stirring, and squeezing – all of which improve their excellent motor skills. Plus, this type of play can also introduce them to a myriad of textures, giving them a one-of-a-kind sensory experience.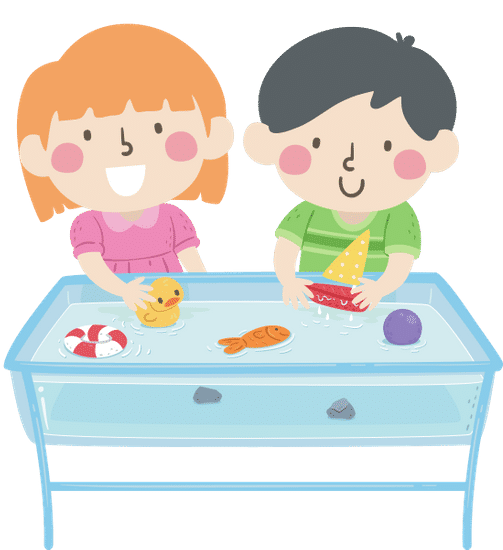 What to Look for in Water Tables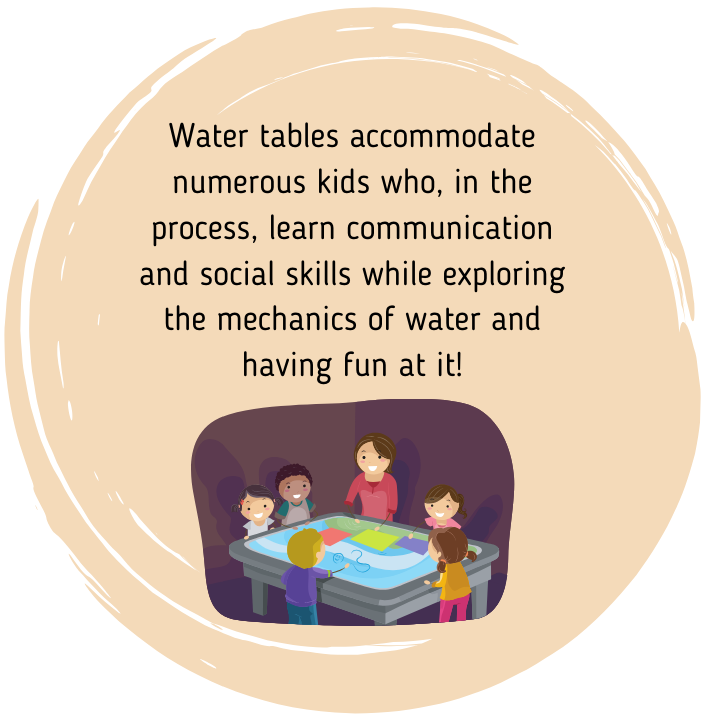 Just like every other product in the market, water tables come in different styles, sizes, and designs. A lot of them are equipped with extra features that can enhance your child's experience.
Some have a canopy coverage that can provide a much-needed shade against the heat of the sun. There are water tables with extra features like strainers and water wheels. Others have a water drain, an important feature that ensures fast and easy cleaning.
Looking for the best water tables? Here are our five best suggestions for you: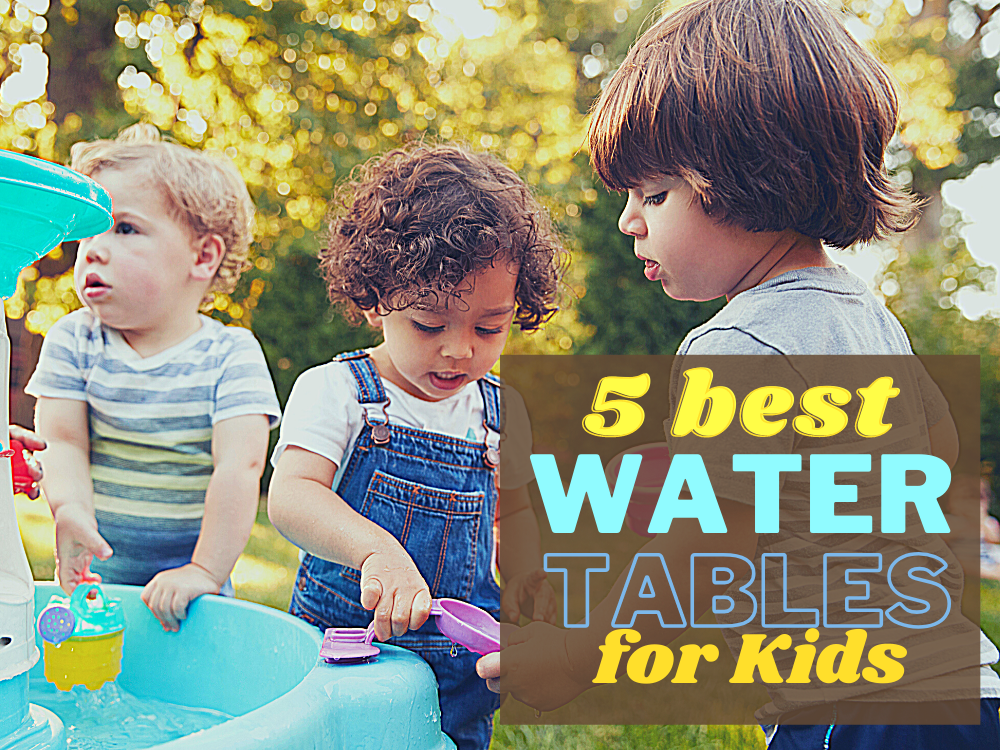 1. Step2 Spill & Splash Seaway Water Table
Is your kid feeling the summer heat and increasingly gets restless about being cooped up inside the house? Then providing them with a fun and educational activity in the yard can be the best summer experience. And what better toy set to give them than a water table?
With all the options to choose from, you can never go wrong with the Spill and Splash Seaway Water Table from Step2. This fantastic toy set allows them to enter the splash zone where they get to enjoy various water activities, all without the need to go near a pool or a beach. This water table features a cute umbrella to keep the kids protected from the sun during playtime.
Kids will have lots of fun with the eleven-piece accessory set, including four characters and a starfish that can use the diving board and flipper to make a "jump" into the water, as well as cups and small shovels for transporting water. Those are great props when they create imagined scenarios with their friends, letting them enrich their creativity and imagination.
If you want more creative play, then adding sensory objects like balls, sands, and even rocks can turn this water table into a whole new experience.
Let's get the kiddos outside… Check out this nifty water table today on Amazon.com!
2. ECR4Kids Sand and Water Adjustable Activity Play Table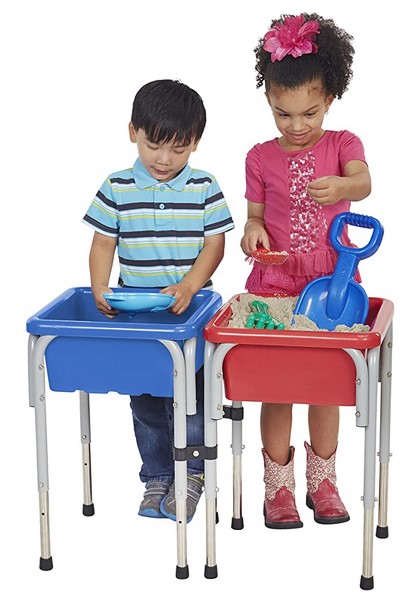 Every child should have a chance to develop their tactile senses, motor skills, and social interactions. A water table, among other activity sets, can give them the perfect opportunity to do all of that and more! Making this happen is ECR4Kids' Sand and Water Adjustable Activity Play Table that is suitable for kids aged three years and above.
The small table sits low on the ground, allowing kids to dig in with their sandbox toys. While it can be played indoors, it is also designed for outdoor fun. It comes equipped with water-resistant and fade-resistant features that make it perfect for your backyard, playground, or even classrooms.
With its sturdy legs and rubber feet, the water table also features basins with leads. It is designed for easy cleaning with soap with water. You don't have to worry about maintaining its cleanliness week in and out.
Unlike other water table designs, this one has two configurations that try to accommodate your needs. You have the option of a 2-station or 4-station sand and water sensory table. Sensory items like playdough, bubbles, and beads are also entirely compatible with the make and design, giving your child an extraordinary experience.
This water table is also ideal for classrooms, featuring strong steel legs and sturdy plastic basins that can withstand daily use. They can even adjust the table's height to accommodate different age demographics.
Teachers will also love how they can incorporate STEM learning in this toy set, as other materials can be used in it as well, including slime, math and science manipulatives, playdough, and many more.
Surely, you can't find a better gift for your children than this. And… this one can hold sand, too. Check it out!
3. Costzon Kids 3 in 1 Sand, Water, and picnic Table
Want a water table that is perfect for your backyard or patio? Then Costzon Kids Sand and Water Table will suit your needs. Its additional standout features include an umbrella and bench seats, giving your kids the option to sit or stand. The umbrella provides them with a cool shade that serves as protection against the heat of the sun.
The activity table itself is versatile. It has removable lids that allow you to convert it from a covered sandbox and water table to a picnic table that is perfect for lunches and snacks. The bench is spacious enough to accommodate up to four kids, so it is suitable for both playdates and even parties.
The table features a drain on the splash pool and a plug on the sandbox that allows for easy cleaning and maintenance. You can buy the toys and the sand separately for a richer experience.
Made from safe and sturdy materials, this water table can look great in your yard too! It is perfect for children ages three and up. You can make this activity more fun by converting the toy set into a picnic table with benches for an enjoyable lunch picnic.
Check out the Costzon Kids Sand & Water Table on Amazon.com… Such a cute picnic table, too! Order today!
4. Little Tikes Anchors Away Pirate Ship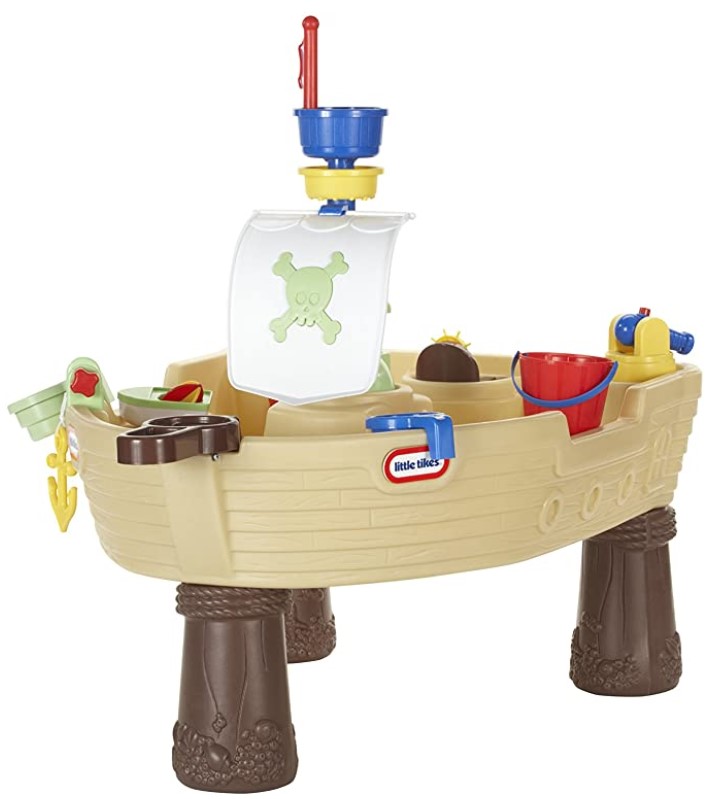 Water tables are not just for water activities. They also spark your child's creativity and imagination. Help your kid develop their sense of fun and imaginative skills by trying out the Little Tikes Anchors Away Pirate Ship.
Your children can get ready to experience a fantastic role play with this pirate-themed water play table. It has several spinning features that make it a genuinely fascinating playset for little girls and boys. The water can move with the pump or through pouring water into the crow's nest.
They can also try aiming and squirting water from the water cannon. By cranking the handle, they can watch as the anchor raises and lowers. All of these provides them with a sense of fun and adventure. They can play pretend, making up scenarios that involve the fascinating world of pirates.
With all the endless activities that they can try out, this water table is worth every penny. The interactive features and realistic play details ensure a seamless play date for your kids. What more, they also include sea-faring accessories such as the bucket, scooper, strainer, boat, squirting shark, and pirate characters.
Arrgh!!! For all its features, the water table is surprisingly easy to assemble. The pirate ship is a fun and creative way to spark your child's interest!
5. Paw Patrol Sea Patrol Water Table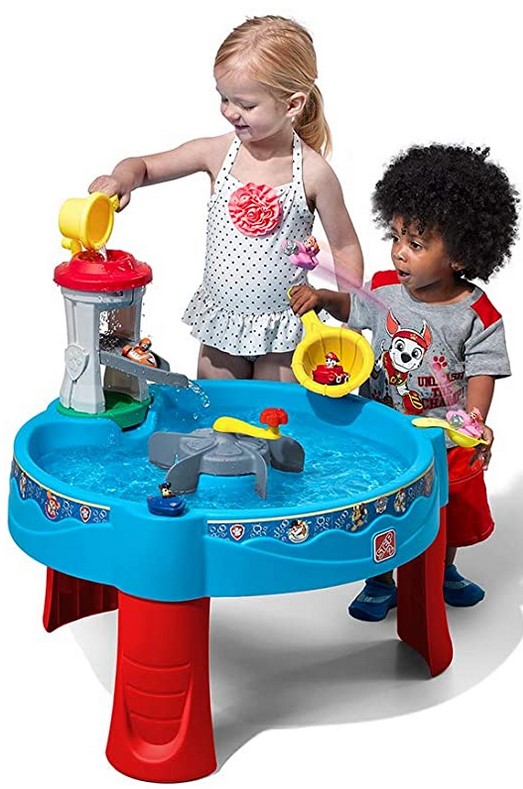 From Step2 comes another themed water table. Paw Patrol Sea Patrol Water Table invites your kids to scoop, splash, squirt, and save the day with Ryder and friends.
The water table includes a basin that features a lookout tower from which kids can pretend to spot the toy doggies in distress. They can create scenarios of elaborate rescue operations, speeding down the water slide. There is a water launcher where they can soak the toy heroes in. They have to be careful because the heroes can squirt water back at them.
The center spinner gets the water swirling, creating a whirlpool. It makes for a captivating sight that every kid will love. The water table includes accessories such as three Paw Patrol squirting figures, a water filter, a water cup, and a table springboard.
You can also make the kids' playtime a lot more exciting by incorporating other materials like rice and beans, offering a new sensory play that is great for indoor use.
The product is designed for two or more children, allowing your kid to practice their social skills while improving their problem-solving and excellent motor skills, language development, and emotional growth. They are easy to assemble, clean, and maintain.
For all of those Paw Patrol fans out there… this is perfect.
---
More great toy finds!