Technology has changed the way children learn. At 3 years old, they understand a concept or idea and do so better with visuals. If your kids are generally fond of the Discovery Channel, chances are they'll likely want to learn more about science. Kids are naturally curious about how the world works. They always want to learn more about everything that goes around with their surroundings. In this case, using kid-friendly devices such as microscopes could be a benchmark to further spark that interest.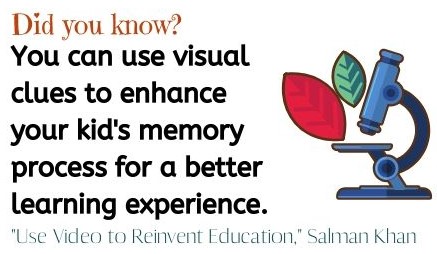 More educational devices suited for kids are available in the market. Having your kids use a beginner's microscope may not only inspire them to explore, but it's also an opportunity to teach them about nature and its importance. Why not make this a part of their unstructured play? Make this an opportunity to develop deep connections with other children through play by learning.
Here are our top-rated, inexpensive beginners' microscopes available on Amazon. We present their prices as of this publishing.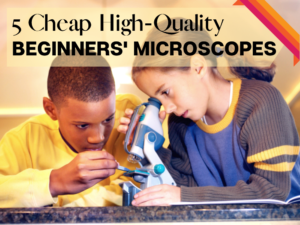 1. My First Lab Mini-Duo Scope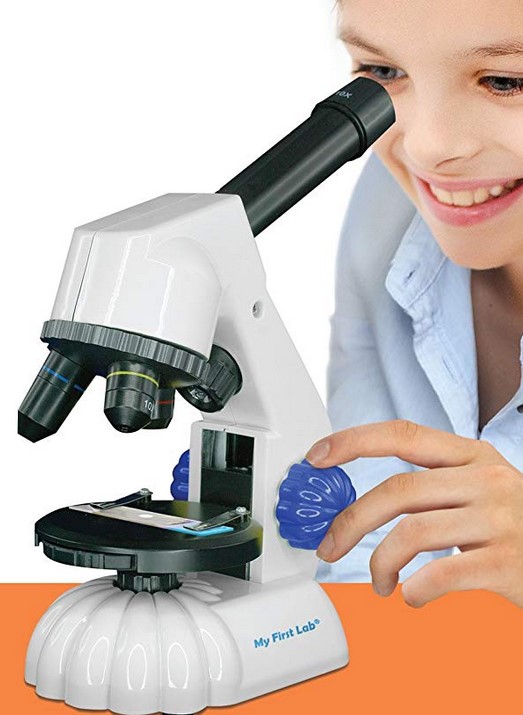 Start your kid's journey towards discovery with My First Lab Mini-Duo Scope. Inspired for STEM-level microscopes, this device is a duo-scope that lets your child look at life on a micro-level. Suitable for the young boys and girls, this mini-duo scope's price is just right and doesn't compromise resolution quality.
This microscope uses a dual-view lighted system (Duo-Scope) so your kids can see the full spectrum of the specimen investigated. The light coming from above the glass slide and below allows your children to see the specimen clearly. Rest assured that these LED lights are safe for kids and won't require frequent replacements.
This kiddie microscope kit contains 20 accessories such as the brine shrimp eggs specimen vial, specimen slicer, magnifying glass, and plain and prepared slides. Upon checking the specimen under the microscope, coated lenses provide clear and quality visuals almost similar to what you'd expect with a professional microscope. This device is powered using 3 AA batteries.
This microscope for kids offers good value-for-your-money equipment to inspire your children to keep learning and enjoying at the same time!
2.

WIWAPLEX Kids Microscope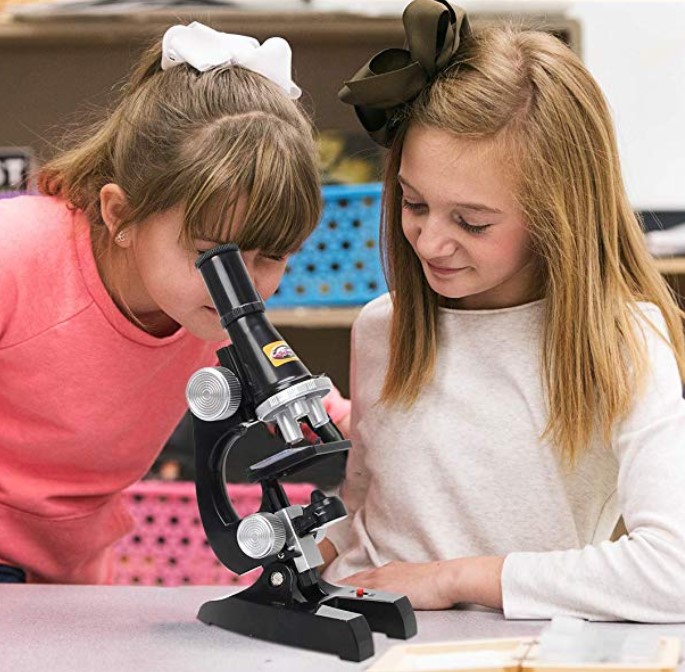 Want a better view of the inner life of microorganisms? Try the WIWAPLEX Kids Microscope! This beginner microscope helps develop an interest in children to explore elements on a microscopic level. This toy set comes with the essential tools for testing: plastic slides, specimen slides, an incubation box, a collecting bottle, and a specimen thong.
Your kids can take clearer views with easy to control magnification levels ranging 100x up to 450x. You can swap an objective lens easily according to preference. Unlike traditional toys, this is made of kid-safe ABC durable plastic. You get a microscope that has a built-in LED lighting system and is powered by using AA batteries. This tool should make a great introductory item for the curious mind!
3.

FUNRUI Kids Microscope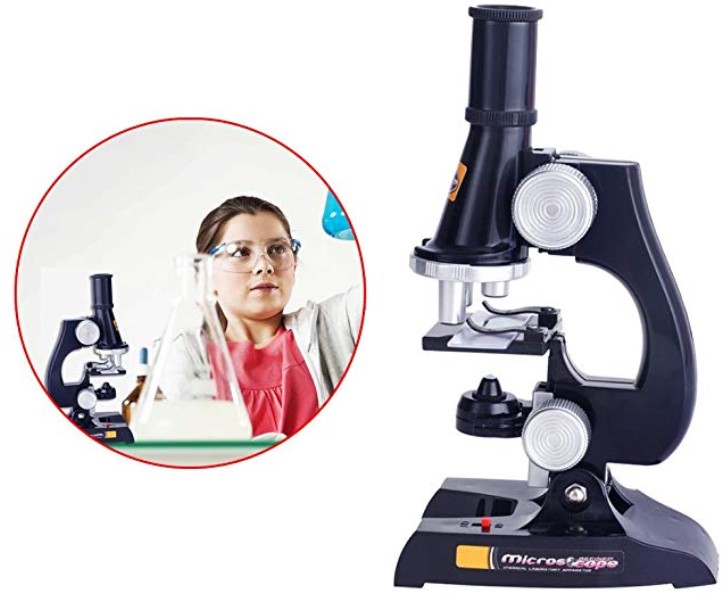 Discover the world through a lens using the FUNRUI Kids Microscope. Your kids will be in awe when they peek through life beyond the naked eye. This beginner microscope has a magnification capacity of 100x, 200x, and 450x. Let your kids have fun exploring leaves, insect cells, flowers, and other everyday objects under this microscope.
Young aspiring biologists can start with this kit. It's packed with essential accessories such as blank labels, collection bottle, color box, tweezers, and plastic ware. Place a sample of the specimen on the blank label to look into cells and its parts.
It is made of ABS quality plastic material to ensure you're getting the most of your purchase plus it's safer to use compared to metal-grade types. This is a battery-powered microscope with an LED power switch. This lighting system makes it easier to look at any specimen with preciseness and encourages kids to explore more. Just don't forget to place the slides inside the microscope before turning on the LED light.
4.

SOLOMARK Beginner Microscope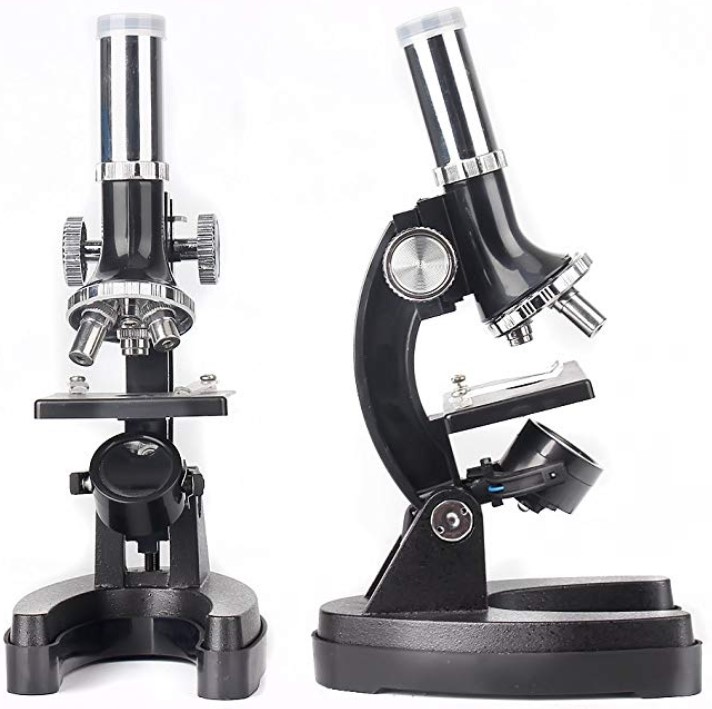 Explore science and get the best fun from learning using the SOLOMARK Beginner Microscope. This microscope is suitable for children who have a deep interest in nature and science.
As a beginner microscope, this device holds a higher magnifying range of 100x, 300x, and 900x that's almost similar to what you'd get using a professional scientific instrument. Add a small sample or swab of the specimen under the microscope and get a clearer image of its minute parts.
This toy microscope encourages children to explore outdoors too. It is powered using 2 AA batteries. Kids can tinker with the adjustments easily so they can control image sharpness, light intensity, magnification, and eyepiece placement. The SOLOMARK Beginner Microscope is also compatible with your smartphone. If your kid happens to use this for an outdoor science project, you can also check out your smartphone as an alternative eyepiece.
5.

Little World Beginner Microscope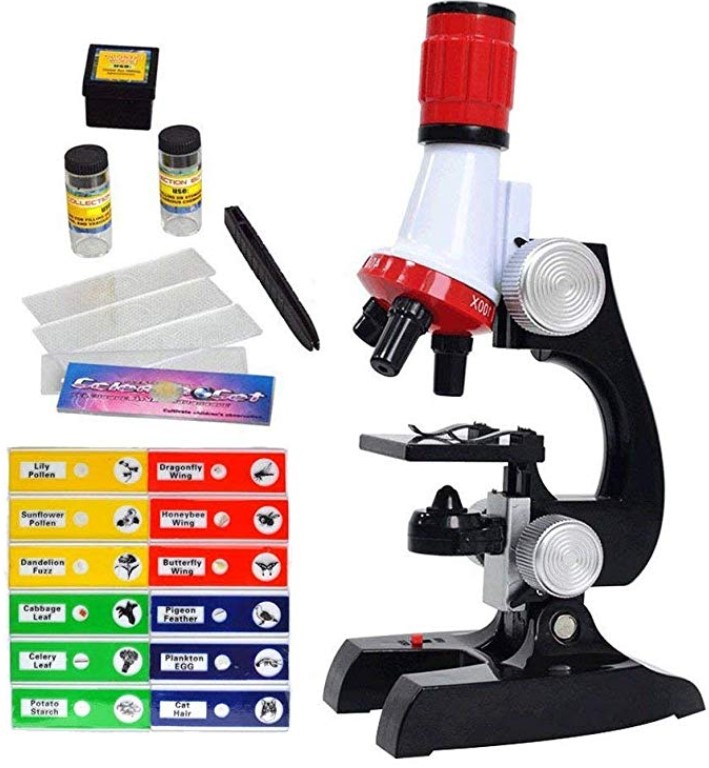 The best time is to train them early and what better way to guide your child to explore biology than with the Little World Beginner Microscope! This educational instrument gives your kids the opportunity to take the fun in learning. It's made of plastic that's safe for kids and suited for prolonged durability.
This is a high magnification tool to help your kids see minute details from the samples on the slides. Adjust magnification levels from 100x, 400x, and 1200x easily using the adjustment knob. Be mindful and avoid hitting your tube with the slides if you're switching magnifications.
This microscope has a monocular viewing head with an LED lighting system and powered by 2 AA batteries. This set also includes a collecting bottle, tweezers for taking out samples, blank slides, and permanent slides. Prepared slides are also included so your kids can immediately look into micro-parts of objects such as a cabbage leaf, potato starch, pigeon feather, and cat hair to name a few. This is a good STEM educational toy that brings both fun and learning in one device.