Who doesn't love a bouncy house?
When attending parties or visiting carnivals, kids get fascinated with bounce houses. The idea of jumping and running around is exciting. Even adults do get the thrill sometimes. Nowadays, bounce houses are regularly present at children's parties.
Some parents buy them for recreational activity in their homes, especially if they have kids visiting now and then. Outdoor activities are more appealing to parents. Hence, this is something that interests their children to hang outside the house.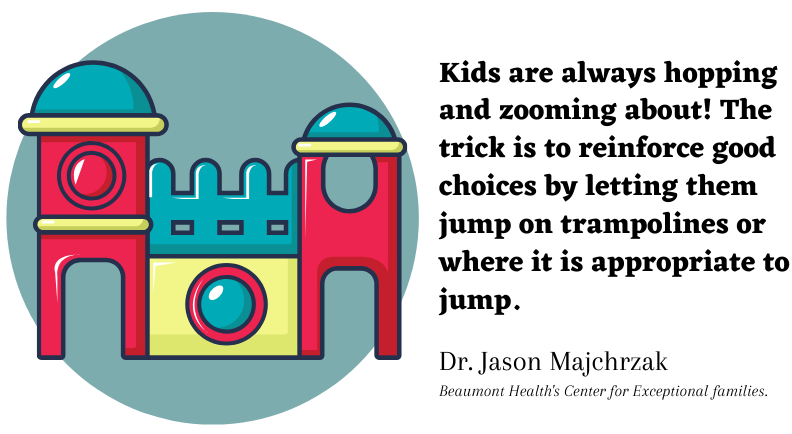 Now, you can have a bounce house in your own backyard…
In earlier days, bounce houses usually were the only for-rent basis, and they were just around during carnivals and school fairs. Now that manufacturers have ventured into the high-tech production process, there are bounce houses suitable for residential use.
Parents can have the luxury to select bounce houses appropriate in their backyard, the kind that their kids love.
Are bounce houses beneficial to kids?
Bounce houses are not only for leisure purposes. Playing on these inflatables can keep the kids fit, healthy, and a form of exercise. Children have always been energetic; most of them even have more energy than others. Letting them play in a bounce house is the best way to release their overflowing energy.
Other kids prefer to sit and play computer games, but owning a bounce house can probably change their minds and decide to become more physical such as jumping on an inflatable structure.
Develops motor skills…
Younger kids can develop their motor skills when they're playing in bounce houses. Toddlers are the ones who can benefit more from these inflatable structures. By jumping around, finding their balance, and sliding up and down–these can improve their motor skills and body coordination.
Which is safer… a bounce house or trampoline?
Kids are always hopping and zooming about but parents need to reinforce good choices by letting them jump on trampolines or where it is appropriate to jump, says Dr. Jason Majchrzak of the Beaumont Health's Center for Exceptional Families.
Indeed, nothing is more interesting for young kids than to jump on trampolines. However, it's the opposite for parents; it scares them because of the dangers involved.
Bounce houses are good alternatives for trampolines. They're safer, too, because they have wide flooring and better stability, so severe injuries are less likely to happen.
Features of a reliable bounce house…
Buying the right inflatable house can be tricky, especially when there are no guides on what to look for in a bounce house. Some essential features can narrow the options. The size of the inflatable structure is something to consider. Knowing how many kids frequently play can filter the choices.
Space is another essential detail. There's no point buying something too big for the lawn with only two kids playing on it. Choose the right size that can satisfy both determiners.
Bounce houses are enormous; this means it takes some time to set it up, disassemble, and store it. Parents should consider all these, so they don't have hesitations every time the inflatables have to go up. Usually, the inflating and deflating of the house can ruin the fun for both kids and parents.
If it's too complicated to blow the thing up or take it down, parents immediately say no to kids. Pick the type with simple instructions for blowing up and storing it.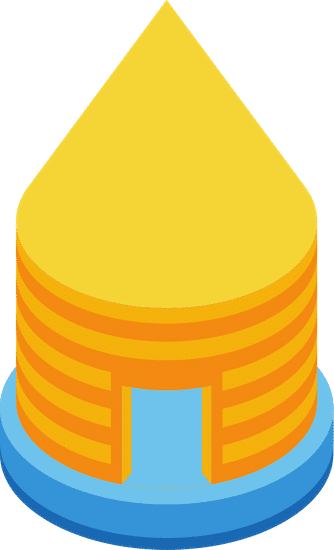 Check out our highly recommended bounce houses your kids would surely enjoy:
1. ACTION AIR Bounce House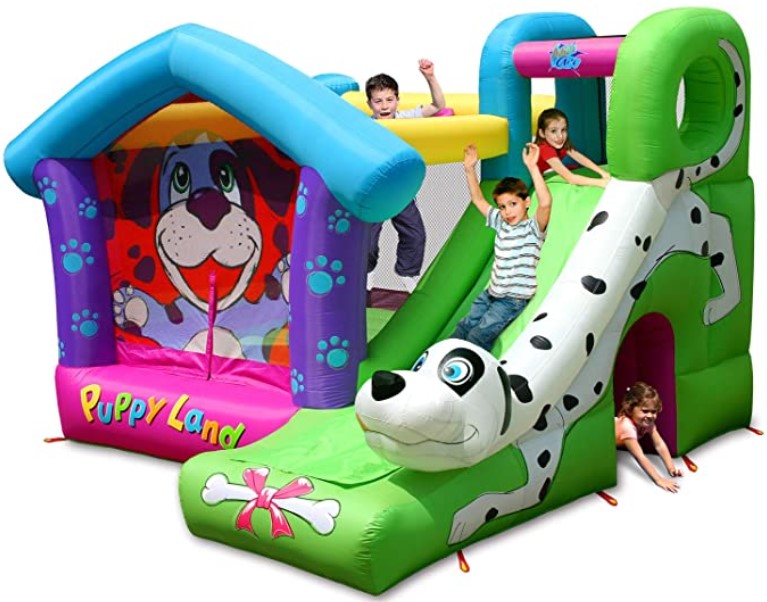 The ACTION AIR Bounce House doesn't only guarantee fun but safety too. It has passed the Children Product Certificate standards. The mesh safety nets cover three sides of the inflatable to protect kids from falling off directly to the ground.
An air leak found between the seams will prevent from over-inflating the product. With its extra-thick material, the bounce house can accommodate four kids sliding and crawling around. There's a double sliding layer on the inflatable house for smoother slide action and also lessens the friction which stops from possible burst up.
This bounce house requires minimal time for inflating and taking it down, which only takes three minutes for each. There are accessories available that simplify these processes, a blower, stakes, and a carry bag. It also includes repair kits for future damage issues.
The inflatable house looks considerably big, with dimensions of 11'x11'x8′; this can occupy a large yard. With this size, expect the kids to have fun crawling, jumping, sliding, and running for hours.
For hours of fun, check out the ACTION AIR Bounce House!
2. Intex Jump O Lene Castle Inflatable Bouncer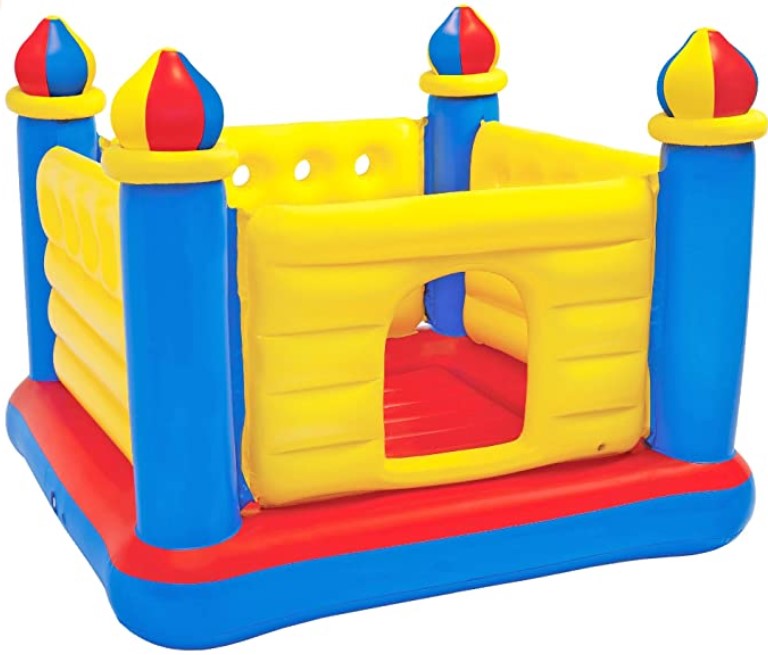 Kids with ages from 3-6 years old have too much energy in them. This Intex Jump O Lene Castle Inflatable Bouncer is the right place for them to release their playfulness. This pretend-castle inflatable is big enough for two kids to run, jump, and crawl for long hours.
With its dimensions of 69″x69″x53″, it can be put indoors during cold weather so the children can still get active inside the house. Since children between these ages are so fond of jumping around, the double-mattress inflated floor keeps them safe and comfortable.
The PVC material used on this product is durable enough to last for a long time, no matter how frequent the kids play on them. Even though this is PVC, it's non-toxic and easy to maintain, simply use water and soap when cleaning it. The walls are about 6′ high, enough height to prevent the little ones from climbing over.
There's nothing to worry about wobbling or tipping over because the base is well-balanced regardless of how intense they play with it. Taking the bounce house down is not that complicated; it deflates quickly, and because of the compactness, it doesn't take too much storage space.
Where was this when I was a kid? So many cool toys now to add fun to the backyard, as well as exercise!
3. Bounceland Jump and Splash Adventure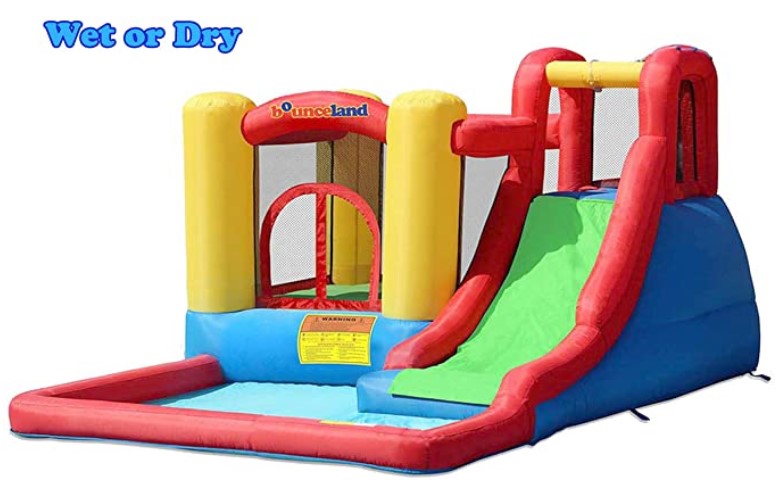 Bouncing and splashing seem to be attractive to kids with ages from 3-10 years old. The Bounceland Jump and Splash Adventure inflatable house give the kids a venue to bounce, slide and splash in a pool altogether.
This bouncy structure is complete with accessories like a water sprinkler and a slide cover for a smoother glide. It also has a basketball hoop to add variety to their outdoor activities.
This bounce house has top-grade materials for durability and reinforced by the quadruple stitches. Children can spend long hours of climbing, shooting hoops, running, and still keeping the inflatable intact.
The size is massive. Hence, the lawn has to be wide enough to fit a structure with dimensions of 11'x9'x6′. Keep it safe and allow only three kids at a time in this bounce house.
Other accessories like the 9″ stakes, blower, water hose, repair kits, and carry bag are all included in the package. Inflating the house takes only a minute, and storing it is easy because of the carry bag.
Just add water! Wow, think of the fun your kids will have with the Bounceland Jump and Splash Adventure!
4. Doctor Dolphin Inflatable Bounce House Jumping Castle Water Slide
Keep it interesting for kids, be it indoors or outdoors with Doctor Dolphin Kids Inflatable Bounce House. This blow-up structure has an inflated size of 9.5′ x 6.6′ x 5.1′, which is just right in the backyard or inside the house. It means kids can enjoy jumping around, not only during the summer but also during cold weather.
There's a dual purpose area either for a ball pit or mini-pool that kids will surely love. As long as they're three years old and above, they're allowed in the house. But they need to take turns to go inside, only three kids at a time for safety purposes.
Blowing it up can only take minutes because it comes with a commercial-grade air blower. No trouble of tipping it over, the seven stakes can keep the inflatable house stable and secure. Make use of the carry bag for easy storage at home. Patches are available too for repair purposes.
There shouldn't be any issues with setting it up and taking it down. An instruction manual comes in the package.
Check out the Doctor Dolphin Kids Inflatable Bounce House. Get it in time for the next birthday party!
5. YARD Bounce House Dual Slide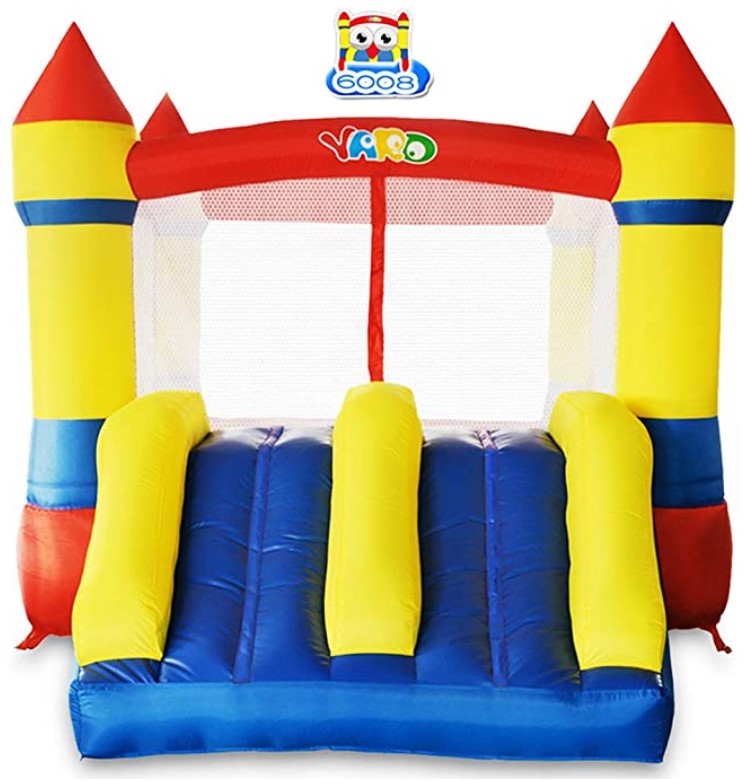 Dual slide means double the fun for kids when they play on this YARD Bounce House Dual Slide. Four of them can jump, glide, and run for hours, just as long as their combined weight doesn't exceed 400lbs. Its size of 12'x8'x7′ can fit indoors or outdoors, so children can still play regardless of the weather condition.
The bounce house has a mesh net cover to safeguard the kids. The walls are high enough, so kids can't climb over.The high-quality materials and sturdy sewing of this inflatable structure guarantee long-lasting performance. It's also certified by the CPSC, which means the product is of good quality.
Blowing it up doesn't need more than two minutes, and when the kids are through, leave it to deflate on its own. The carry bag makes its storage quick and neat. The usual accessories, such as the blower, stakes, and repair kits, are all part of the package.
Did someone say RACE? See who can slide down the quickest… on the Yard Bounce House Dual Slide!
---
Additional Fun Stuff: