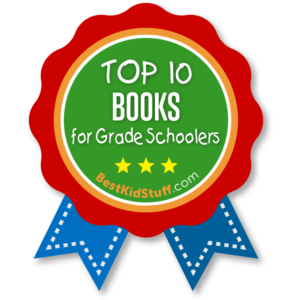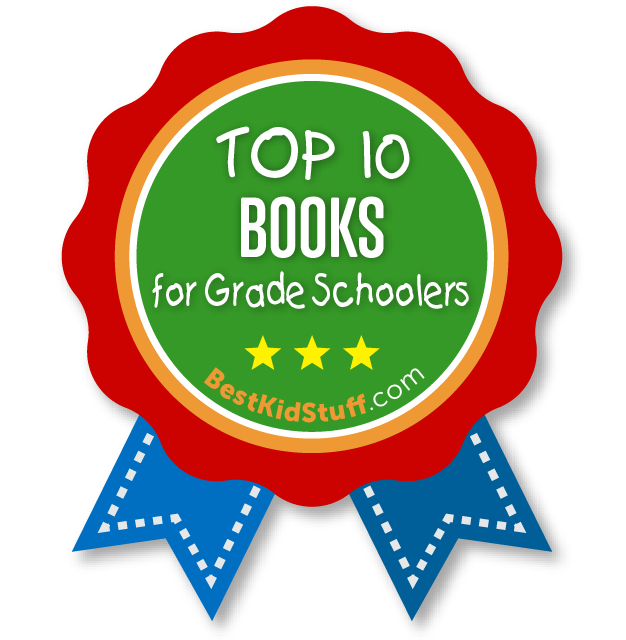 When selecting the best books for grade-schoolers we had a number of fantastic candidates to choose from. This ranking focuses on books that are must-reads for children in grades K-6. You will see them listed in chronicle order by age appropriateness.
We selected titles that were award-winning and broke the mold in some way. For example, Alice's Adventures in Wonderland was not received to critical acclaim during the time it was published but most certainly broke the mold.
We combed through books old and new and looked for titles that were making important statements about the world -placing a high value on the importance of friendship, family, animal rights, imagination and more.
Here's how we came up with our picks for the best books for grade-schoolers.
When considering this ranking we wanted to find a handful of books for grade-schoolers that would inspire further reading, teach a valuable lesson, and be exciting to return to through the years. Our specific metrics are listed below:
Metrics
Fun (1/3): Our "fun" metric is in place because we think that reading should first and foremost be fun. We wanted to select titles that were engrossing and ranked them accordingly.
Importance (1/3): For our "importance" metric we wanted to find books that made elementary school children think. As there are very impressionable years, the message behind the book has the capacity to make a large impression on a young mind. We wanted to select titles that would do just that.
Timeless Quality (1/3):In terms of Timeless Quality again we wanted to select titles that would inspire a lifetime of reading. We selected titles that your child will want to return to over and over again and in some cases perhaps later in life.
Grades: K-2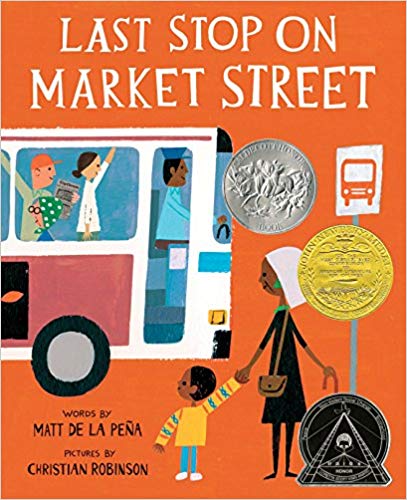 Last Stop on Market Street is a Caldecott Honor Book, Newberry Medal Winner, and Coretta Scott King Honor Book for illustration. It was written by Matt de la Pena and illustrated by Christian Robinson. There is something so warm about the relationship between CJ and his Nana.
The story simultaneously captures feelings of nostalgia and feelings of now giving it a timeless feeling though it was written in 2015. The book is about optimism and gratitude- themes relevant to children of all ages.
When CJ leaves Church he complains to his Nana about the rain to which she wisely responds that even the trees need a drink sometimes. Throughout the book, CJ points out the differences between him and other children and their circumstances. The Nana continues to offer words of wisdom so deep that even parents reading along will probably enjoy the pleasant reminders. No matter the circumstance Nana sees beauty. The Last Stop on Market Street turns out to be CJ and his Nana's stop. They finish their day volunteering at a soup kitchen.
To some it may seem like CJ and Nana are living in the past which is probably why this book feels timeless. The fact is Nana is working to keep CJ in touch with important values- volunteering, listening to live music, environmental awareness, the importance of using public transportation and more.
Pros
Incredible Writing
Beautiful Illustration Style
Engaging
Diverse Looking Children
Timeless
Cons
Metrics
Score: 100
Fun: 100
Importance: 100
Timeless Quality: 100
2. The Word Collector
Grades: K-5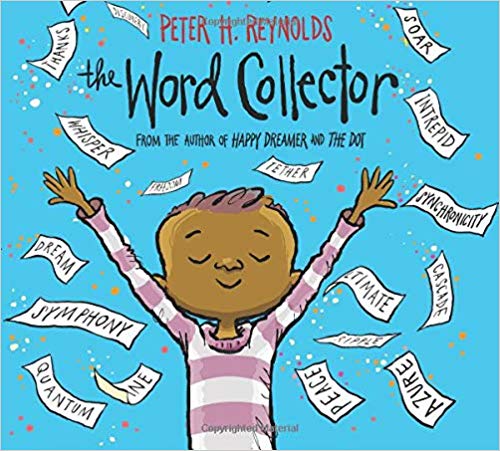 If you are looking for a book to inspire your child to read more and read often, then look no further than The World Collector. This is an incredibly heart-warming book that features a truly diverse group of kids- some who collect rocks, some who collect stamps and one who collects words.
This is the story of Jerome and his passion for words. He finds new and exciting words all around him. Some of the words are small words like "dream" others are multisyllabic words and some he's still not even sure of the meaning. He begins to organize his words into categories and files them away into books. One day, Jerome's words spill out of the pages and are scattered everywhere.
He notices that words go together in ways he never imagined. Soon enough Jerome is stringing words together, writing poetry, and even composing music. His friends are enamored with his songs. The book ends with Jerome spreading joy with others. Author and Illustrator Peter H. Reynolds manages to weave in very intimate moments where Jerome demonstrates powerful ways to use words to help his friends.
If you love reading and want your child to love reading don't hesitate to snatch up your copy today.
Pros
Inspires Creativity
Inspires Reading
Features a Diverse Group of Children
Positive Messages All Throughout
Fun
Whimsical Illustrations
Cons
Metrics
Score: 99.3
Fun: 99
Importance: 100
Timeless Quality: 99
Grades: 3-5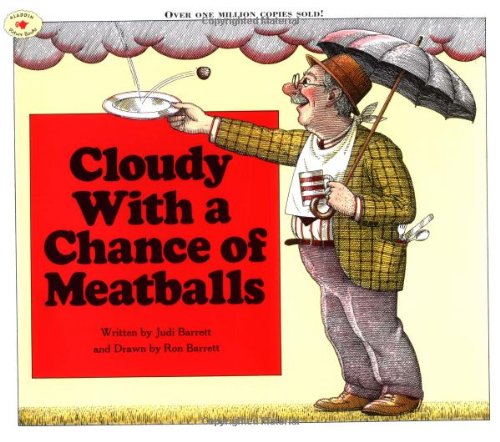 Cloudy With a Chance of Meatballs is an award-winning storybook that was published over 40 years ago and is considered one of the top 100 picture books of all time. The book was written and illustrated by husband and wife team Judi Barrett and Ron Barrett. The story and its illustrations are unforgettable and still oddly relevant to life today.
The story begins at bedtime when Grandpa tells the most amazing bedtime story about the land of Chewandswallow. Chewandswallow is a small town that relies on the weather for its food. The rain is soup and the snow is mashed potatoes and peas.
Each meal comes right on time with just the right drinks and condiments. Until one day the weather patterns start to get a bit erratic. The town is forced to eat gorgonzola cheese one day and the next day overcooked broccoli. Some of the portions sizes come down far too large and these irregular weather patterns cause a crisis in Chewandswallow.
It's not too long that the crisis becomes too extreme and threatens the lives of the people of Chewandswallow. They set sail on some stale sandwiches and construct new homes in a new town. The townspeople learn to adjust to their new way of life. There are plenty of teachable moments in Cloudy With a Chance of Meatballs.
We are certain this book will continue to be a favorite among children, parents, and teachers for years to come.
Pros
Amazing Illustrations
Imaginative Story
Great for Bedtime
A Good Fit For All Ages
Cons
Not a Very Diverse Group of People Represented
Metrics
Score: 98
Fun: 100
Importance: 97
Timeless Quality: 97
4. Charlie and the Chocolate Factory
Grades: 4-6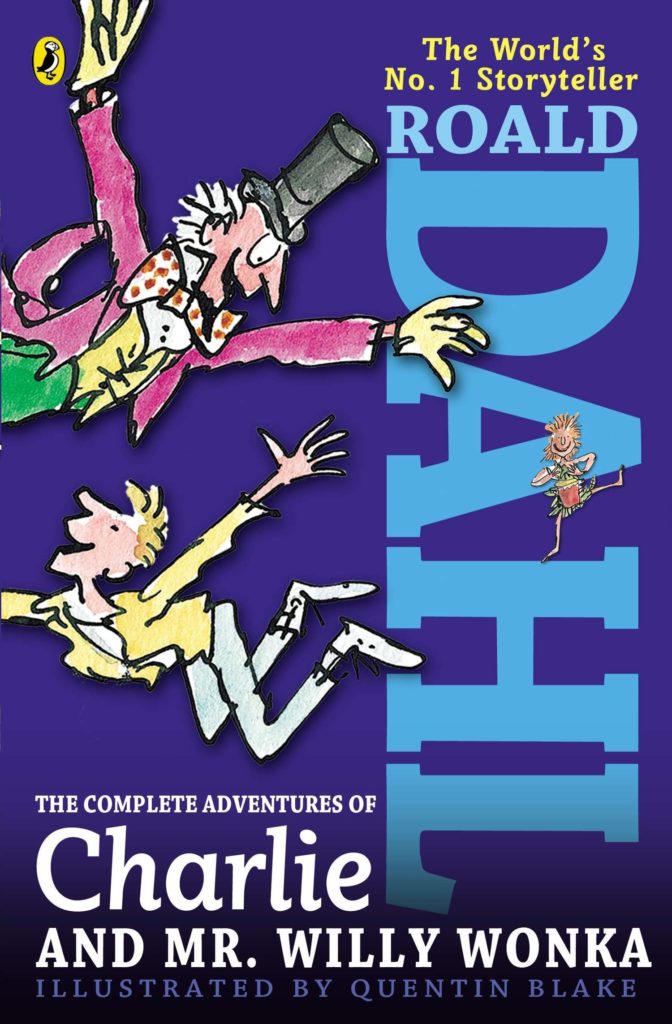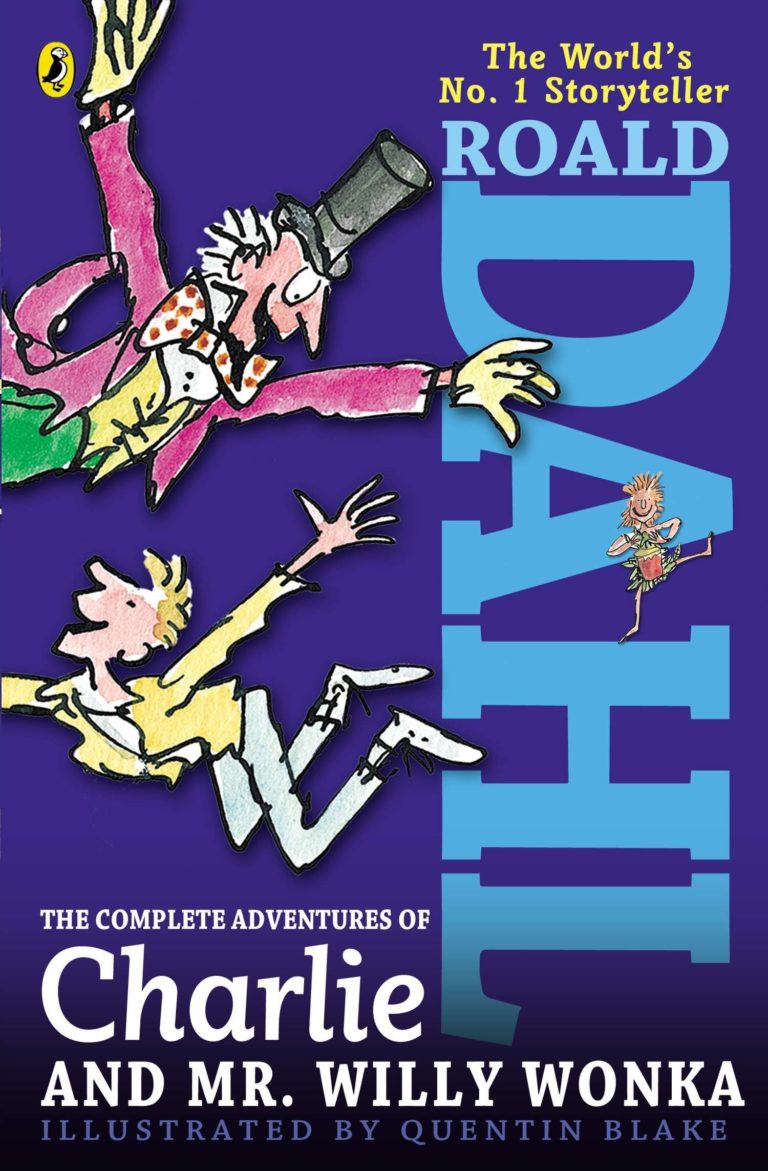 Charlie and the Chocolate Factory was written in 1964 by beloved children's book author Roald Dahl. It was illustrated four times and most famously by Quentin Blake who would illustrate most of Dahl's works.
The story is imaginative and whimsical and yet does not shy away from some of life's harder topics like poverty and even slavery. This beloved children's book would be made into a film, twice.
This is the story of Charlie Bucket who lives in poverty with his parents and grandparents. One day Willy Wonka announces that he is going to reopen the factory and will admit the lucky recipients of the 5 golden tickets. Lucky Charlie snags the final golden ticket and he and his grandpa Joe head into the factory for the tour.
The other children include Violet Beauregard, Veruca Salt, Augustus Gloop, and Mike Teevee. Each gets into their own unique sticky situation before being asked to leave the factory. Charlie prevails and he and his grandpa Joe are asked to live at the factory. The book would prompt a thrilling sequel Charlie and the Great Glass Elevator.
If you are looking for something inspiring and fun for your little one, definitely grab a copy. We are sure they will be hooked and excited to read all of Dahl's other works.
Pros
Fun Characters
Imaginative
Whimsical
Cons
Some of the Themes Regarding the Oompa Loompas are Kind of Dated
Metrics
Score: 98
Fun: 100
Importance: 98
Timeless Quality: 96
Grades: 3-5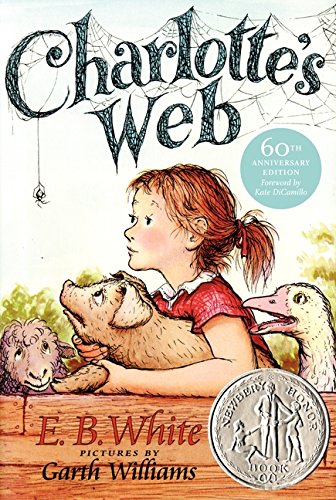 Charlotte's Web is an award-winning book written for children though adults will enjoy this classic. It was written by E.B. White and published in 1952. The book won the Newbery Honor Award in 1953, and the Laura Ingalls Wilder Medal in 1970 among others. It discusses the circle of life in a way that is touching and memorable.
Charlotte's Web is the story of Wilbur the pig who is a runt and destined to become dinner. Fern raises the pig from the time Wilbur is a baby until he is big enough to stay on the family farm. Soon enough Wilbur befriends a spider named Charlotte whos is trying to determine a way to save Wilbur from slaughter.
Realizing that he just may be saved if the farmer believes him to be a prized pig, Charlotte writes "Some Pig" in her web. Wilbur is spared and soon heads to the fair to be judged. Charlotte passes away that Autumn and leaves her egg sac with Wilbur.
The story is beautiful and touching and is sure to be a favorite for decades to come.
Pros
Very Beautiful Story
Unforgettable Characters
Award-Winning
Great for Kids and Adults
Cons
Metrics
Score: 99.3
Fun: 98
Importance: 100
Timeless Quality: 100
6. The Hobbit
Grades: 4-6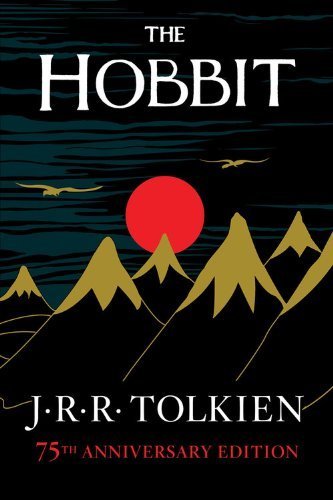 The Hobbit AKA There and Back Again is a children's fantasy novel written by J.R.R. Tolkein in 1937. Since its publication, The Hobbit has received high critical acclaim and was later turned into a series of films. It served as inspiration for Tolkein's subsequent trilogy The Lord of the Rings.
The Hobbit is the story of Bilbo Baggins and the changes that inevitably come about in his life as a result of his journey with a group of Dwarves to the mountains. Baggins is tricked to welcome some guests to dinner by a wizard named Gandalf. At the unexpected dinner party, it is decided that Bilbo will join the dwarf party as their thief- they are heading to the mountains to take back their rightful treasure from a dragon named Smaug.
Bilboa goes from being a calm and ordinary Hobbit to a risk-taker and adventurer. He heads off with Thorin Oakenshield to complete his quest. Each chapter introduces new characters and challenges. When separated from the group, Bilbo meets a curious creature named Gollum who engages him in a challenge of riddles. Bilbo uses Gollum's magical ring to escape. This would form the connection between The Hobbit and The Lord of the Rings.
Though released over 80 years ago The Hobbit is timeless. We are sure your child and grandchildren will love reading about the adventures of Bilbo Baggins for years to come.
Pros
Great Story
Epic World
Memorable Characters
Classic
Cons
Some of the


Pros

May Be Dated
Metrics
Score: 98.3
Fun: 100
Importance: 97
Timeless Quality: 98
Grades: 5-6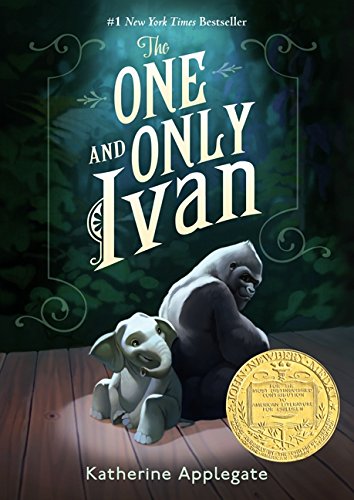 The One and Only Ivan was written by K. A. Applegate and Illustrated by Patricia Castelao. In 2013 it wone the Newbery Medal and has since won a number of other awards. 2018 began the film adaptation of this novel.
It's the story of Ivan a silverback gorilla who lives at the Big Top Mall. Initially, Ivan likes his home and has very few complaints. He lives next to Stella an elephant and is best friends with her and a dog named Bob. Stella has memories of long ago and really doesn't want to live at the mall. She prefers the zoo so that she can stretch out and live somewhere closer to her natural habitat.
Life changes for Ivan when a baby elephant named Ruby joins the group. Stella passes away and Ivan vows that he will help Ruby live a better life. A custodian's daughter named Julia provides Ivan with some fingerpaints giving him just the idea to help get him and Ruby out. Visitors to the Big Top Mall begin to protest and eventually the operation is closed down. Ivan and Ruby begin new lives living at the Zoo.
Pros
Heartwarming Story
Loveable Characters
Raises Awareness of Animals' Needs
Award-Winning
Fun For All Ages
Cons
Metrics
Score: 98.3
Fun: 98
Importance: 100
Timeless Quality: 97
Grades: 5-6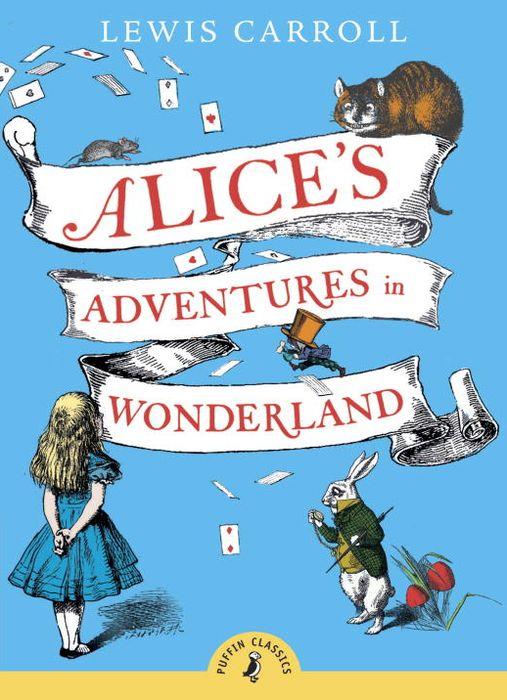 Alice's Adventures in Wonderland is the classic novel written by Charles Lutwidge Dodgson best known as Lewis Carroll. It was published in 1865.
Initially, Dodgson illustrated the story himself but the most famous illustrations were engraved on wood by John Tenniel for the reprinting in 1866. The book has been illustrated countless times including by famous surrealist painter Max Ernst in 1970 and again by Tove Jansson in 1977.
Poor Alice is bored. That's how the story begins. You know what they say about idle hands. Well in the case of Alice, the whole world becomes her own plaything. She follows a white rabbit and falls down the rabbit hole. She notices a bottle that says "drink me" and does just that. She grows to an enormous size and begins crying. Her tears are so large she causes a flood but shrinks again after using a fan.
Alice meets new creatures each chapter all the while trying to determine the best way for her to get home. She encounters a caterpillar, a Cheshire Cat a mad hatter, dormouse and even the Queen of Hearts. Just after the Queen orders that Alice is beheaded her sister wakes her from this dream.
The story contains a lot of fun symbolism and puzzles and is sure to be loved for generations to come.
Pros
Imaginative Story
Lots of Characters
Fun to Read
Great for All Ages
Cons
Some of the Themes Are a Little Scary
Metrics
Score: 98.6
Fun: 99
Importance: 97
Timeless Quality: 100
9. Harry Potter and the Sorcerer's Stone (American Title)
Grades: 4-6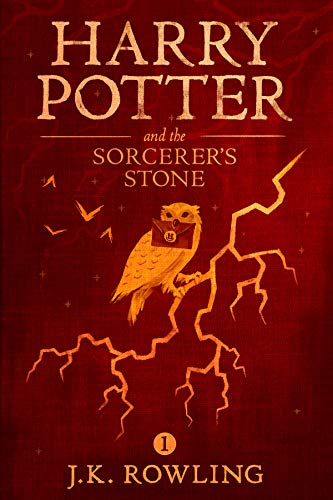 Harry Potter and the Sorcerer's Stone was originally titled Harry Potter and the Philosopher's Stone in England but the title was changed to suit American audiences.
It is the first in a series of 7 novels by J.K. Rowling featuring a young wizard and his witch and wizard friends and their adventures at Hogwarts School and beyond. The entire series of books are beloved by children and adults across the globe.
Harry Potter lives an unhappy life being abused and mistreated by his aunt, uncle, and cousin. His life changes on his 11th birthday after receiving a letter that he has been accepted to the Howgarts School of Witchcraft and Wizardry. Harry has a hidden secret- his now-deceased parents with both wizards. They were murdered by the evilest wizard to have ever lived Lord Voldemort.
Before long Harry acquired a wand, his owl Hedwig and is off to school. Harry is then sorted into the house Gryffindor meets his friends Ron and Hermione learns how to play a game called Quidditch and solves a mystery. The story is thrilling and a real page-turner. Thus begins the many adventures of Harry Potter.
Pros
Kids Love It
Very Imaginative World
Who Doesn't Love Wizards?
Fun Page-Turner
A Whole Legacy to Enjoy
Cons
Not Everyone is Fond of Witches
Metrics
Score: 98.6
Fun:100
Importance: 97
Timeless Quality: 99
Grade: 6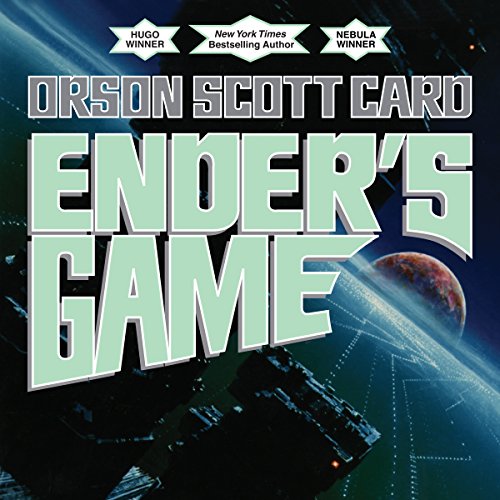 Ender's Game is a science fiction novel written by Orson Scott Card in 1985. The book is part of the U.S. Marine Corps recommended reading list and is Considered to be a piece of military science fiction. Ender's Game won both the Nebula Award and the Hugo Award- two very prestigious awards for science fiction.
This is the story of Ender who is born into a world of violence where there is a war going on between humans and the buggers. He wants to train in what is essentially a military school and eventually proves himself worthy. His classmates give him a hard time but Ender is victorious again and again.
Eventually, Ender is given opportunities to fight in simulated battles and begins to dislike his life and his isolation from the group. He later discovers that they weren't simulations after all- they were real. Ender discovers that he did, in fact, commit genocide and is forced out to repopulate one of the bugger's former worlds. There he discovers the egg of a queen and ventures out with a friend to determine a way to repopulate the species he has just destroyed.
Ender's Game has been listed among the top 100 science fiction novels of all time.
Pros
Incredibly Imaginative
Great Character Development
A Good Thought Piece
Cons
The Book Is Violent and Some Critics Argue That Ender's Violence is Not Held in Check
Metrics
Score: 98.6
Fun:97
Importance: 100
Timeless Quality: 99
---
Related book "stuff"