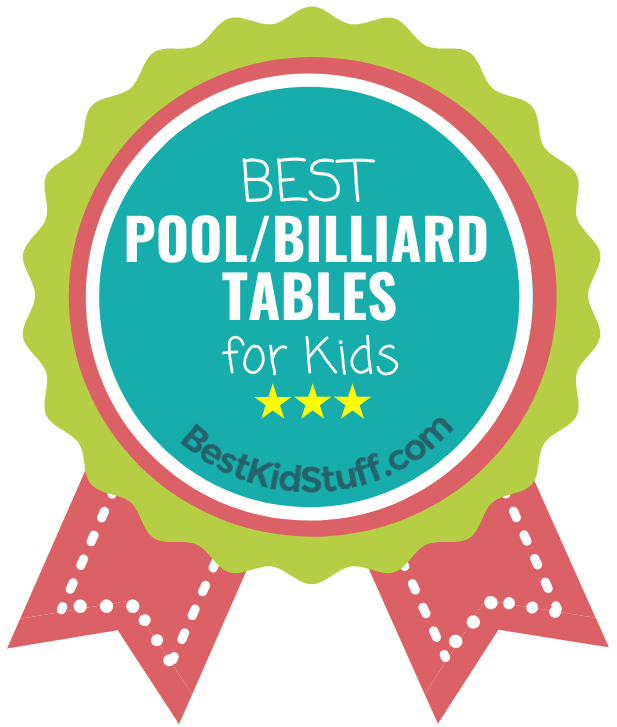 Most people probably think of pool or billiards as games for rowdy teens or adults, usually played in some basement or at a sports bar at night with a couple of bottles of beer.
But believe it or not—it's not just for adults, and it might surprise a lot of parents to know that getting your kids to play pool comes with lots of physical and mental benefits for them.
Benefits of playing pool…
One of the best things that pool or billiards can teach young children is concentration. Children usually have a short attention span, which can make tasks like homework extra difficult for them (plus, homework isn't that fun or rewarding). However, in a game of pool, kids will realize that putting their focus into something pays off well.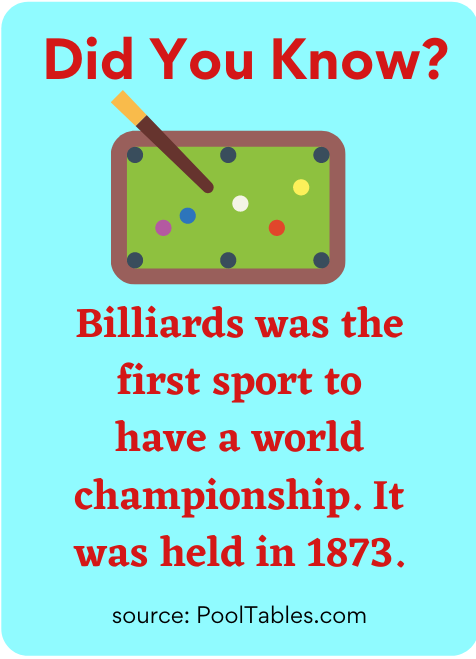 The development of hand-eye coordination is also another thing children can gain from regularly playing this sport. Billiards or pool can also develop their sense of balance and flexibility, as the game requires adjusting your position and stretching to make the best possible move.
Also, playing pool can even hone children's foresight and critical thinking skills, as they have to plan not just their next move, but what will happen after it as well. With all these benefits, the pool is a great sport to keep kids (and adults) busy!
Check out these options…
We've rounded up five of the best mini pool/billiards tables on Amazon that you can get for your kids below. Parents must note that, for safety purposes, the majority of these pool/billiard products are not intended for use with children three years old or younger.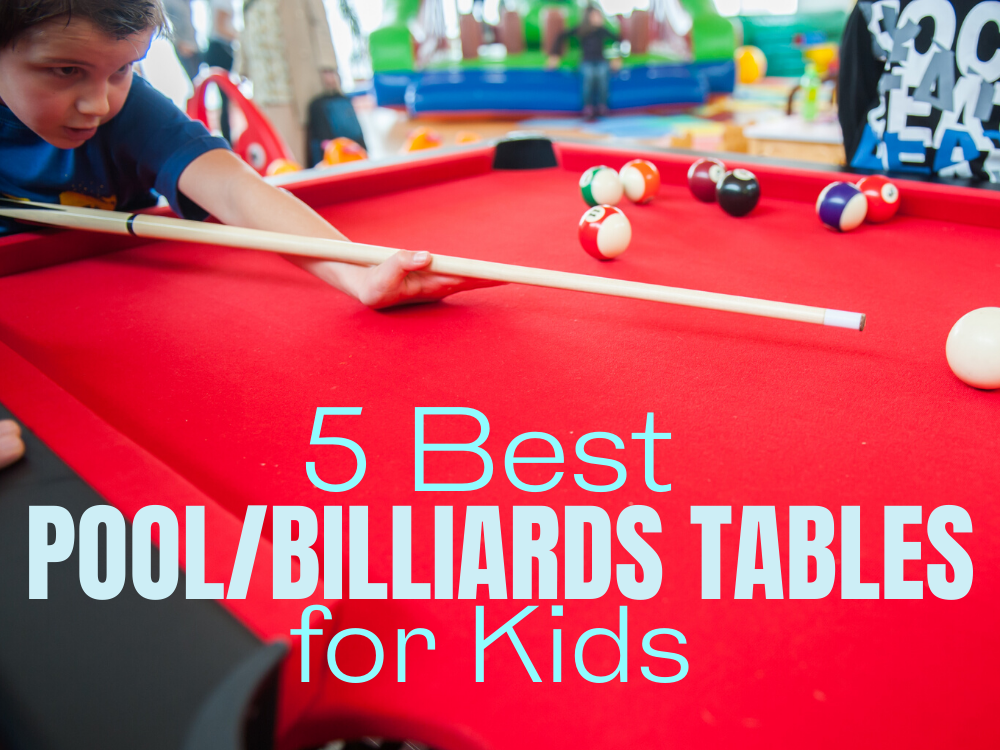 1. Matty's Toy Stop deluxe wooden Mini Tabletop billiards
For a fun game night with adults and kids alike, consider the Matty's Toy Stop Deluxe Wooden 20″ Tabletop Billiards Table. At twenty inches, it's big enough to make gameplay a little more challenging for adults (as compared to other miniature pool tables). However, it is still cute enough for the younger kids to use and for parents to store away easily.
What makes this mini billiards table unique is the neon blue color theme, and black felt covering, unlike the usual green color scheme for typical billiards tables, which will catch the eye of any child. Even the pool sticks are designed with neon blue ends to match the table.
With its attractive and unusual design, Matty's Toy Stop Deluxe Wooden Mini Billiards Table is the perfect way to get your kids into pool or billiards. Each deluxe set comes with two pool sticks, one cue ball, fifteen colored balls with a racking triangle, chalk cubes, and a brush for the post-game clean-up.
The product also weighs only 5.5 pounds and is only twelve inches across, so even though it might seem longer than usual, it's still easy to move from room to room, or wherever you might want to play.
Mainly due to its larger size, its manufacturer Homeware recommends it for use with children ages six and up only. Parents must also be mindful that the smaller items, such as the balls and chalk cubes, may also be a choking hazard for younger children.
This one is very stylish and will pique your child's interest!
2. Srenta Mini Pool Table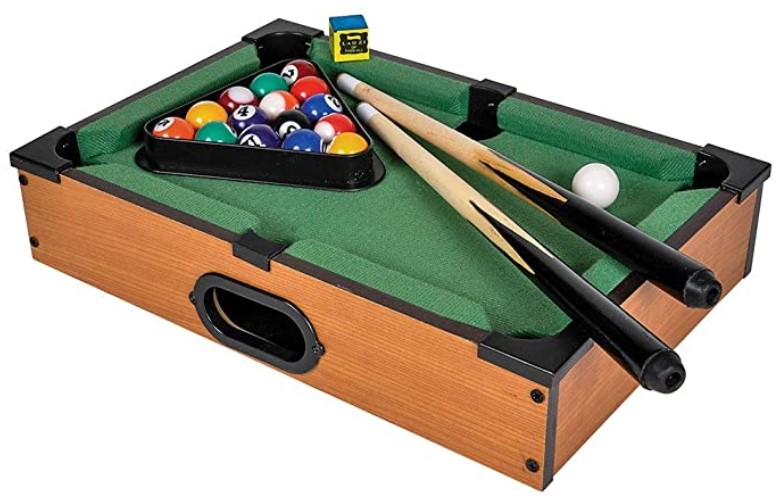 The Srenta Mini Pool Table is a great product that can be used in various ways. Use it to introduce younger kids to pool or billiards, gift it to an avid pool player to use as home decor, or even get one for yourself to try out if you've been planning to get into pool… but don't want to commit just yet or don't have space for a full-size pool table.
This mini pool table has the realistic feel of a full-sized one, from the typical moss green felt cover to the polished, high-quality wood design. It is only 14 inches long, which is a great size for kids and also allows it to be played on tabletops, counters, and even on the floor of smaller rooms.
One Srenta Mini Pool Table set comes with two pool sticks, a complete set of balls with a racking triangle, and cue chalk. At only three pounds, this pool table is also easy to carry around, so you and your friends and family can play anytime, anywhere!
Due to the small parts posing a choking hazard, the Srenta Mini Pool Table must be used only by children above the age of three and with adult supervision as much as possible.
Playing pool is a great way to foster hand/eye coordination in your child!
3. Mozlly Tabletop Pool Table Billiard Game for Kids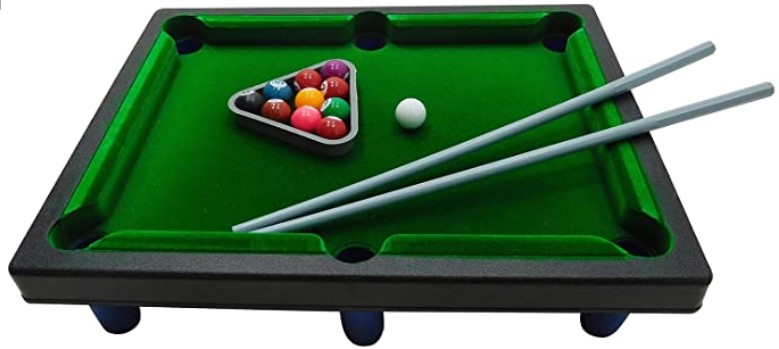 You can get your child a Mozlly Tabletop Pool Table Billiard Game that's made specifically for kids. This handy yet fully functioning billiard set weighs only three pounds and is only eight inches long, making it perfect for tiny, kid-sized hands and use even on the smallest of coffee tables, desks, and other places. This means even your younger kids can use the Mozlly Tabletop Pool Table Billiard Game, to sharpen their motor skills and hand-eye coordination. The compact size also allows easy portability – you can easily store it or bring it to trips out of town or to a sleepover.
Each set comes with the needed accessories for any billiard game – a pool table with green felt cover, cue sticks, colorful balls, a triangle rack to keep them in place, and a cue ball. Its parts are made with soft plastic to make them safer to use and less prone to cause injuries, especially among excited young players. However, buyers are still cautioned to use this billiard game with kids three years old and above only.
This pool table set is manufactured by Mozlly, a company that was started by teenagers who wanted to sell a single product at a local swap meet. Still, it has since then grown into a fully operational business that offers a wide range of products online. With Mozlly's motto of Our Most Important Order is Yours®, you can be assured of quality and excellent customer service with every purchase.
A great little conversation starter, as well as a good practice table for the budding pool player in your family!
4. Gamie Tabletop Pool Game Set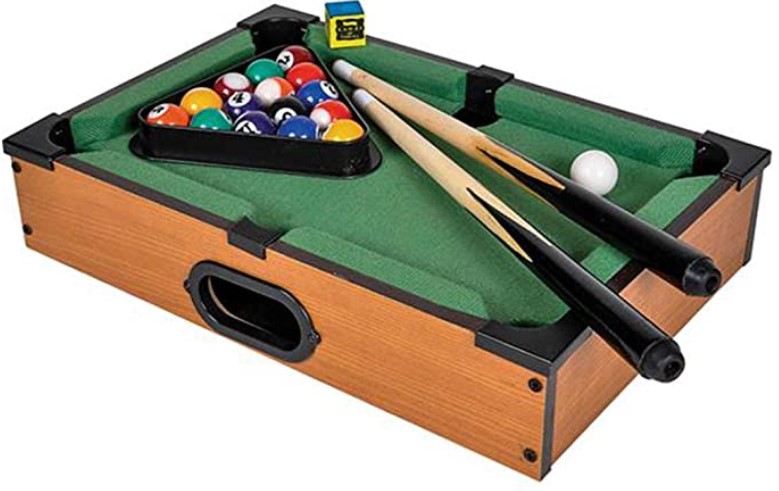 The Gamie Tabletop Pool Game Set, intended for kids from the age of three onwards, comes with all the accessories one needs to play pool – pool sticks for two, sixteen balls (including the cue ball) with a triangle rack, and cue chalk for the sticks. At a length of 13.75 inches, this set is not extraordinarily tiny but still compact enough to be played on top of smaller tables and countertops. It's also lightweight, weighing only 3 pounds, which means you can quickly bring it anywhere.
Gamie has also made sure to match the size and weight of the pool sticks and balls to the pool table's size, for optimal gameplay. The table is made of high-quality wood meant to last a long time, even with frequent use, and is covered with the same signature green felt that is used on full-size pool tables. The effort and quality control put into producing the Gamie Tabletop Pool Game Set ensures smooth and fun gameplay for adult and kid players alike.
It is currently sold at a reasonable price on Amazon, and it's also a risk-free buy, as manufacturer Gamie provides a hassle-free, 100% money-back guarantee or product replacement for customers who are not satisfied with their product in any way. The Gamie Tabletop Pool Game Set is stored in a sturdy box that makes for safe and secure shipping, storage, and even gift wrapping.
Thinking ahead to the next big birthday, order this today so you'll be ready to play with your child!
5. Playcraft Sport Bank Shot 40-in Pool Table
With its striking shade of bright blue, the Playcraft Sport Bank Shot 40-in Pool Table stands out from the hundreds of tabletop pool products on
the market, which is all mainly green. Offered by Playcraft Sport, the Bank Shot Pool Table may be longer than the rest of the options on this list, at 40 inches. However, it's only 20 inches wide, which makes it slender enough to fit most tabletops still. One set comes with all the accessories you need to play with; billiard balls with a racking triangle, two 36-inch cues, chalk, and even a brush for easy and convenient clean-up after the game!
This pool table has L-shaped legs that can withstand intense matches! It also comes with useful no-mar pads for protection from scratch or damage. The table is made from engineered wood, while the unique blue felt covering is top-quality blended polyester and wool.
If blue is not your color, this also comes in green and red felt. Buyers with small children are advised to keep the product away from kids below the age of three, as the small balls may pose a choking hazard.
This one's size is perfect for the older kids learning how to play pool. At over three feet long, your child will enjoy the similarities of playing billiards like an adult!
---
Additional Resources: