Teens, particularly 16-year-old boys, face many challenges in this puberty phase. You can expect them to challenge any person of authority, such as parents and teachers.
It's common for teenagers to drive their parent's cars and even own one. During this time, critical thinking would have fully developed, but they can be quite stubborn too!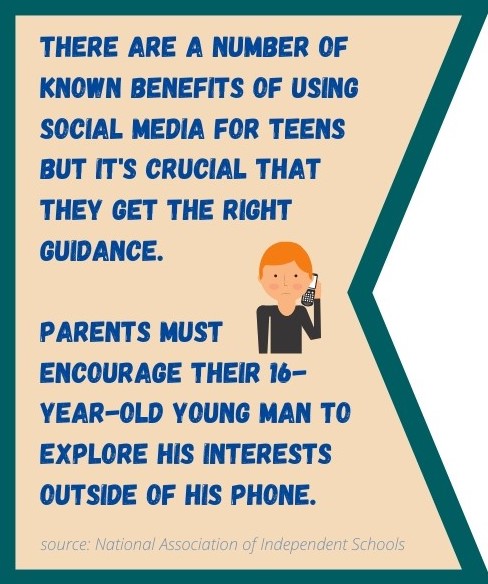 Physical and mental demands from school would have started to pick up, and they may have a problem keeping up with their schedules. To get away from the pressure of it all, they may pursue activities outside school and get into sports or find new hobbies.
Teens everywhere use social media to unwind and get connected. While there are benefits to using technology and social media for teens, it's crucial to provide a balance. Parents can encourage this by supporting them in their endeavors or giving them opportunities to freely explore other forms of enjoyment offline.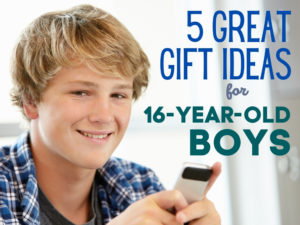 Are you shopping for a gift for a 16-year-old boy? We've got your covered. Our five recommended gifts are ideal for keeping him grounded, busy, and interested! The prices on this list appear on Amazon as of publishing.
1. Personalized Keychain for BoyS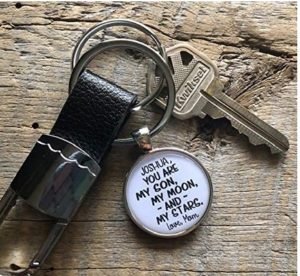 Convey your love for your son with this functional Personalized Keychain for Boys.
A leatherette strap is the centerpiece of the chain holding the silver-plated rings together. Easily glide keys in any of the rings to secure. Clip this keychain on a bag or belt loop using the lobster claw lock.
You can have his name customized on the centerpiece. It could also be words of encouragement to keep him reaching for his dreams. The black text is set over a white canvas enclosed with a durable front plastic cover and a silver-plated back.
This could be a simple gift you can give him for a job well done or a reminder of his "keys" to success. Creative gifts like these are beyond ordinary but functional at the same time!
This is a durable keychain that he will cherish and use for a long time.
What more could a 16-year-old boy love more than a special key chain with the keys to his first car attached? Make that day special with this unique keychain!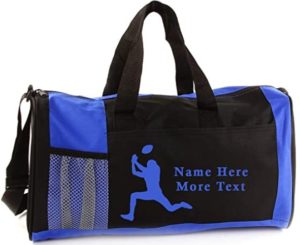 Aspiring football enthusiasts will surely love this Duffel Custom Sports Bag perfect for a 16-year-old boy!
This is a rectangular-shaped bag to fit all his sports accessories and personal items. It's made of quality polyester fit for tough handling. This could be an ideal bag he can use for school, short trips, or gym.
Compared to other duffel bags in the market, you can customize this bag with his name written on it. Or, you could get creative and add more texts such as encouraging quotes to motivate him to reach for his goals.
It can be carried in two ways: by hand or as a sling bag. The adjustable straps ensure that he carries it at a comfortable height. A small mesh pouch located outside the bag can be used to carry a water bottle or other small items such as mini-towel or notebook.
It's a definite bag for carrying his books, clothes, shoes, and other play items. An exclusive football player logo on the side makes this a unique piece he can carry with confidence!
This sports-related duffel is ideal for the football enthusiast at your house!
3. Under Armour 395 Football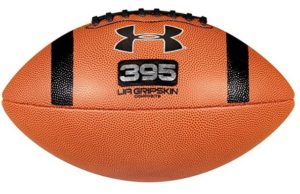 Is your teenager on the school's football team? The Under Armour 395 Football will make an excellent addition to his practice set.
It's made of durable UA GRIPSKIN Technology for firm grip and tack. This is the ultimate gift he can use for practice or a few throws with his friends. The Under Armour 395 Football sports a bold, black-laced style with black stripes on the side. The back portion of the ball uses 1-ply foam for an extra comfortable grip. If your son is part of the varsity's football team, this will make a valuable gift for him.
With this football, he can perfect his craft and become an efficient player for the team. If the ball feels soft, inflate the ball using a compatible inflatable device and a pump.
This would make an excellent gift for the aspiring football player in your life. Practice makes perfect! He (or she) will enjoy the Under Armour 395 Football for home play exhibitions!
This is a beautifully crafted Multi-Function Travel Laptop Bag made by Tzowla fit for any journey ahead.
It's made of quality polyester with a nylon lining. Water and sand smoothly glide off the textile protecting their belongings. It's lightweight, weighing only 1.76 pounds. Breathable back mesh fabric keeps their back cool as they carry the bag. This bag can fit any 15.6-inch laptops and is ideal for daily use.
It snuggly fits the device even with jerky movements from running. Adjustable straps help get the right fit around his shoulders and keep the bag as stable as possible. This bag sports a stylish passport-themed design packed with essential features. With his power bank placed inside the bag, he can reach into the USB cable on the left side to plug in his phone to charge.
The headphone hole located near the USB port allows him to listen to any audio hands-free. During the commute, he can listen to his favorite playlist minus the hassle of tangled wires and phone on his hand. This is a versatile bag he can use for vacations and other trips where he's required to bring his laptop.
Your son could be experiencing one of the busiest periods of his life. Make his life more comfortable and give this affordable multi-function laptop backpack as a gift for a job well done.
Great for the teen boy on the go!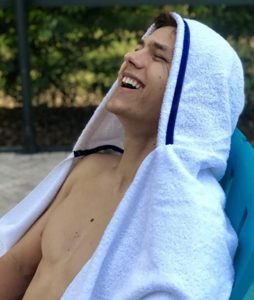 The Teen Boy's Hooded Towel dries more effectively than a regular towel.
This is made of soft and high-quality cotton. The light blue shade is soft but suitable for boys. Unlike traditional beach towels, this one comes with a hood to cover the head.
After a long dip in the water, your son can just grab this towel and hang the hoodie over his head. The fabric is non-abrasive and quickly absorbs excess water after a fun day on the beach or hanging out with friends in the pool.
This would also make an ideal towel to dry excess sweat after working out in the gym effectively. It's lightweight and non-bulky, so this easily fits in small bags. It's easy to clean by simply throwing this in the washing machine and then air dry.
This is a staple item your son can use for a long time.
The Teen Boy's Hooded Towel is a great gift for the swimmer, for those who work out at the gym, or after ball practice! Buy it today from Amazon!
*****
Still unsure about an interesting gift for the 16-year-old boy in your life? No problem… Take a look at a few additional ideas below:
Fire HD 8 Tablet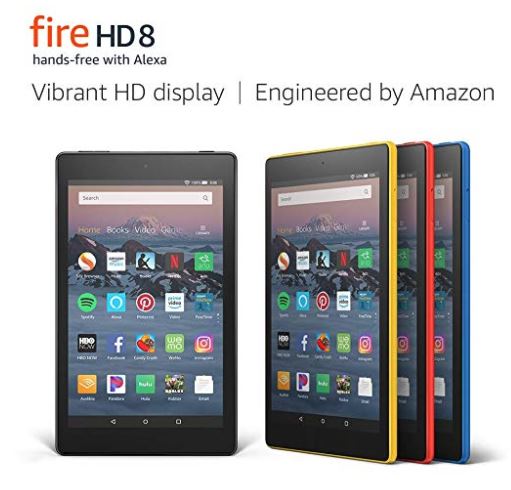 The Fire HD 8 tablet is a great gift for a 16-year-old – boy or girl! As a product from Amazon, it is extremely affordable and durable. Depending on its intended use, you can choose from two different sizes, 16GB or 32 GB. With an 8″ display, it is easy to view and very portable, making it a perfect gift for boys on the go. Just throw in the backpack and they're off!
With the front and rear-facing cameras and large display, your child will enjoy taking photos and streaming video content. Details include a 1.3 GHz quad-core processor, 1.5 GB of RAM, and dual-band Wi-Fi. It comes in several color choices as well. And perhaps most importantly, the Fire HD 8 comes with 10 hours of battery life!
For additional TABLET ideas suitable for all ages, check out our list of THE 10 BEST TABLETS FOR KIDS!
Need other suggestions? Check out these links for more gift ideas for teenage boys: