As parents, you want nothing but the best for your children, from the food they eat to the clothes they wear. We all put value in something with excellent quality and make purchases based on it.
One fashion item that most parents find difficult to get right is a pair of snow boots for little girls. But the truth is, snow boots can be of good quality, fashionable, and inexpensive at the same time.
The freezing weather calls for a complete winter ensemble that would not be complete without snow boots that keep your child's feet warm and dry. Little girls must have the best snow boots to help them deal with winter weather conditions and enjoy the available activities to the fullest!
What Should You Look for in Girls' Snow Boots?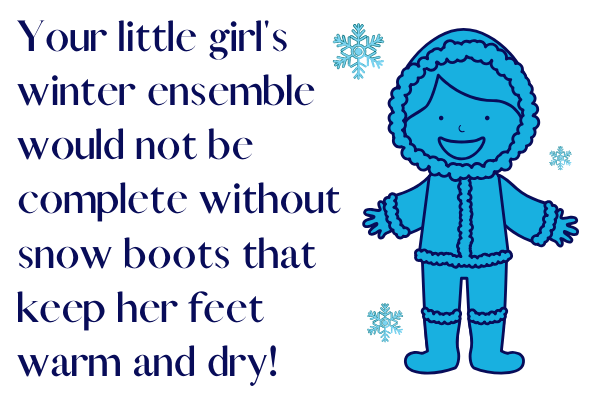 Choosing the perfect snow boots, whether as a gift or a necessity, is never easy. A lot of things need to be considered, such as the design, material, quality, and aesthetic style. You want to find features such as water-resistant protection, ankle support, and excellent grip.
Parents typically choose water-repellent boots that can handle challenging conditions like rain, snow, fleet, and frost. Snow boots are often equipped with mechanisms, usually found in the sole, that make it water-resistant.
Other features to consider are ankle warmth and ankle support detail. Snow boots are often lined with warm, breathable materials like woolen blend and faux fur.
The pair comes with insulated layers, padding, and laces that provide ample ankle support. They retain heat and keep the feet warm in freezing temperatures.
Snow boots for girls should fit them perfectly for maximum comfort. They should neither be too tight nor too loose.
---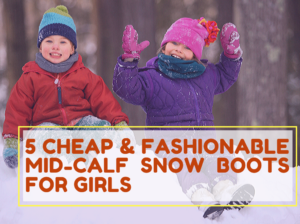 If you're unfamiliar with the world of snow boots, the wide variety and range of choices will surely overwhelm you! We're here to help! The following are just some of the snow boots that are inexpensive yet of high quality, creating a striking fashion statement without compromising practicality.
These fashionable snow boots are not only convenient and useful but also make excellent gifts for the little girls in your life.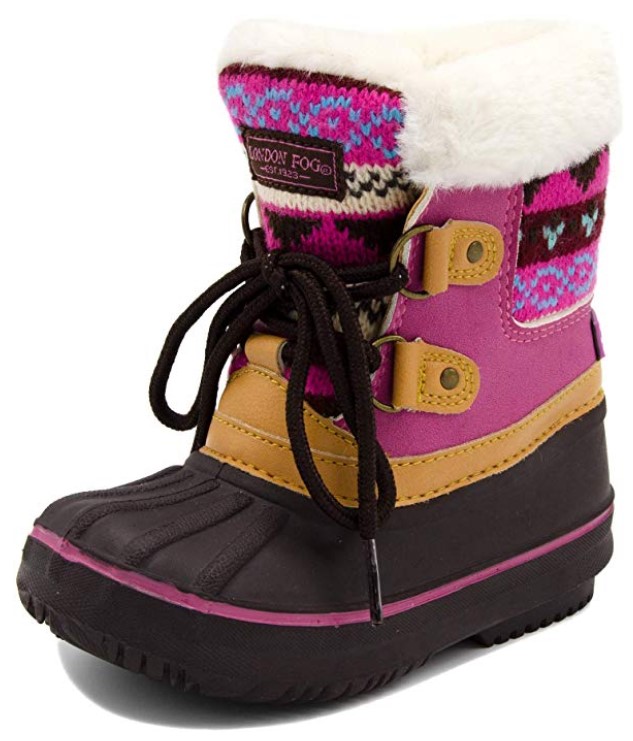 Known for its uncompromising tribute to both comfort and style, the London Fog Tottenham Snow Boot is a superb choice as a gift. Coming from one of the oldest and most established fashion brands in the U.S., this pair of boots is made of both synthetic and fabric materials.
Perhaps its most striking feature is the waterproof shell that keeps the feet dry. It also showcases plush collar and lining made of faux fur for added warmth and protection. The durable traction sole is made from synthetic materials, sturdily done to make them long-lasting. Little girls will love the adorable design and blend of colors that are somewhere between cute and comfy.
It has a wide range of sizes, accommodating toddlers of varying ages. Mothers and grandmothers alike usually pick these adorable snow boots as the perfect present for their favorite little girls. The price range is between $19.99 to $65.99, a good bargain for a high-quality and well-designed winter necessity.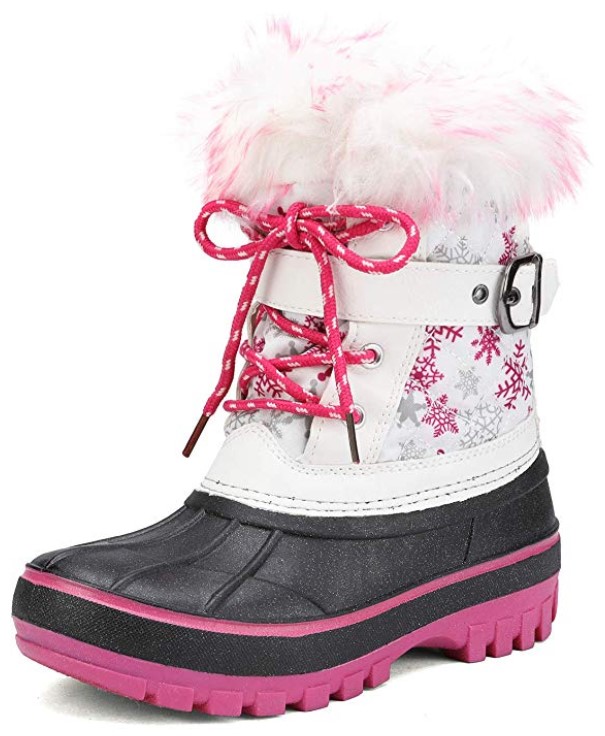 Thick and warm winter snow boots can be hard to come by if you want something comfy, stylish, and practical. Dream Pairs Insulated Waterproof Snow Boots delivers all three. Perfect for toddlers and older children, these superbly designed snow boots are sturdy and of good quality.
Available in different colors such as white and fuchsia, brown, and pink, this footwear features a synthetic sole that is durable and water-resistant. There is also the mid-calf boot faux-fur trim that can be closed and adjusted with a buckle, helping keep the warmth inside, especially when the temperature drops. For added comfort and insulation, it is lined with a warm thermal material that makes it ideal for unusually cold temperatures. The side zipper makes it easy and convenient to put on and take off.
And the best thing? This marvelous snow boot is well-made, stylishly designed, and quite affordable. The price hovers between $18.99 to $25.99. If you're looking for a useful and adorable gift for the toddler or little girl in your life, then you won't go wrong by choosing Dream Pairs Insulated Waterproof Snow Boots.
3.

HobiBear Winter Snow Boots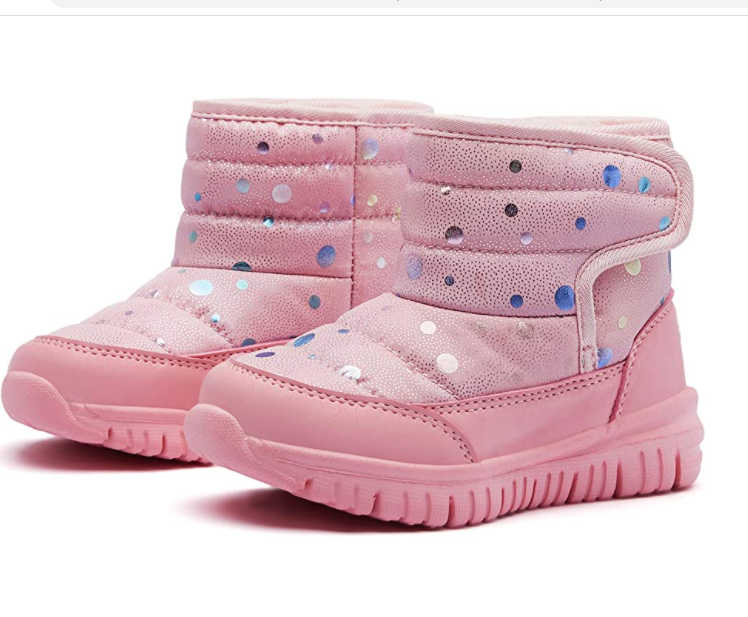 If you would prefer a little shorter boot, this one is designed to ensure that your child's toes stay warm and protected, HobiBear Winter Snow Boots showcases fashion and practicality. It is made from both fabric and synthetic materials, featuring a durable textile upper for water resistance and a synthetic toe cap for anti-collision.
Don't worry about catching the flu and getting wet with these snow boots! They are designed with a plush, faux fur lining to keep your child's feet warm, dry, and comfy all day long. The sturdy sole has anti-skid mechanisms to offer worry-free traction and better movement control, letting your child walk comfortably during the cold weather. It is also light-weight, which means comfortable and flexible movements for your child no matter what winter activity she will be joining in.
The closure is a hook and loop device at the top, making it easy to pull on and off even by the kids themselves. As a gift, this snow boot is perfect with its cute design and varied color options.
4.

Crocs Kids' LodgePoint Snow Boot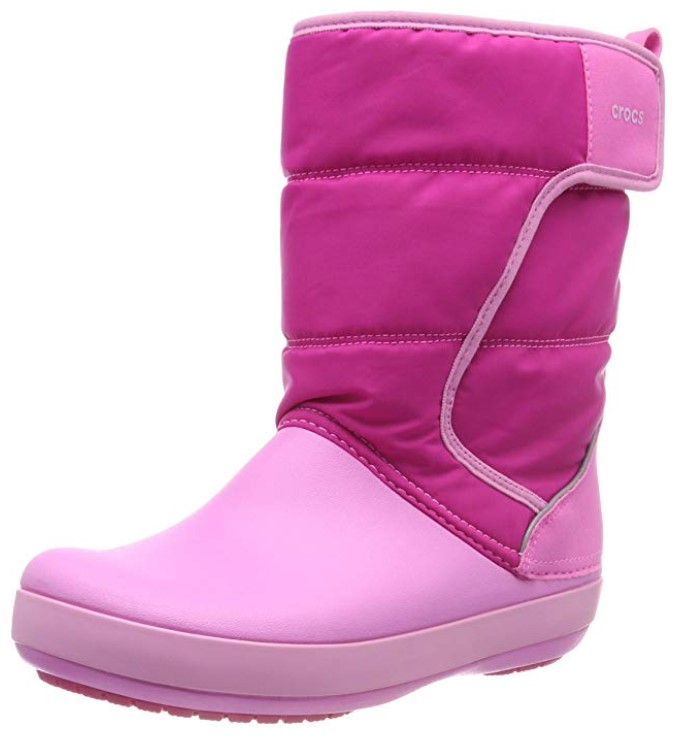 Known for their ease of use, Crocs Kids' LodgePoint Snow Boot will never let you worry whether you can give your little girl a helping hand when putting her snow boots on or off. It has a broad flap in its tall upper that opens wide when your child's feet go in or come off. The hook and loop closure make it even easier to wear with its original croslite foam cushion.
This snow boot is waterproof, making it an ideal footwear for cold winter months. With its lightweight and durability features, you can be confident about your child playing or walking in snow conditions. Just like other snow boots, this one is as warm and comfortable to the feet. Plus, its minimal design and candy pink color make it irresistible for a girl's comfy winter wear.
This boot comes in various sizes to fit kids of different ages. You can consider this as a thoughtful and useful gift for the little girl in your life. Prices vary, ranging from $21.31 to $64.55.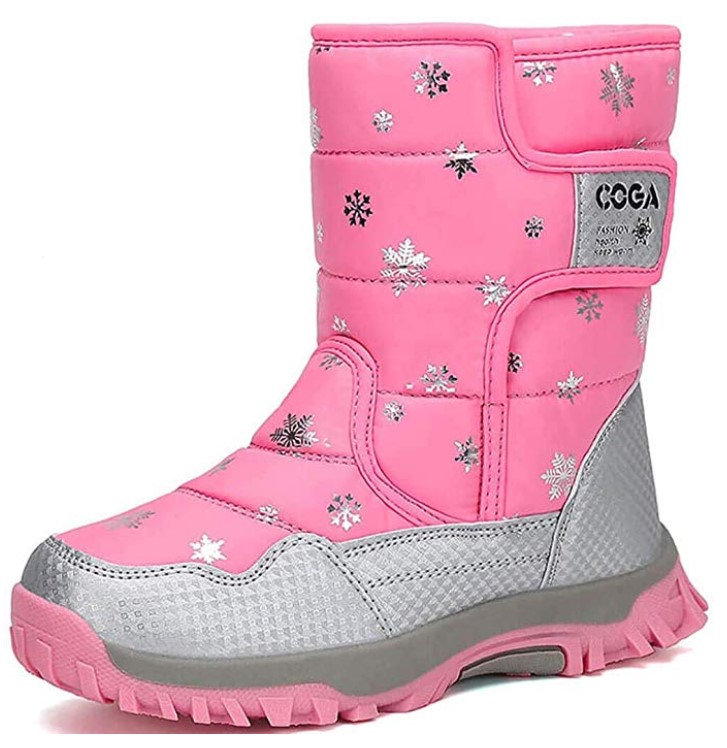 Kids who love warm and cozy snow boots will love this perfectly designed winter footwear. MEAYOU Waterproof Slip Resistant Snow Boot is made with a rubber sole and soft yet thick faux fur lining that offers not only comfort but also warmth.
Your little girl won't have to worry about donning a pair with its hook-and-loop closure, making it easy for them to wear and take off without needing assistance. The waterproof uppers provide comfort with its water-resistant construction and quick-drying lining.
Durable and lightweight, the rubber outsole is perfect for snowy or icy conditions as it ensures maximum traction and shock absorption. Whether they are up for skiing, hiking, sledding, or any other winter outdoor activities, this snow boot is the perfect companion.
Impressively designed in the most adorable shade of pink, MEAYOU Waterproof Slip Resistant Snow Boot can be a great gift to little girls for any occasion. Affordably priced, the snow boots can be bought from $19.99 to $22.99.
---
related kid clothes "stuff