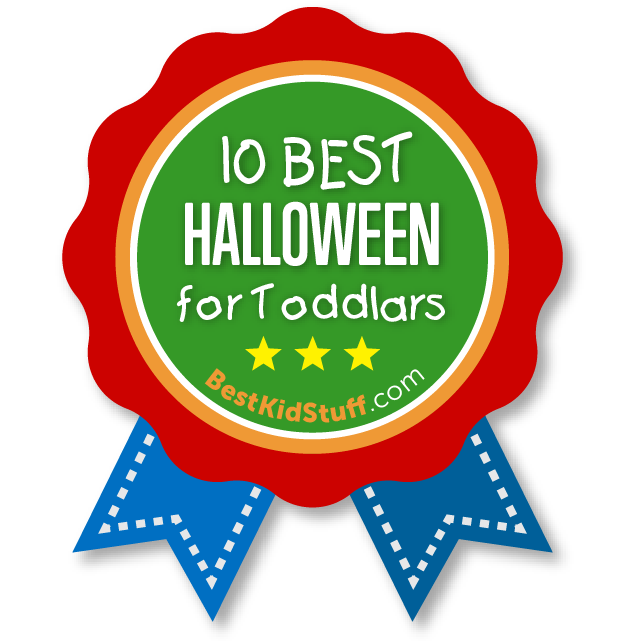 Halloween is the best when you're a kid, and as a toddler, you are just starting to learn how fun it is to go trick or treating. It is such a rewarding time to play dress up and young children are masters of using their imagination.
This is the moment to find the perfect costume for your little one. Today it is not that easy to find a costume, and the main issue is choice. There's just so much out there to pick from. This is supposed to be a fun holiday so we want to help you not get bogged down with choice fatigue.
To select the best Halloween costumes for toddlers we have made our selection process extremely easy. Is the costume cute? Is it durable? And is this easy for your toddler to move around it? It is just that simple.
We also took a close look at customer reviews to get a better sense of how well these costumes fit and how they really looked when on the child. We think we found some incredibly unique and high-quality costumes that are a great value to boot. Take a look at what we consider to be the Best Halloween Costumes For Toddlers.
Methodology:
Cuteness Factor: Yes, we do feel that this costume needs to be cute.
Durability: Because your toddler needs to be safe and secure.
Ease: Miles of walking in this costume should be as comfortable as possible.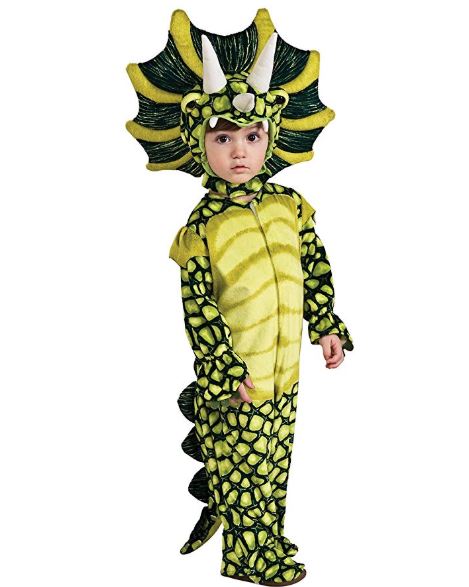 Rubie's creates amazing costumes for literally all ages. This Triceratops Silly Safari costume for toddlers is no exception. Why not give everyone's other favorite dinosaur a shot this year? I think we've seen enough T-Rex costumes for a lifetime.
This impactful dinosaur costume is smartly designed in just two parts. The first part is a jumpsuit complete with tail and the second is the amazing horned headpiece. Considering the quality of this costume, we think the price is absolutely fair. Your toddler is going to get a lot of good use out of this triceratops on more than just Halloween. They can use it for any time their imagination runs wild.
Parents love the functionality of this piece and of course, it's the amazingly impactful look that is going to turn heads. Most of the complaints were to do with sizing, and they were only minor.
Some parents say size up and others say size down. If you want your little one to wear thick layers underneath then maybe size up for this one. The durability is also fantastic for this costume and nobody is having issues with the hood! Those are super huge wins for sure!
Pros
Looks Awesome On
Super Durable
A Cinch to Put On and Take Off
Score
Cuteness Score: 100/100
Durability Score:100/100
Ease Score: 100/100
Overall Score: 100
Who doesn't like a little pretend dinosaur fun? Buy it on Amazon.com!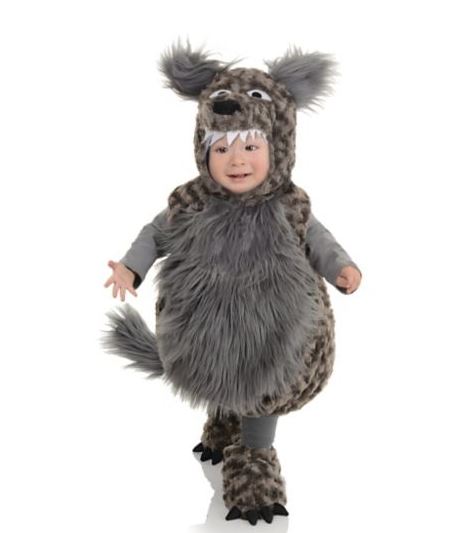 Nobody is going to be afraid of this big bad wolf because this wolf costume is so cute. That being said your toddler is going to love dressing up as a wolf and they are certain to be a huge hit while out and about trick or treating.
The costume comes with three main parts: the hood, bodice, and shoe covers. The details on the bodice are a lot of fun including the soft furry belly. We love that this is a unisex costume that works for Halloween or any other costume party or make-believe occasion at home.
Parents are raving about how easy this costume is to get on their children and they love just how comfortable it is. Not only that, but the durability is excellent so if your toddler is active, never fear this costume is going to stick around.
It goes without saying that this costume has a unique design, so if you have an adventurous little one who likes to think outside of the box this costume is definitely for you.
Pros
Really Well Made
Super Cute On
Easy to Put On
Score
Cuteness Score: 100
Durability Score: 100
Ease Score:100
Overall Score:100
The Toddler Belly Babies Wolfe Costume is absolutely adorable. Your little one will be the hit of the Halloween party in this one!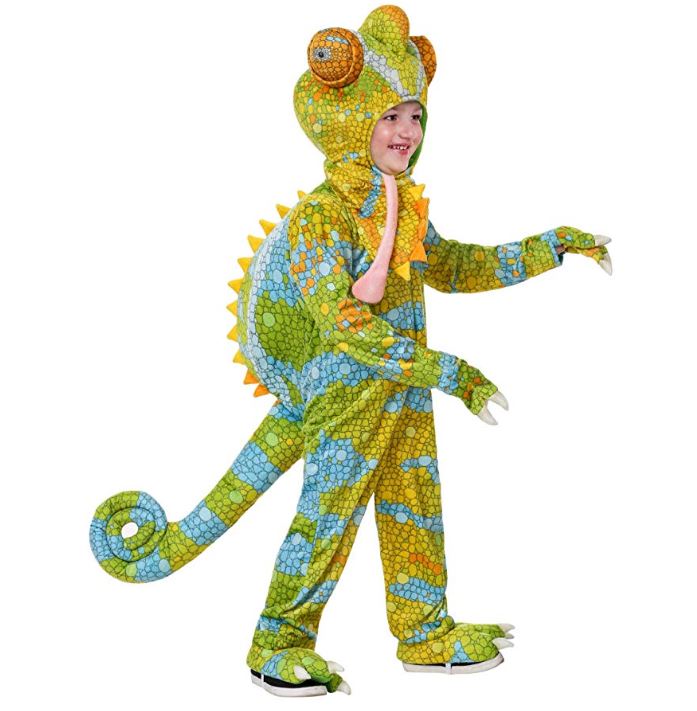 If there is a costume competition, your toddler is going to win 'most unique' with Fun Costume's Realistic Chameleon costume. We love this Halloween costume for those adventurous and silly toddlers in the group.
Who doesn't think Chameleons are fascinating creatures? This costume is really well made and zips up rather than uses velcro, a high quality that lasts. It's super easy to get on and off as the whole costume is all in one piece.
Parents really love the way this costume fits and the high quality of the piece. Considering the quality, the price is absolutely right. Your son or daughter is going to get a lot of use out of this one on Halloween or just goofing around at home.
If you're looking for something that really stands out, (or in the case of a chameleon blends in) give it a try!
Pros
Looks Incredible On
Very Good Quality for the Price
Unique
Score
Cuteness Score: 98
Durability Score:100
Ease Score:100
Overall Score: 99.3
Where was this when I was a child? A chameleon… so cool!!! Buy it today from Amazon!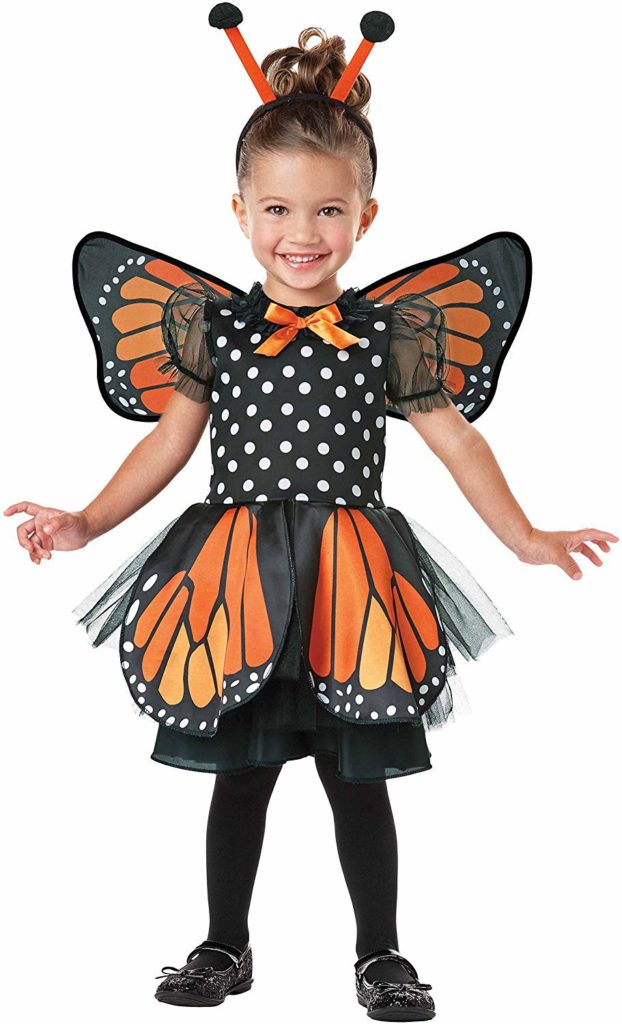 If your child loves butterflies, then this is going to be their favorite costume. Seasons has created a one-piece butterfly costume that is a cinch to put on.
You can easily layer this lovely dress with leggings. It's so easy to put on and you are not at risk of losing some of the pieces on Halloween night. There is a headband that is included with this costume. The wings are very flighty and the costume just looks really pretty on.
We also are super impressed with the colors and overall design of the costume. There are no sharp edges and it is very flexible so your little can move freely and not be uncomfortable getting all of those goodies on Halloween night!
Parents of toddlers size 2T-4T have been very pleased with their purchase and purchasers have mentioned all of the compliments their little butterflies have received.
Pros
Really Pretty
Fun to and Easy to Wear
Great for Many Occasions
Score
Cuteness Score: 100/100
Durability Score: 95/100
Ease Score: 99/100
Overall Score: 98/100
For an elegant and beautiful choice, take a look at this beautiful Monarch Butterfly costume! Amazing!
5. Princess Paradise Delux Dobby Halloween Costume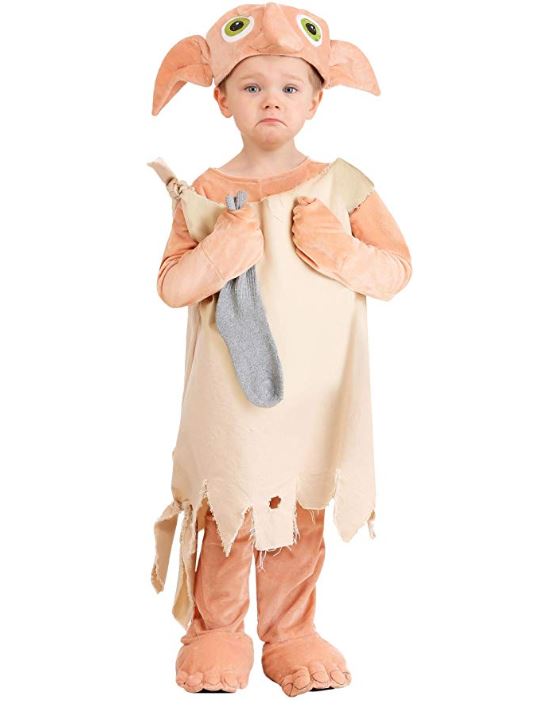 We know that Halloween is a great time for Harry Potter, but we've seen one too many Gryffindor scarves and gowns.
Fans of Harry Potter -why not try out this adorable Dobby costume for your little toddler? He makes the perfect addition to a family photo op and is just super cute on its own. This costume from Princess Paradise comes in two parts – the hat and the jumpsuit which are very comfortable and easy to put on.
Parents have reported that this costume is really well made, easy to wear and fits very well. It won't be a problem to walk around and go trick or treating in as the elastic bands at the bottoms fit nicely around the shoes. If you love Harry Potter and are looking for something unique, this may be the costume for you.
Here's a fun tip: use an oversized grey sock to collect candy. It really completes the look!
Pros
Super Cute
Fans of Harry Potter Will Love It
Extremely Well Made
Score
Cuteness Score: 97/100
Durability Score: 98/100
Ease Score: 97/100
Overall Score: 97.3/100
Check this out on Amazon… This is perfect for the little Harry Potter fan in your family!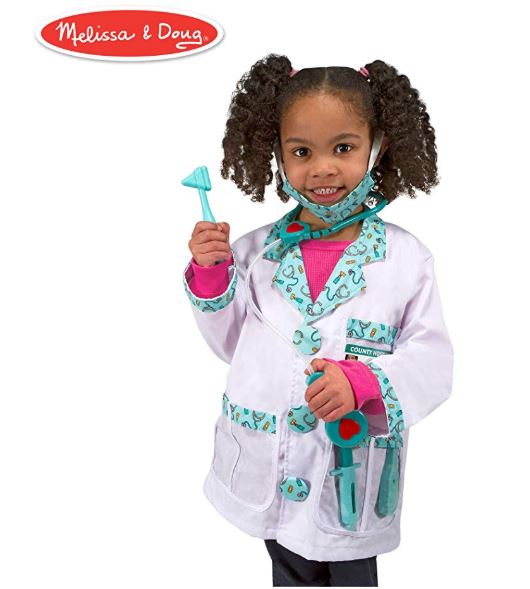 Who doesn't love playing dress-up? Halloween is one of the most fun times of the year for dress-up but children love playing dress-up all year long which is what we love about the Melissa & Doug Doctor Role Playing Costume, it is so versatile.
This doctor costume is great for boys or girls and comes with a doctor's jacket, mask, stethoscope, syringe, name tag and more. The quality of the materials is excellent and they are both machine washable. If you are looking for a great set of Halloween and pretend play costumes, look no further than with Melissa and Doug
Parents are more than pleased with their Melissa and Doug doctor's costume, as the quality is just what you should expect from the company. The fit is generally not an issue with this costume as it is just a jacket and mask.
Pros
Versatile
Comes with Lots of Accessories
Well Made
Good Value
Score
Cuteness Score: 92/100
Durability Score: 100/100
Ease Score: 99/100
Overall Score: 97/100
When you think of quality, think Melissa & Doug… Amazon Prime offers a great price on this little doctor's coat and accessories. Great for Halloween or just pretend!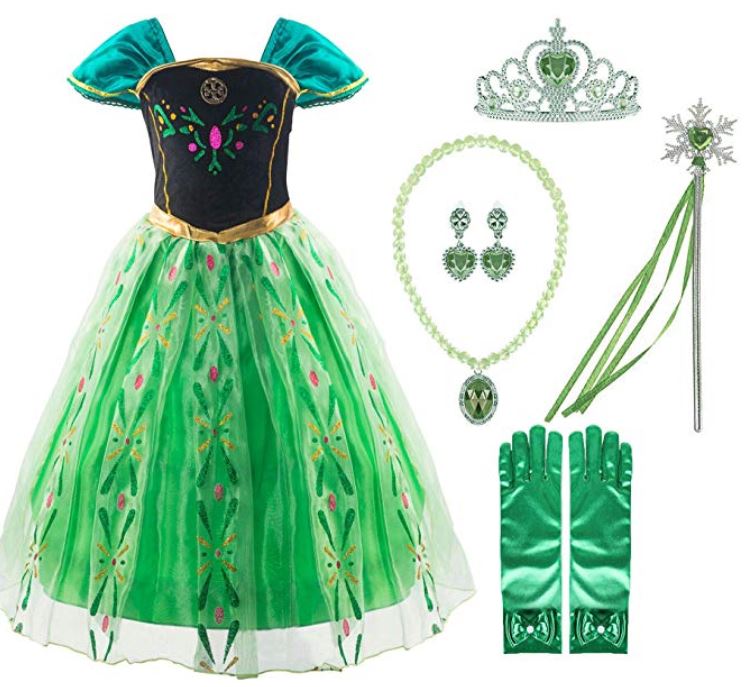 The ReliBeauty Princess Anna Costume is a stunning Disney Princess costume for a fraction of the Disney Princess price.
The dress is made with satin, tulle, organza, and polyester and looks like an expensive item. You have the option to get the accessories or not and this dress comes with some options including a tiara, magic wand, gloves, necklace, and earrings. This makes this costume a fantastic option for Halloween or any time your toddler is looking to play dress up.
How many characters can your daughter be with just a magic wand or a tiara? In other words, this is a versatile costume.
Parents love purchasing this dress for Halloween or Disney on Ice events. The reports are that the dress looks fantastic on their child but the make of the dress is slightly on the cheap side. Some parents reported issues with the stitching while others did not have this issue at all.
As with so many things to do with kid's clothes, it all comes down to fit. Overall, parents have reported that this costume fits true to size.
Pros
A Disney Princess Dress for a Great Value
Comes With Lots of Accessories
Fits True to Size
Score
Cuteness Score: 97/100
Durability Score: 94/100
Ease Score: 94/100
Overall Score: 95/100
Great for the FROZEN fan in your household!!!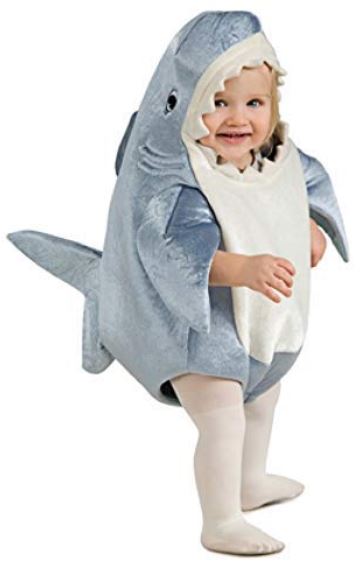 Rubie's Costumes to the rescue again with this tantalizing toddler shark costume. You are sure to get buckets and buckets of fun with this easy to put on romper.
This is a fantastic option for young toddlers or even infants. We love that it is just one piece and there's so much going on with this one piece. It is really easy for kids to walk around in and fits comfortably. If you get a size up you may be surprised by how many years of use you get with this costume.
Parents are thrilled with how cute this costume is and love using it for Halloween or literally any occasion. When it comes to the fit some parents have reported that it is too short and runs a little small.
There are other sizes available for purchase and the majority have been pleased. Choose what works for your toddler!
Pros
Very Cute
Easy to Put On
Good Value
Score
Cuteness Score: 96/100
Durability Score: 96/100
Ease Score: 97/100
Overall Score: 96.3/100
Are you hearing the theme song from "Jaws," too? Why not surprise your friends and family at your next pool party?… Your toddler will get a kick out of "scaring" your guests right out of the water! Buy it on Amazon!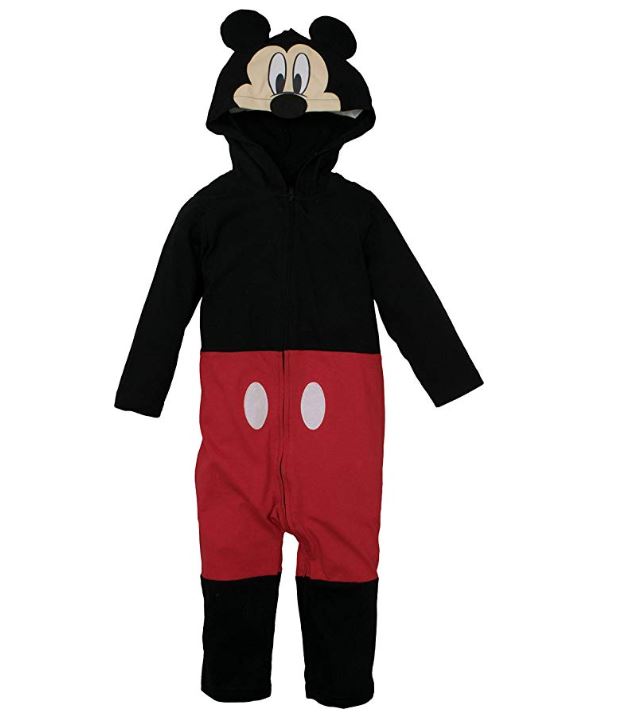 If your little toddler is starting to love Disney then you can't go wrong with these Disney Costume Coveralls. They are so simple to get on and off and incredibly fun.
We like the Mickey Mouse costume but you can pick from Buzz Lightyear, Mike Wazowski, and so many other beloved Disney characters. The best part is that they fit just like pajamas and are great if you need something sensory-friendly of even if you don't and just need something comfortable. This is the costume for you!
Parents love the high quality of this costume and reviews report that the sizing is, in fact, true to size! The costume is a blend of polyester and cotton and is really soft to the touch. We also love that you can machine wash this costume-perfect for a busy night out on Halloween.
Kids will enjoy rocking this coverall on most other occasions as well!
Pros
Easy to Put on and Take Off
Comfortable
High Quality
Score
Cuteness Score: 90/100
Durability Score: 93/100
Ease Score: 96/100
Overall Score: 93/100
Buy several of these to complete your child's favorite collection of Disney characters!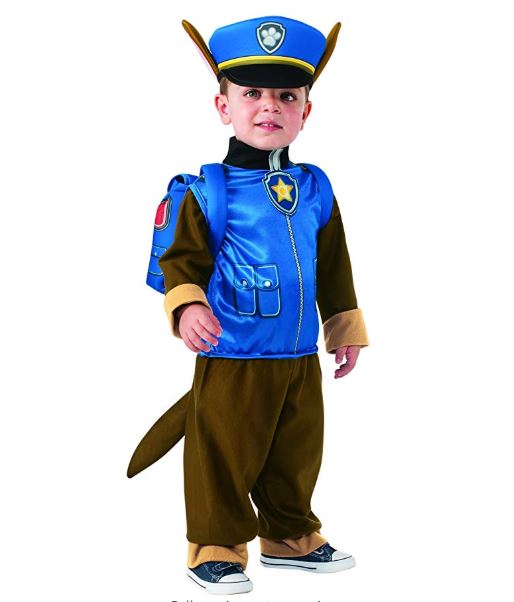 Rubie's is a family-run business that is based in the USA. They have been making quality costumes since 1950. Rubie's makes excellent character costumes and this Paw Patrol Chase Costume is right up there with some of their best.
It comes in three parts – the jumpsuit, hat, and fully functional backpack-great for collecting candy while trick or treating. Considering the brand, the price is absolutely incredible for the quality of this costume. With so many fans of Paw Patrol, your toddler is going to be extremely popular at Halloween. Don't hesitate to snatch one of these up!
Rubie's makes a point to say 'please read our size chart' as the company sizes their costumes differently than clothing is typically sized. It is recommended to use measurements when determining which size to purchase. Some families reported purchasing a size up to get two years' worth of wear out of this costume.
Pros
Affordable
Loveable Character
Can Be Warn For Multiple Occasions
Score
Cuteness Score: 98/100
Durability Score: 90/100
Ease Score: 94/100
Overall Score: 94/100
Is your kiddo a fan of Paw Patrol? If so, you can't go wrong with this offer from Rubie's. With Amazon Prime, get it in two days and enjoy free shipping!
---
related kid clothes "stuff"