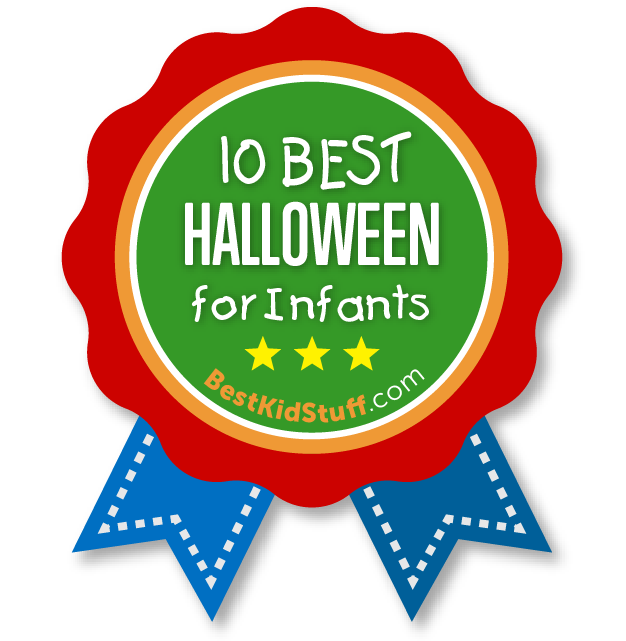 When it's time to trick or treat there is no reason not to bring the baby along. Who knew there were so many costumes designed with your little infant in mind? There are even swaddle costumes available that are great for newborns.
Costumes are a ton of fun at Halloween and really any time of year. But isn't putting a costume on a baby just an opportunity for a photo op? Not at all! Costumes draw in curiosity from the crowd bringing extra socializing opportunities for your developing infant.
The newborns will gain exposure to different textures and a new environment, all while participating in your family's Halloween traditions. Older babies start to understand social cues and will love all of the extra attention they receive while in costume. You may even hear your baby engage in some imaginative pretend play like growling and roaring like a lion. It's never too soon to model these sounds and demonstrate play skills either.
Halloween is definitely not the only time of year for costumes and play. You won't see a lot of season-specific costumes on our list though as we couldn't resist the Slimer swaddle costume for infants. Rather you'll see costumes that can be worn again and again at birthday parties or really any rainy day.
Take a look at how we made our decision:
Cuteness Factor: Yes, we do feel that this costume needs to be cute.
Durability: Because your baby needs to be safe and sound.
Ease of Implementation: We know you need to change diapers.
---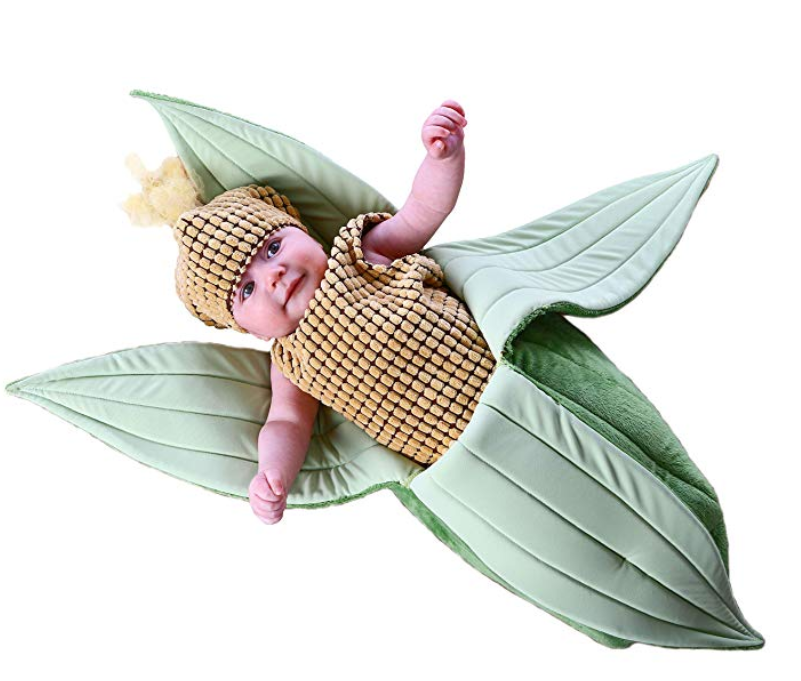 Princess Paradise makes a wide range of costumes for infants right up to adults. They're a lot of fun for Halloween or any time you may want to get a little festive with your baby.
Your new baby is going to feel right at home swaddled in this ear of corn costume. The costume is easy to pull on and off – an essential for any newborn outfit. The seasonal theme is adorable and just the ticket for a cold-weather Halloween party.
According to the manufacturer, this costume is designed for infants who are about 12-16 inches long and 12-16 pounds. This costume comes with three pieces: the kernel bodysuit, the kernel hat, and the husk swaddle blanket. The polyester material means that it is best to handwash this item.
So, no need to leave the newborn home for their first Halloween. This little swaddle costume is toasty and comfortable – the perfect way to spend the baby's first Halloween.
Pros
Super Cute!
Easy to Put on And Take Off
Comes With Three Pieces
Great for Halloween or Any Other Party
Score
Cuteness Score: 100/100
Durability Score: 98/100
Ease Score: 97/100
Overall Score: 98.3/100
What kind of corn is this? Sweet corn, no doubt, with your little one swaddled in!
2. Ghost Buster's Slimer Swaddle Costume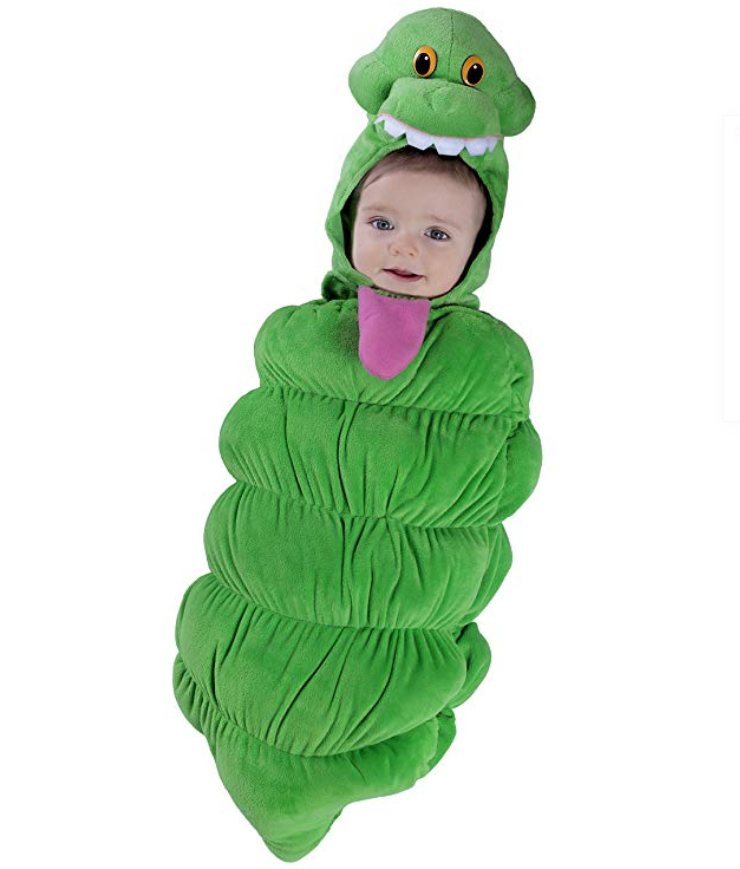 Princess Paradise really does have some adorable costumes including this Official Ghost Busters swaddle costume for newborns.
Anyone who is a fan of the movies is going to love dressing their infant in this Slimer costume. It comes with the swaddle deluxe costume bodice as well as a character hood. This is a fun option for Halloween, comic cons, or any other party really. We especially like the shape and level of warmth – so your little one can go out and trick or treat with you and your entire family.
The costume is a good fit for infants approximately 0-3 months. It is designed with quality and safety in mind. Be sure to check the costume for the Princess Paradise label – especially when ordering off of Amazon. The costume is made with 100% polyester and will need to be hand-washed and hung to dry.
We think the price for this adorable Slimer costume is pretty great considering the quality of the swaddle bodice and the fun hood.
Pros
Great for Many Occasions
Ghost Busters Official Costume
Cute
Warm
Easy to Put On
Score
Cuteness Score: 99/100
Durability Score: 95/100
Ease Score: 97/100
Overall Score: 97/100
Who ya gonna call?!?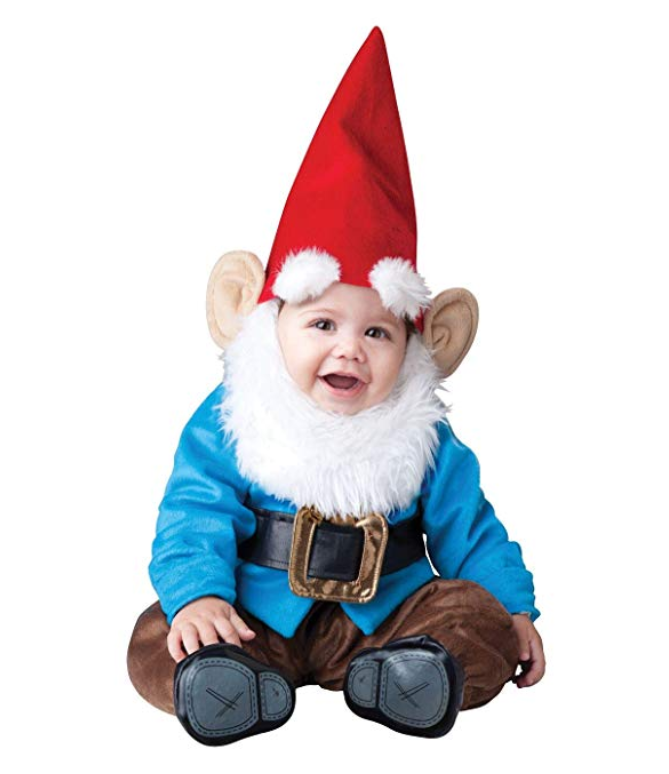 Your little one is going to be getting all of the attention while out and about this Halloween. The InCharacter Lil' Garden Gnome Infant Costume is just as cute as it gets with the bodice, beard, and hat (complete with big bushy eyebrows).
The jumpsuit is lined and zips up the back as well as comes with some leg snaps that are great for when it's time to change a diaper or get adjusted throughout the day. The booties are skid resistant – useful when your infant is ready to pick up and go.
Moms and Dads love that this costume is durable so, if you are going to be out for a good chunk of the day, never fear. The costume does run large as well, which is great for other times in the year when you think your little one might be up for a bit of fun. The hat has stitched on ears and eyebrows and is probably the item that babies wanted to pull off the most.
This simple three-part costume is easy to play around with and modify to meet your needs throughout the day.
Pros
Adorable!
Well-Made
Easy to Get on And Off
Room to Grow
Comes in a Number of Sizes for Your Infants or Toddlers
Score
Cuteness Score: 100/100
Durability Score: 95/100
Ease Score: 85/100
Overall Score: 93.3/100
So cute… this is a conversation starter for sure!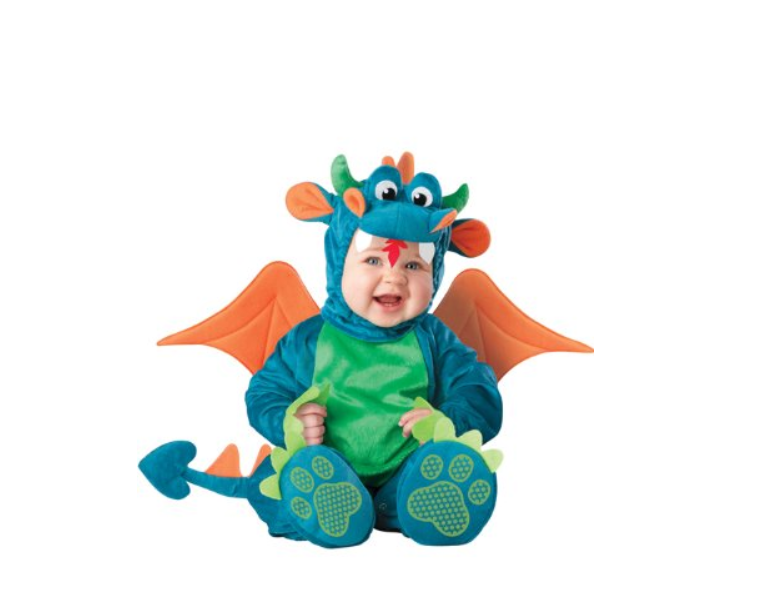 Your infant is sure to be a roaring hit with this dragon costume from InCharacter. The costume comes with four parts: bodice, hood, wings, and booties. The wings snap on and off and are nice and pliable so no need to worry about injury.
This charming costume is great with the little details including the horns, spikes, fire and the skid-resistant "dragon paws" for your little one's safety. Parents are loving how durable this costume is and have noticed that it is soft as well as lined.
You may want to include a long sleeve onesie so that your little one can stay comfortable throughout the day. The costume comes in three different sizes for infants: an infant small, an infant medium, and an infant large. Some parents reported that this costume runs true to size, while other parents have mentioned that this costume ran large. It will obviously depend on your baby.
The fabric is polyester and does not breathe as well as cotton – something to keep in mind especially for families in hotter climates.
Pros
Great Durability
So Cute
Lots of Details
Easy to Snap-on and Off
Score
Cuteness Score: 95/100
Durability Score: 90/100
Ease Score: 95/100
Overall Score: 93.3/100
The Dinky Dragon costume will be the hit of your next Halloween party!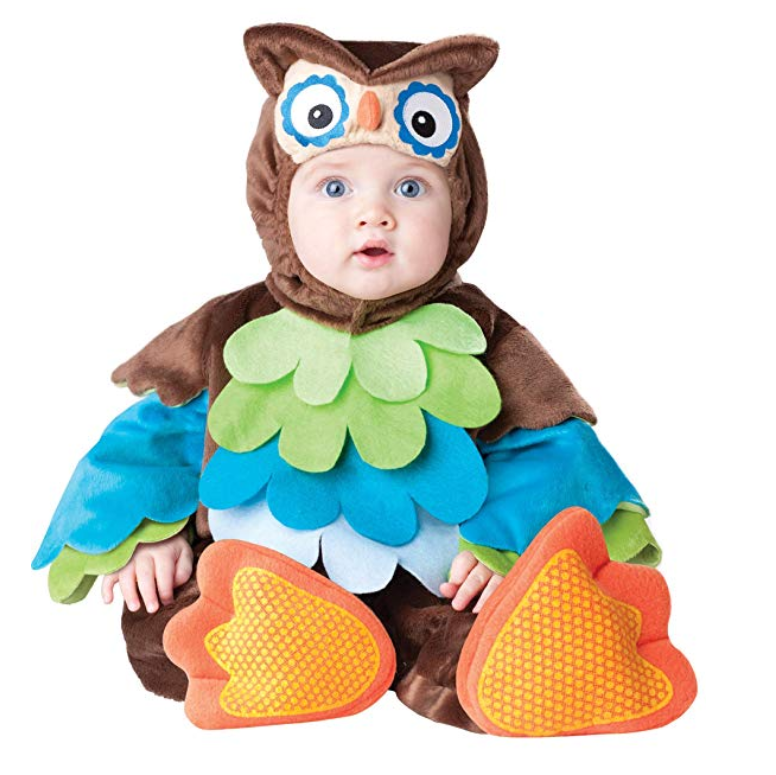 The InCharacter What a Hoot Owl Costume is a hit no matter what time of year. The costume comes in four pieces: two booties, one zippered jumpsuit, and a hood with a beak that snaps around the base of the chin.
Like with other InCharacter costumes the booties are skid resistant so much safer for indoor walks than other slip-on booties. We like how easy it is to slide your baby in and out of this jumpsuit. The feathers are thick and felt and looks like plumage with their three layers. You will love this brightly colored costume.
Parents have reported that this costume is comfortable and great for young toddlers who are trying to walk around. The booties do run a little large and many parents found a quick solution just pinning them to the base of the jumpsuit. InCharacter does a great job with the design of their costumes which is probably the most important aspect (after cuteness of course) of the costume. Can you make a quick diaper change and move on with your night? Absolutely.
So if you love these majestic woodland creatures, do not hesitate to check out the What a Hoot owl costume from INCharacter.
Pros
Bright and Colorful
Very Cute
Who Doesn't Love Owls?
Lined and Comfortable
Easy to Run and Play In
Score
Cuteness Score: 95/100
Durability Score: 85/100
Ease Score: 95/100
Overall Score: 91.6/100
Your child will be the cutest owl ever at the next Halloween "Hoot"-enanny!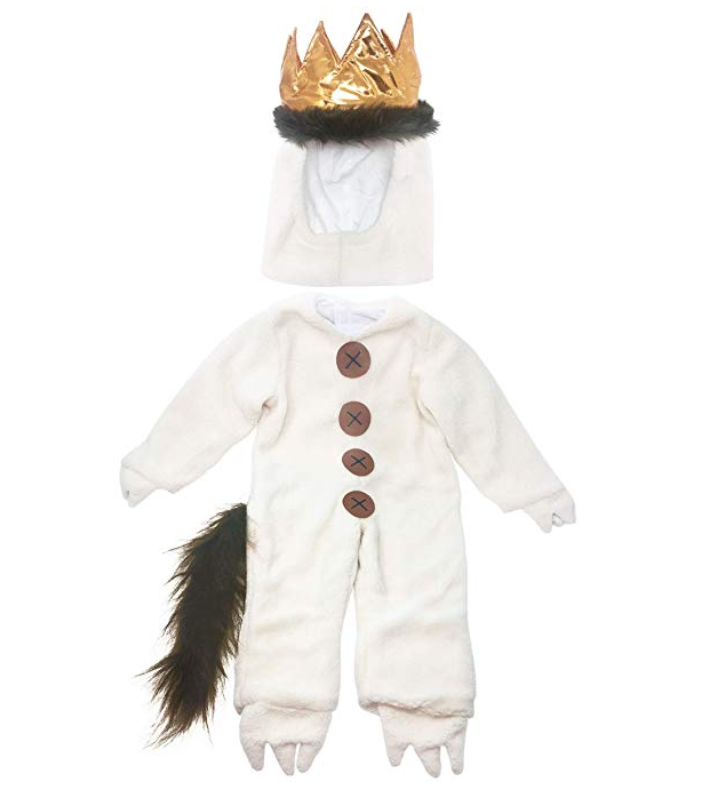 Tegan and Ella costumes are simple and fun. We are certain your little Wild One is going to look great as Max from Where the Wild Things Are.
The simple design means just two pieces – a jumpsuit and hood. It's so comfortable like pajamas so your little one is sure to feel cozy all night long. The costume is lined with cotton making this one extra soft. Use this costume for Halloween night, parties, or just for a great photo opportunity.
Parents have been extremely impressed with how durable the costume is and love the whimsical design as well as just how cute their kiddos look! When it comes to size it really is important to check the size chart as some parents have reported that the size runs a little small and others have reported large. This costume does keep your baby warm and be sure to check it out if you live in a warmer climate.
So if you are looking for a high-quality costume that everyone will love and recognize, you can't go wrong with the Max costume from Where the Wild Things.
Pros
Great Costume Idea
Beloved Character
Adorable
Durable
Easy to Put On and Take Off
Comfortable
Score
Cuteness Score: 99/100
Durability Score: 85/100
Ease Score: 85/100
Overall Score: 89.6/100
Parents, we all remember this book, right? Bring a part of your childhood to your little one! They will enjoy it too.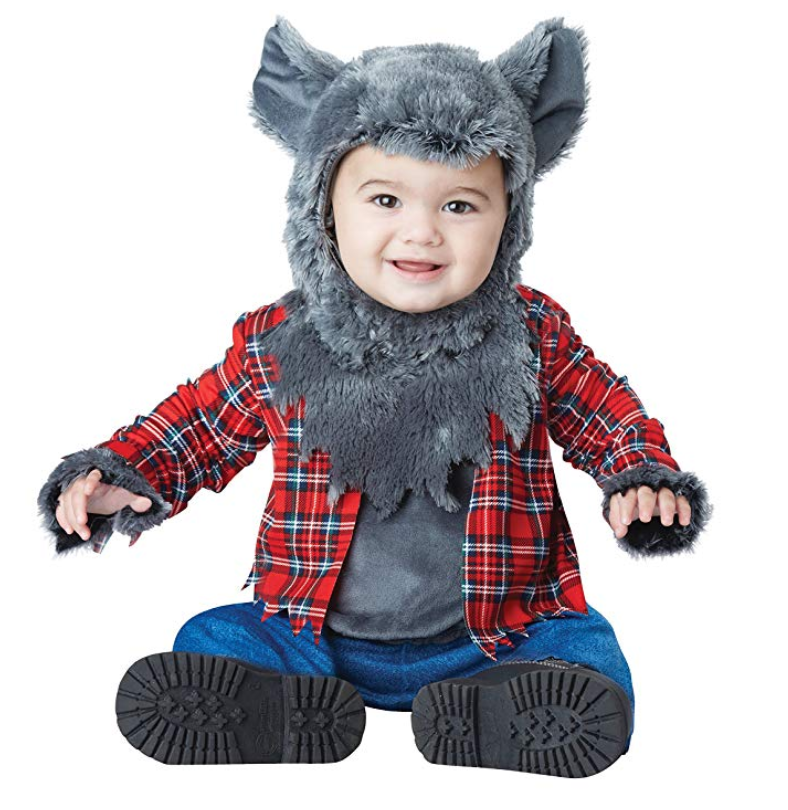 This three-piece werewolf costume is to die for. It comes with an adorable shirt with a fur chest as well as a fur character hood and pants that look like jeans. They slide on and off and are comfortable like a sweat pant.
According to California Costumes, this werewolf costume is for boys but we can see any little munchkin able to pull this off. So if you like to think out of the box, go ahead and give this a shot for your little girl too. This costume has a slight punk rock vibe with the tattered shirt and shabby fur and looks amazing in family photos.
Parents love this costume because it is well made and of course, adorable. Some parents have reported issues with the hood part of this costume which is probably the most important part. Here's a tip: take a little time to play around with the hood before the day your little one will need to wear the costume. Make it fun and your little one will actually look forward to putting it on!
Like with all things baby it comes down to the size. Overall, it was reported that this costume did fit true to size, although a few parents did report that this costume ran small.
Pros
Very Cute
Looks "Grown Up"
Good Quality
Easy to Pull-On and Off
Score
Cuteness Score: 90/100
Durability Score: 85/100
Ease Score: 90/100
Overall Score: 88.3/100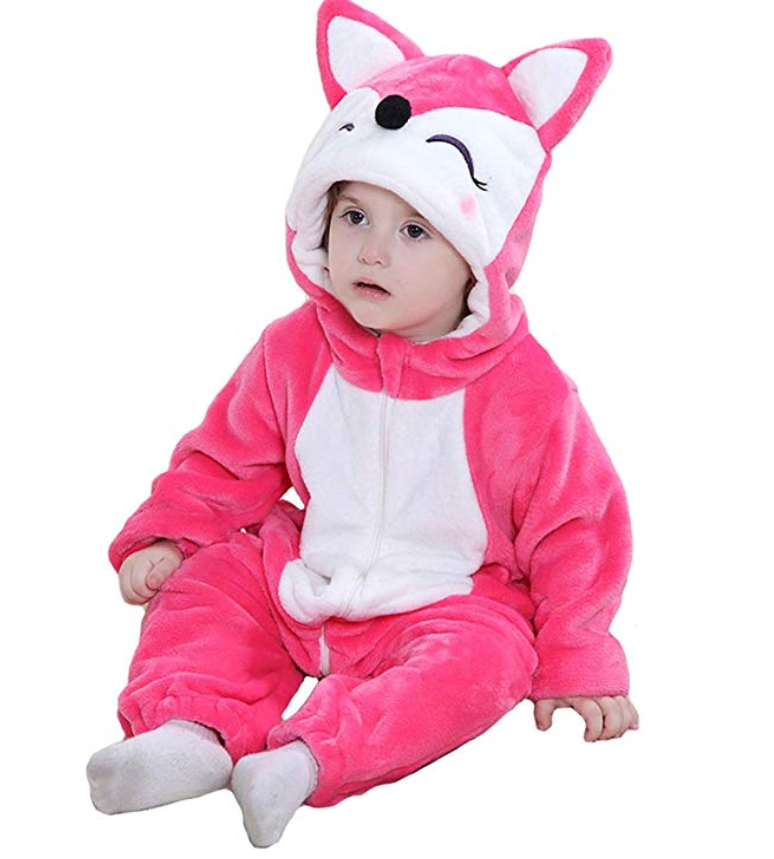 The Tonwhar Onesies are a great solution for Halloween or literally any night of the year especially in the cooler months. These hooded onesies are so much fun and basically just zip up.
We love the pink fox costume for girls and boys! The flannel material means that this costume is warm and comfortable. So if you are looking for something simple that will get the job done as a costume, just start here. Oh, and Tonwhar also makes Stitch and Totoro versions of this costume. Definitely check out their other animals and characters.
Parents love how durable the onesie is and some have even reported better quality than some of Tonwhar's major competitors. Most parents have reported that this costume fits true to size while others say it funs large. Be sure to measure your baby ahead of time. The material is breathable so depending on where you live, you may want to size up to layer.
Pros
Durable
Comfortable
Cute
Easy to Put On and Off
Great for Halloween or Any Other Time of Year
Lots of Cute Designs to Choose from
Unisex
Score
Cuteness Score: 85/100
Durability Score: 85/100
Ease Score: 85/100
Overall Score: 85/100
So sweet… This is available in other characters as well!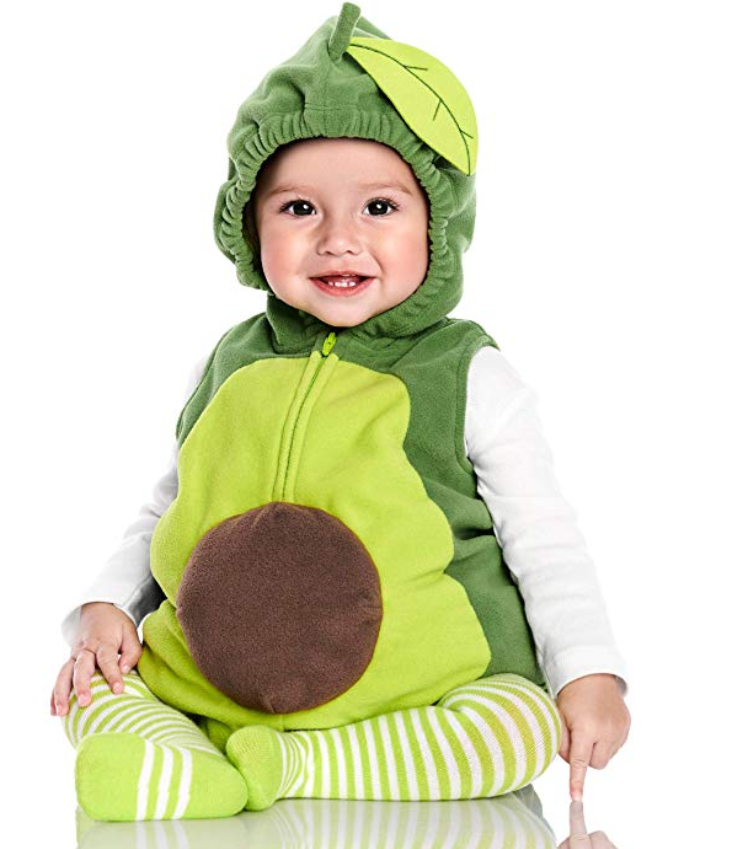 Carter's makes adorable two-piece costumes, and the avocado is so much fun! Your little one is going to be the cutest kid at the party and will certainly have very few problems with the extreme wearability of this costume.
The shirt underneath is not attached so we recommend putting in a few strategic stitches on the inside so that it doesn't ride up while your little one is running around.
Parents have reported loving how easy this adorable, avocado costume is to get on and off and the wearability of the costume, but be aware that the material is thick so this may not be the best for warmer weather. The sizing is great and this costume is easy to wash and dry, an added bonus.
The price of this costume is a little higher than some of the other ones we have reviewed.
Pros
So Cute
Lots to Choose From
Easy to Get on and Off
Wearable
So Easy to Put on and Off
Score
Cuteness Score: 90/100
Durability Score: 80/100
Ease Score: 85/100
Overall Score: 85/100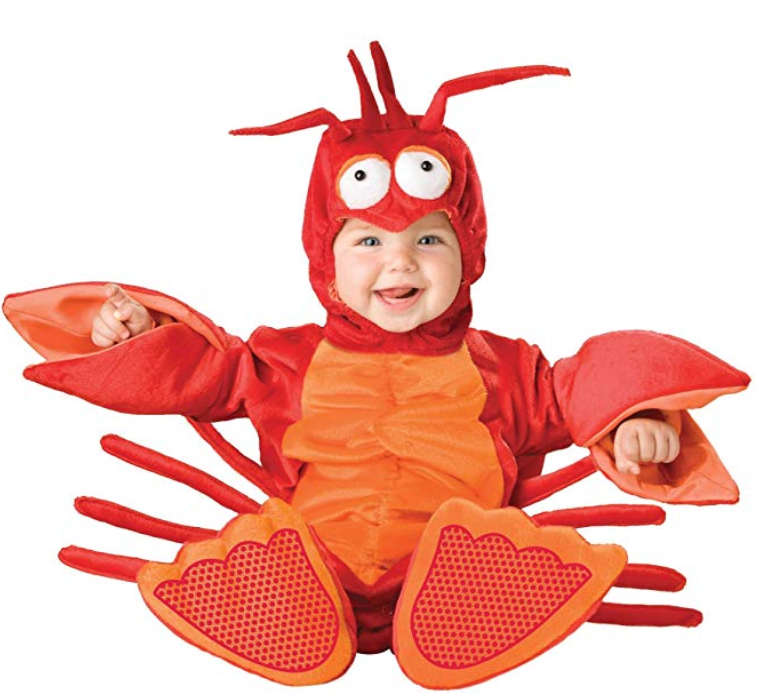 Who doesn't want to be a crustacean for Halloween? This Lil' Lobster costume is an adorable stand-out costume that is sure to have you and your little one giggling.
The brightly colored costume comes in four parts including two booties a jumpsuit and a very silly little lobster hood. The slip-on booties are skid resistant (if your little lobster decides to get up and run). The costume is easy to put on, so you can make very quick adjustments and change diapers easily throughout the night.
This costume runs a little larger on the "true to size" range. It's difficult to size costumes perfects for this age as babies are all so different so measure and purchase according to your needs. If you are living in a warmer climate just know that this material is thick and may not be great if you are going outdoors. Those in a cooler climate are going to love this!
Here's a tip: pin the booties on this one to ensure that you don't lose one.
Pros
Super Cute
Durable
Lots of Fun
Easy to Get on and off
Slip Resistant Booties
Score
Cuteness Score: 95/100
Durability Score: 80/100
Ease Score: 80/100
Overall Score: 85/100
Why don't lobsters share?… They're shellfish!!! But not your little lobster… because they'll be sharing their cuteness with everyone!
---
related baby and toddler "stuff"