Wearing a helmet is a must…
There are rough activities that include riding on two or four-wheel sports equipment. Such activities are suitable for kids but require strict adult supervision. They seem dangerous, but these activities are beneficial to the young ones, such as improving motor control and getting them fit and healthy.
Nevertheless, they come with risks. Fatal accidents and serious injuries can happen while the kids are riding them. The common ones are cuts, sprains, bruises, bone fractures, and head concussions; all these and more can lead to a grave occurrence in kids' lives.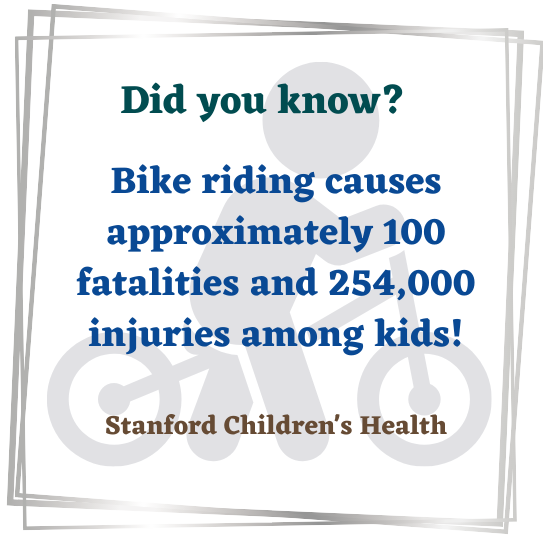 Kids may not want to, but it's necessary…
Kids can be stubborn, so asking them to wear a helmet is challenging for every parent. However, making sure that they have a helmet when riding a bike is essential. Regardless of if it's just a meter away, these kids need protection.
According to the report from Stanford Children's Health, there are roughly 100 kids killed and about 254,000 injuries all because of riding a bike. These numbers don't look promising at all. Parents must explain to children the importance of wearing a bike helmet while riding them.
Importance of Wearing a Bike Helmet
Bike helmets should properly fit the child's head. This device keeps the face and head well-protected in case the child has an accident. The U.S. government strictly imposes that helmets are mandatory for all bike riders–young or old. There are safety rules specifically for them.
Like the helmet should have a sticker that states it has complied with the rules defined by the Consumer Product Safety Commission (CPSC). The CPSC, together with the American Society for Testing and Materials (ASTM), conducts a test for helmets if they have passed the minimum standards. There's no way kids should be allowed to ride bikes with helmets that don't have those stickers on. Remember to buy the kind that has the seal of approval from CPSC.
Features of the Right Bicycle Helmet for Kids
Finding the right bike helmet for kids is confusing. To cut the choosing process shorter, look for these qualities and use them as guides to pick the appropriate one.
The Correct fit…
A good helmet should sit right correctly and securely on top of the child's head. It's snug enough that even when the head moves from side to side, the helmet stays. Use the straps to tighten it in place.
The Construction…
The construction styles of the helmet are also necessary features. These two are the in-mold and hard shell; the exterior shells of both styles are plastic, and the interior layer is polystyrene foam. The in-mold helmets have a slim outer layer; thus, they are lightweight.
They also have more vents, which makes it cooler when kids wear them. On the other hand, the hard shell helmets have a bulkier outer layer that appears similar to skateboarding helmets. Most kids prefer these types, but they feel warm because of fewer vents.
The Design…
The design of the helmet is vital to kids. They seem to be fussier than the adults when it comes to how their helmet looks. Even if they don't feel like wearing it, buying a helmet with a design they like will most likely change their minds.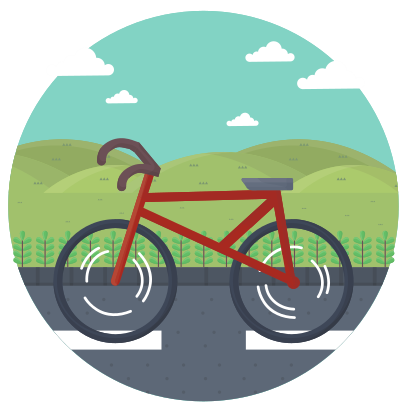 Here are our recommended bike helmets for your kids:
1. SG Dreamz Kids Bike Helmet for Bicycle Cycling, Skateboard, Scooter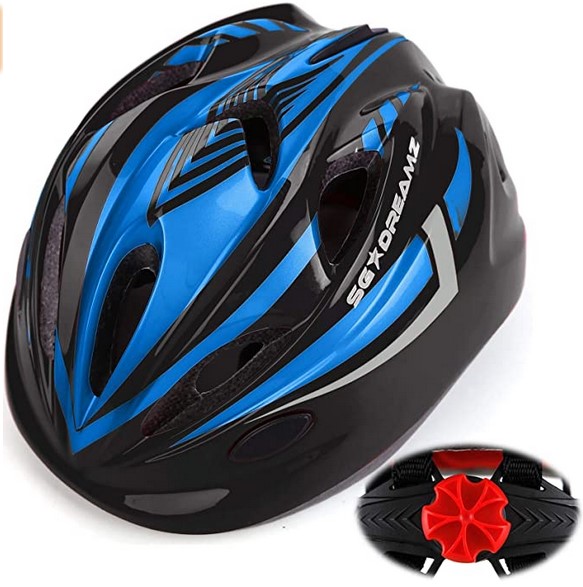 Parents only want one thing for their kids, premium protection. SG Dreamz made sure that their kids' helmets can provide reliable protection because of their sturdy construction.
The shell's material is a high-grade polycarbonate, which makes it sturdy. These types can last for ages. These can fit from ages 3-7 years old. Make use of the adjustable straps to hold the helmet in place and the wheel ratchet to tighten it.
The material used for the SG Dreamz Kids Bike Helmet for Bicycle Cycling, Skateboard, Scooter's straps is of high-quality nylon for added comfort and long-lasting. The dial fit also allows further adjustment as the kids get older. The head size should be within the measurement of 19.6-22″ to fit in these helmets.
There's a detachable breathable cushion to maintain the snugness. The cushion is washable and attached by velcro. Remove it when it gets smelly and dirty, and make sure to wash it.
Let the kids have fun choosing from five different colors. They can wear them in other activities like skating too, so parents don't have to buy another one.
Safety first always… Get this cool helmet today from Amazon.com!
2. Bell Marvel Spiderman Hero Helmet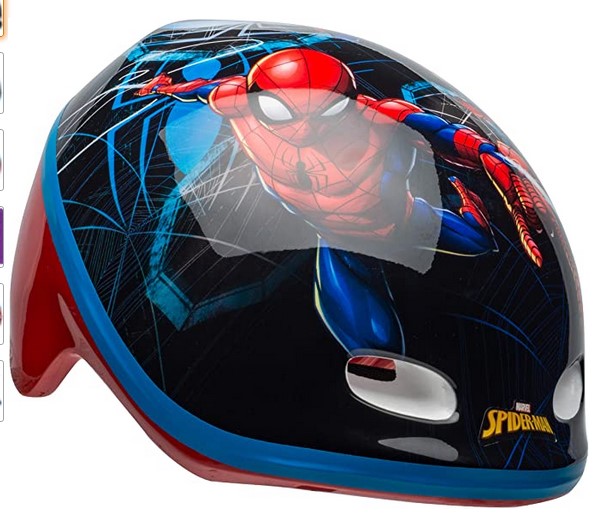 Kids love anything from Marvel. So, this Bell Marvel Spiderman Hero Helmet can interest them. It has aerodynamic cooling vents that maintain comfort and coolness when they wear them. Kids have full protection because of its EPS inner shell that has the shock-absorbing capability. In case the child falls from the bike that involves the head-first position, the EPS cells found in the liner absorbs the impact.
This EPS material is commonly known as Styrofoam. It has the certification from ASTM and CPSC confirming that this product has passed the safety standards. As for its size, head measurement within 51-54cm is just right for the helmet. Secure the protective gear in place with the use of adjustable straps that use long-lasting materials.
There's a Marvel design to pique your kid's Superhero interest… and will encourage them to wear their helmet, as well!
3. BELL Richter Bike Helmet
This dependable helmet from Bell has shock-absorbing features that lessen the impact on the head from a bad fall. For ages 8-14, it fits head sizes 21. 2-22.8″ and is considered a YOUTH size for older children. Aside from that, there are more vent holes in the Bell Richter Bike Helmet – more than most helmets have.
The 16 holes provide coolness while kids are riding during hot weather. It also has a visor that shields the kids from harmful rays of the sun.
The Tru-Fit and Pinch Guard system enables adjustments to the straps, either tight or loose, it depends on how snug the kids want it to be; just make sure it stays in place during the ride. Despite the full features, it's still lightweight headgear.
Get your kids exercising today… but don't forget a good helmet. It's a must-have! This one comes in great colors and designs for girls and boys!
4. XJD Kids Bike Helmet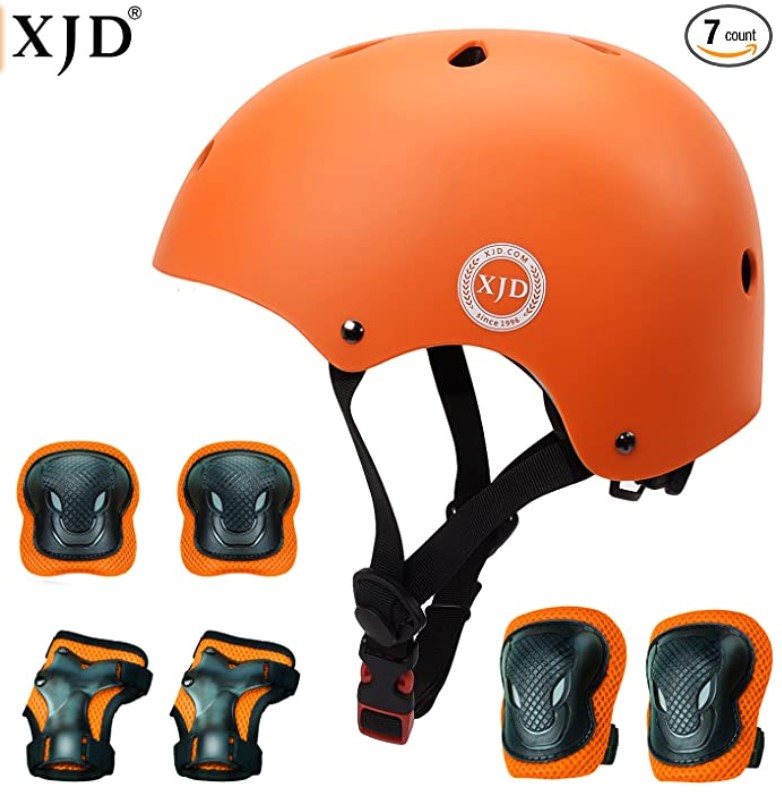 The XJD Kids Bike Helmet guarantees complete protection because of its top-grade materials. The ABS outer shell is harder and scratch-resistant. The EPS inner shell has shock-absorbing quality, which delays a strong impact from a hard fall.
This headgear for kids is suitable not only for biking but for other outdoor activities like ATV and skating. The elastic straps are thick enough to secure the helmet during a rough ride.
Despite its bulky appearance, the gear is still lightweight. It's adequately ventilated due to the EVA foam that sits inside the helmet. Kids with ages from 3-13 years old can wear the helmet. But it's best to check the head size to avoid buying the wrong fit.
Moreover, the helmet comes with elbow and knee pads and wrist pads. This is a complete set of protective equipment for kids who love extreme sports. This package seems practical for parents rather than buying the gears separately.
Hey… this is a full set! A good value that includes essential pads to protect those delicate knees, elbows, and wrists! Comes in cool colors, too. Buy it from Amazon!
5. TurboSke Toddler Bike Helmet
The TurboSke Toddler Bike Helmet has reached the CPSC standards. This helmet gives full protection to kids from getting severe head injuries. The construction has an in-mold polycarbonate shell that has a shock-absorbing feature.
There's sizeable inner padding for added comfort, and these are removable and washable. The considerable number of vent holes assures sufficient ventilation, especially when toddlers go biking during summer. It doesn't weigh that much, even though the gear is fully loaded with durable materials.
Its weight measurement is only about 8.1oz., light enough for kids to go biking for long hours. Keep the helmet snug and in place by using the adjustable strap and dial system. Secure it further with the straps that have a quick-release buckle. This can fit with a head size that measures 18-20″ for ages from 3-5 years old, or head measurement 19.7-20.3″ for 4-7-year-olds.
The helmet has a unisex design, so let kids have fun selecting the color they want. A few colors come with matching elbow and knee pads.
This one is geared for the little bikers in your life! You can choose a color that fits their little personality as well! Check them out on Amazon.com!
---
related sports "stuff"