Tooth decay… Yuck!
Studies showed that 1 out of 5 toddlers have tooth decay, maybe because kids are not big on brushing their teeth! Because they love eating ice cream, candies, cakes, and cereals, toddlers must brush their teeth twice a day. Doing so prevents the development of plaque—a combination of bacteria, acid, saliva, and food—that can eventually lead to tooth decay.
How long should my child brush?
It's no secret that parents (and children) struggle with the two-minute recommended duration for brushing; kids have a limited attention span, after all! Parents need to find creative ways to encourage their children to enjoy the brushing experience. By making a habit out of brushing, your kids develop healthy and strong teeth and understand oral hygiene better.
What's with Electric Toothbrushes?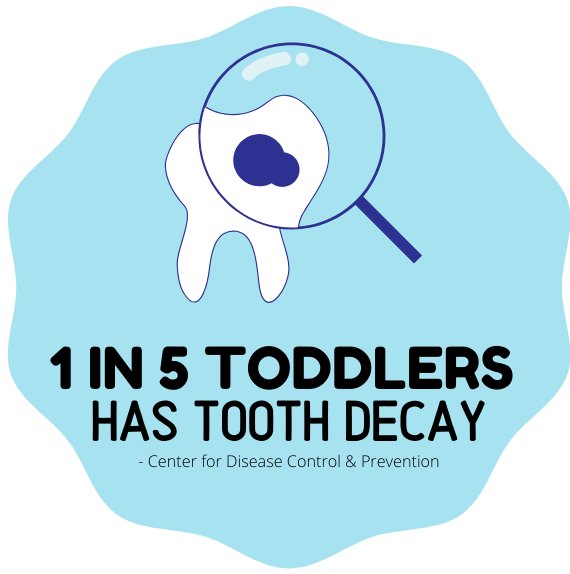 Studies show that electric toothbrushes have softer bristles and remove more plaque than their manual counterparts. If you are wary of having your toddlers use an electronic device, start by supervising and teaching your little one.
Not sure where to start? We're here to help you make an educated purchasing decision! Check out our picks of the five of the best baby electric toothbrushes that are so durable and affordable, they make great investments for your kids' health!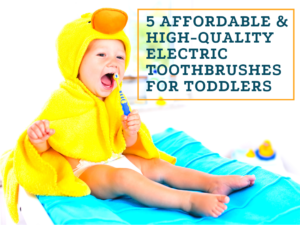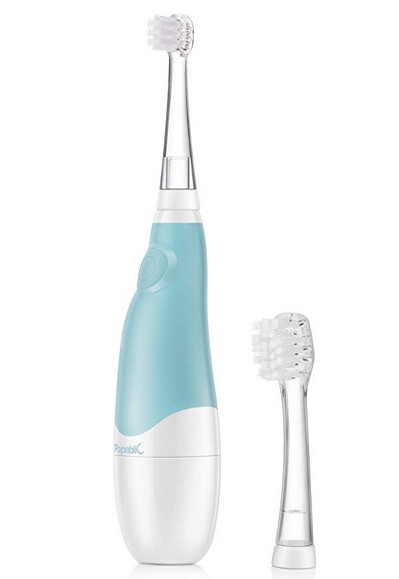 As a parent, it can be stressful to have your toddler follow through instructions using a manual toothbrush. The Papablic BabyHandy Sonic Electric Toothbrush eliminates this parental woe.
Safe for children 0 to 3 years old, this electronic toothbrush keeps your child amused as they brush their teeth. Gentle vibration delivers sensory enjoyment to encourage them to participate in the learning experience. Are you having a hard time checking for plaque? This device is equipped with LED lights to help you check for plaque in the inner corners.
Your toddler is sure to get the recommended 2-minute cleaning procedure with its built-in timer. This electric toothbrush also reminds them to move to a different quadrant with its 30–second pulse reminders.
Compared to manual toothbrushes, the Papablic BabyHandy Sonic Electric Toothbrush gives better oral coverage cleaning both gums and teeth, as well as taking out plaque in hard-to-reach areas by up to 75%. It's also lightweight and ergonomically designed for infants and kids to easily hold as they scrub away.
Afraid of bleeding gums or sensitive teeth? Dupont soft bristles ensure the safe and efficient removal of plaque. Compared with rotating brushes, this electric toothbrush vibrates and cleans in up and down motion hence gentler on the gums.
This is a 2-stage brush set with replacement heads, so you're getting the best value for your money. You also don't have to worry about switching to a new set for up to 36 months with this device. You can purchase the replacement heads for $8.99. This electronic toothbrush is battery powered using a AAA battery.
With Amazon Prime, you can receive the Papablic BabyHandy Sonic Electric Toothbrush in two days!
2.

Dada-Tech Baby Electric Toothbrush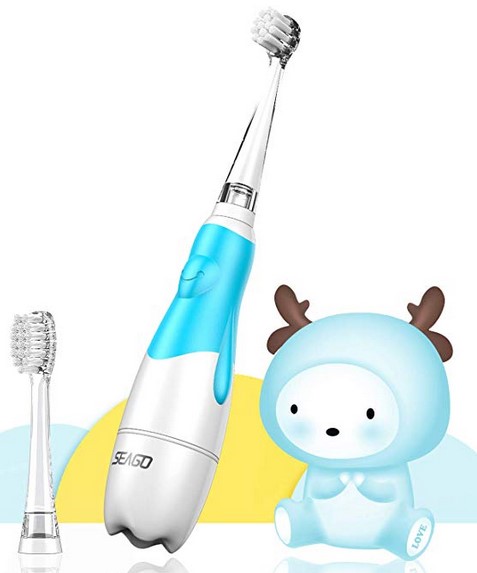 The selections of electric toothbrushes for toddlers in the market can get pretty steep, especially for the budget-conscious parent. The Dada-Tech Baby Electric Toothbrush with Smart LED Timer is a cost-efficient toothbrush for the budget-conscious parent.
Safe for children ages 0 to 3 years old, the electric toothbrush bristles are made of supple Dupont bristles for smoothly cleaning the tooth and gums. Its body is lined with an anti-slip handle for secure grip and handling–even with butter fingers! The silicone brush head ensures you're getting a quality product that lasts for a long time. You also get to choose between two colors: pink and blue.
Its eye-catchy design keeps your toddler entertained while brushing his or her teeth longer. Equipped with LED light, your toddler is sure to have fun with this task while you make sure you get the most of every cleaning experience.
Its 2-minute timer is set to help you and your toddler keep track of the recommended cleaning time. This smart toothbrush gives 30-second pulses in between to get all corners of the mouth squeaky clean. Its waterproof with easy-to-replace brush heads appropriate for your child's age.
It's normal if your child finds the sonic feature 'ticklish' during their first two weeks' of use. Not satisfied with the product? It comes with a 30-day money-back guarantee!
Let the Dada-Tech Baby Electric Toothbrush teach your little one proper oral care.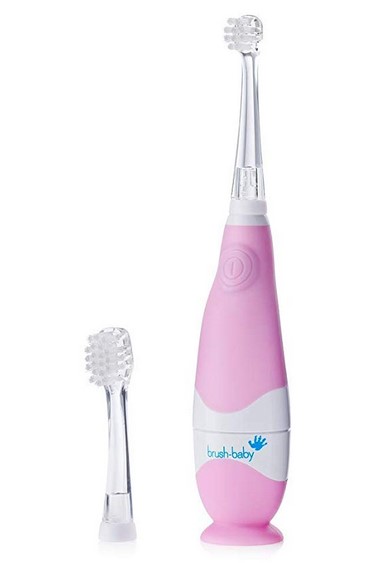 Are you looking for a toothbrush that you can use for extended periods? Worry no more with the Brush Baby BabySonic Smart LED Timer & Gentle Vibration.
No need to struggle to entertain your kids, so they will brush their teeth! Built-in LEDs light up to help keep your kids distracted and check hard-to-see plaques along teeth crevices. This product is embedded with a 2-minute timer to guide you and your child to the recommended cleaning duration.
It also has a 30-second guide to inform your kids to switch to a different part of the mouth to get maximum cleaning coverage. Need to replace brush heads? Detach the old brush head with the replacement one appropriate for your child's age.
Comfortable sonic movement is soft enough to glide through an infant's gums. Soft bristles are made with BPA-free material to ensure it's safe for everyday use. Get to choose from 3 funky designs: Teal, Pink, and Blue.
Compared with manual toothbrushes, this electric toothbrush is 20% more effective in cleaning tartar. Pre-school kids can already practice brushing their teeth on their own with its easy on/off button function. This is a waterproof and battery-operated device, so rest assured your child is safe while they brush away!
With a cool timer and so many color choices to choose from, your child will love brushing with the Brush Baby BabySonic Toothbrush.
4. Fairywill Musical Electric Toothbrush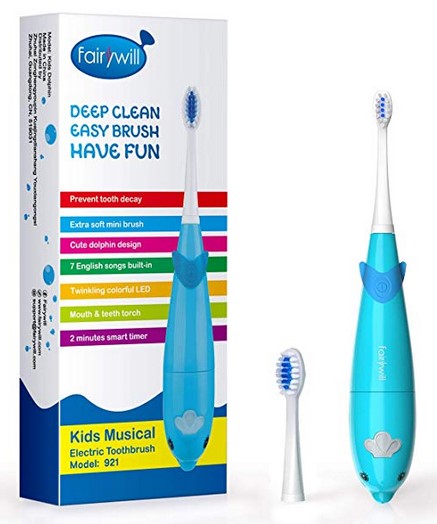 The Fairywill Musical Electric Toothbrush is a magical and smart electric toothbrush that brings pleasure with every brush.
This product comes with a pretty dolphin design in light blue color. Hum along with your kids as they brush their teeth with seven built-in popular melodies. Matched LED lights twinkles along with the song so your child is encouraged and entertained to brush thoroughly. It uses sonic pulses to help clean the inner corners of the mouth thoroughly without scrapping your child's delicate gums.
As recommended by dentists, this electric toothbrush also has a built-in 2-minute timer with 30-second pauses to guide them to brush their teeth independently. Bristles are soft enough to cleanse a toddler's delicate gums and teeth thoroughly. Handles are easy to grip and waterproof so you don't have to worry about your kid's safety. You can easily buy replacement heads and is powered by 2 AAA batteries.
The Seago Baby Electric Toothbrush with IPX7 Waterproof Design is an intelligent brushing device fit for six months to 4 years old.
Some kids love to chew on their toothbrush especially when they're cute and colorful. The Seago Baby Electric Toothbrush is made of food-safe ABS + TPE material that won't harm your child's health. Handles are firm to hold and fit small fingers.
Oscillating cleaning features ensure better scrubbing covering the inner corners of the mouth. It's safe for babies and toddlers with its soft Dupont bristles that glide smoothly in their mouths and teeth.
As parents, we want our kids to do simple activities, such as brushing their teeth independently. This device has a 2-minute timer with 30-second intervals to guide your kids to brush their teeth as recommended by dentists.
Whether you want to check for plaques in the crevices or want to encourage your kids to keep brushing, LED lights make sure you get to do both! Switch brush heads easily with its detachable brush heads.
You could also easily purchase a new set of brush heads for only $9.99 a set. This is a waterproof device and is powered by AAA batteries. Get the Seago Baby Electric Toothbrush for as low as $19.99.
For a quality toothbrushing experience for your kiddo, try out the Seago Baby Electric Toothbrush.
---
related baby and toddler "stuff"