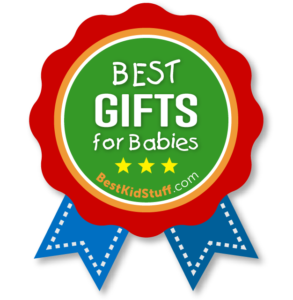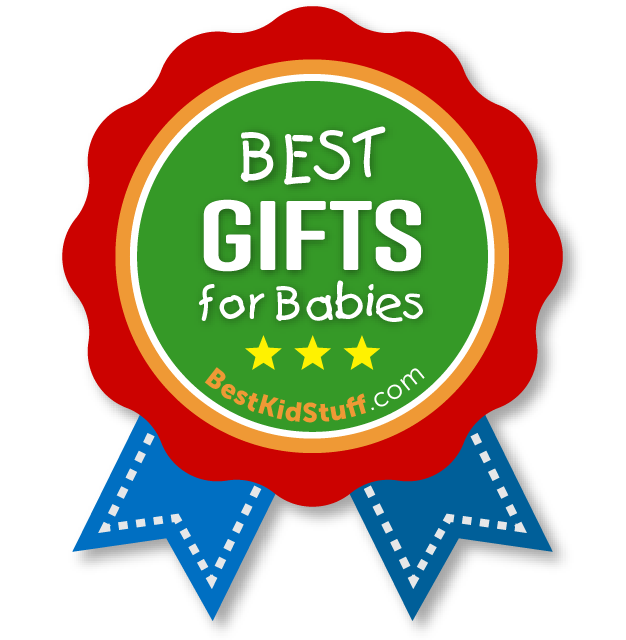 Whether you're shopping for a baby shower or first birthday gift or setting up your own baby registry, you may find yourself feeling overwhelmed by the sheer volume of baby gifts available. With so many cute and practical baby items out there, and with options for every lifestyle and budget, it can be tough to know where to start. We've compiled this ranking of the Best Baby Gifts for 2019 to help you narrow down your choices, by bringing together the best of the best.
What makes a good baby gift? William Morris once said, "Have nothing in your houses that you do not know to be useful, or believe to be beautiful." When it comes to the nursery, that's true as well- attractive baby gift and useful baby gifts are always appreciated. Of course, the best baby gifts of all are those that are both useful and beautiful. Fortunately, many baby toy and gear companies today are creating thoughtfully designed items that really make life easier for parents and actually look good while doing it. We've looked for the baby gifts that bring together practical value and attractive design.
Of course, quality counts as well. No one wants to give- or receive- a baby gift that will break or wear out quickly. You'll want to give a baby gift that's well-crafted using high-end, and perhaps even all-natural, materials. We've ranked each baby gift on the quality of its materials and how sturdily it was built.
Finally, baby gifts should be easy to order and shouldn't break the bank. Especially if you're a busy new parent, you don't have time to shop around in stores, and you likely don't have the budget for overpriced "luxury" baby gear. With that in mind, we've also scored our Best Baby Gifts by cost and availability, with higher marks awarded to items that can ship right away for free.
With a wide range of useful and beautiful items that are also convenient and economical to order, you're sure to find just the right present in our Best Baby Gifts guide.
1. Bimi Boo Wooden Stacking Rings Puppy Roly-Poly Toy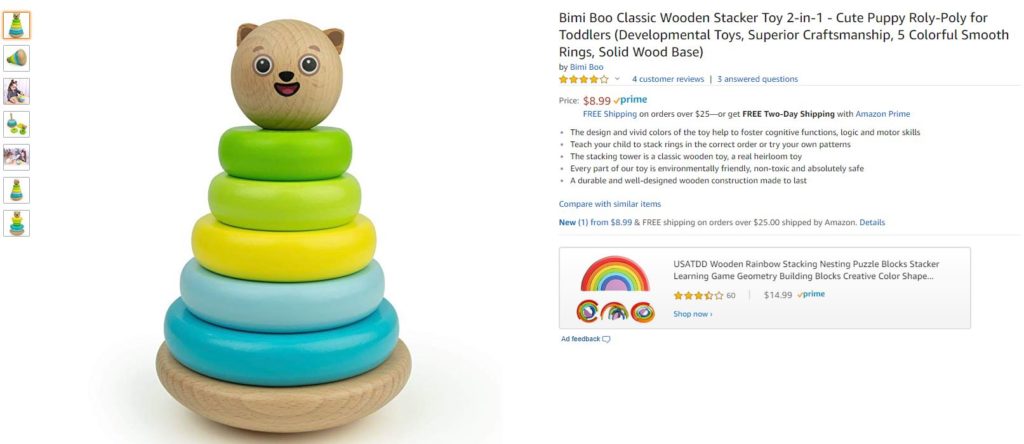 Stacking blocks are one of the oldest forms of baby gift, and they've stuck around through the ages for a good reason. This classic baby toy fosters development and keeps babies entertained. The littlest babies will love clutching and mouthing the smooth, brightly-colored rings, while older babies and toddlers can place the rings on the rod, stacking them randomly, in size order, or making patterns. This activity challenges their motor and visual skills, as well as their sense of balance.
We love how this tasteful stacking ring set is so clean-looking: bright but not garish. Each ring is painted in a cool, vivid shade of blue, yellow or green. There are five rings in increasing sizes and one spherical, natural wood-colored topper. The top has a cheery and tasteful smiling puppy face. The Bimi Boo Wooden Stacking Rings set features a rounded base, which makes the toy set rock back and forth slightly as babies play with it. The entire toy is seven inches tall, just right for little hands to manipulate.
This beautifully designed toy is ecologically made from natural wood, and is colored with nontoxic paint and finishes. There are no batteries, plastic parts or even joints on this toy, meaning it's virtually indestructible, and can be passed down to siblings or even the next generation. Heirloom quality wooden toys can cost an arm and a leg, but this baby gift won't force you to choose between premium design and value. The Bimi Boo Wooden Stacking Rings Puppy Roly-Poly Toy costs only $10, and is eligible for free shipping. With real play value, top quality materials, beautiful design, and low cost, the Bimi Boo Wooden Stacking Rings Puppy Roly-Poly Toy is a sure winner in our ranking of Best baby Gifts for 2019.
Pros and Cons
Pros
Low price of just $10, plus free and fast shipping
Solid wooden construction means no parts can break off, making this toy safe and durable
Very entertaining as well as challenging, this gift promotes development and is fun for babies through toddlers
Tasteful design has cheery colors but not garish colors and details
Heirloom quality construction and eco-friendly, nontoxic materials
Cons
Not as stimulating to babies as a toy that makes noise
Height of only 7 inches makes this a smaller baby gift
Not appropriate for newborn babies. Best as a baby gift for little ones 6 months and up
Pieces to keep track of- rings can easily get separated from the toy and lost, making this baby gift less fun and interesting for baby as an incomplete set
Score
Cost: 96/100
Usefulness: 95/100
Availability: 100/100
Attractiveness: 95/100
Quality of Materials/Construction: 100/100
Overall score: 97.2/100
2. HABA Magica Wooden Baby Rattle, Clutching Toy & Teether

HABA is a long standing German company with a serious commitment to sustainability, premium quality, and thoughtful design. Many of their toys feature rainbow colors and natural materials such as fabric and wood, with an understated, distinctly European design sensibility. The HABA Magica Wooden Baby Rattle, Clutching Toy & Teether is a classic example of the values that have made HABA such a popular brand for baby gifts. It's also a highly affordable premium baby gift, at a cost of $16.
This clutching toy is meant for little babies to grasp, pull, chew, shake, twist, and generally explore with their hands and mouths. The eight rainbow colored spheres are threaded together with sturdy elastic, so they can be moved around into different configurations. The tight looped threading on this toy means the elastic cannot become twisted around baby's neck, making this baby gift completely safe. Babies will find that the smooth shapes feel good in their hands and mouths, and the toy makes a satisfying rattling sound when shaken.
The quality of materials in this toy cannot be overstated. The spheres are made from wood which is grown sustainable in managed forests in Germany. The shapes are each painted in multiple layers of water-based, solvent-free lacquer. That makes them not only absolutely safe, but also resistant to scratches and discoloration. This heirloom quality baby gift is so durable and beautiful, that it will last until baby outgrows it, and can be passed on to others. It's a small baby gift, at 4″ x 2.75″, and will easily fit the hands of small babies and toddlers.
Pros and Cons
Pros
Extremely eco-friendly, crafted from wood grown through sustainable forestry in Germany
Extremely safe, painted with water-based, solvent-free lacquers
Multiple coats of nontoxic paint means this toy will keep its bright colors over time
Vibrant but minimalist design makes this an extremely attractive baby gift
Solid construction and wood materials means this baby gift will not become damaged over time
Low cost for a baby gift from a top-tier brand, only $16. Also eligible fro free shipping through Amazon Prime.
Cons
Not appropriate for newborn babies. Best as a baby gift for little ones 6 months and up
A very small baby gift, measuring only 4″ x 2.75
Can only be used for grasping, shaking, and manipulating. Babies will outgrow this toy relatively quickly and be ready for new toys that are more challenging
Score
Cost: 88/100
Usefulness: 95/100
Availability: 100/100
Attractiveness: 100/100
Quality of Materials/Construction: 100/100
Overall score: 96.6/100
3. Manhattan Toy Skwish Classic Rattle and Teether Grasping Activity Toy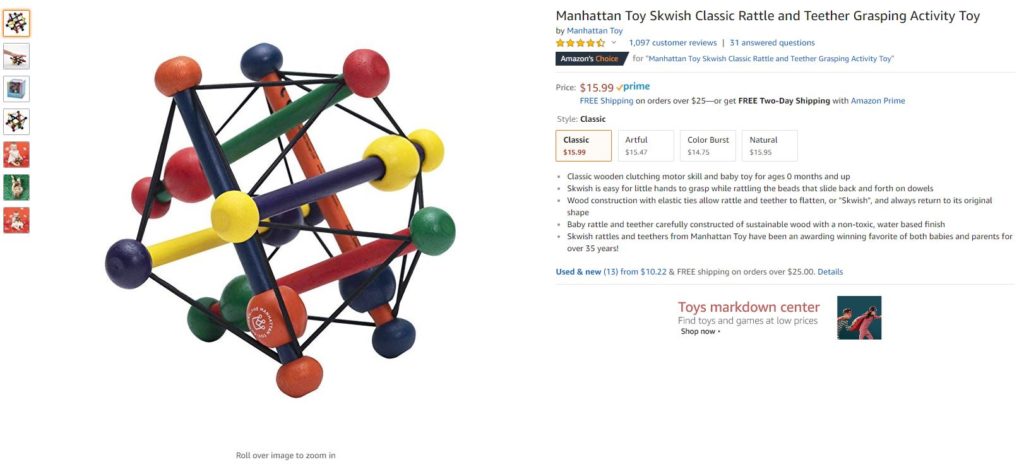 Like HABA, Manhattan is a toy company known for making premium, award-winning baby gifts, including activity mats, rattles, teethers, and baby toys. Their Skwish toy has become a nursery icon, with an easily recognizable geometric structure and strong baby appeal. This classic baby gift brings together ingenious design and developmental function in a safe and entertaining baby toy.
The Skwish consists of a set of beads and rods held together with interior elastic, arranged in a shape somewhere between a tiny jungle gym and a giant molecule. The beads can slide along the toy's smooth wooden dowels when shaken, and produce a soft rattling sound that will entertain the baby without annoying parents. Babies as young as 0 months can grasp and shake the toy, while older babies can experiment with squeezing and pulling on it to produce different sounds and bead movements. In so doing, they develop their motor skills and learn about cause and effect. No matter how the toy is stretched or twisted, it always springs back to its original shape.
Manhattan uses premium materials in the construction of the Skwish baby toy, including natural wood and elastic. The rubberwood material is resistant to splintering and chipping, and the entire surface has a water-based, non-toxic finish. This baby gift is offered in several styles to match any nursery decor: a deeply-colored primary-hued "classic" style, a multi-toned wood "natural" style, a vibrantly colored "color burst" style, and a dark wood and black-and-white elastic "artful" style.
Pros and Cons
Pros
Classic and award winning baby gift with longstanding appeal and outstanding reputation
Available in classic, artful, color burst, and natural styles, to match any nursery decor
Comes in an attractive 6″ by 6″ box for easy baby gift wrapping
Entertaining and good for baby's visual and motor development
Attractive design makes this baby gift look like a piece of household decor
Natural and durable materials throughout
Cons
6″ by 6″ size means this is a small baby gift which may not make as much of a splash as a large item
Depending on their age and level of motor control, babies may hit themselves (potentially in the face) with this toy, and the firmness of its wooden construction could make this especially uncomfortable
While the toy is safe for babies as young as newborns, only those 5 months and up will really be able to grasp and manipulate it
Score
Cost: 90/100
Usefulness: 95/100
Availability: 100/100
Attractiveness: 95/100
Quality of Materials/Construction: 100/100
Overall score: 96/100
4. Comfy Cubs Portable Baby Changing Pad Station, Grey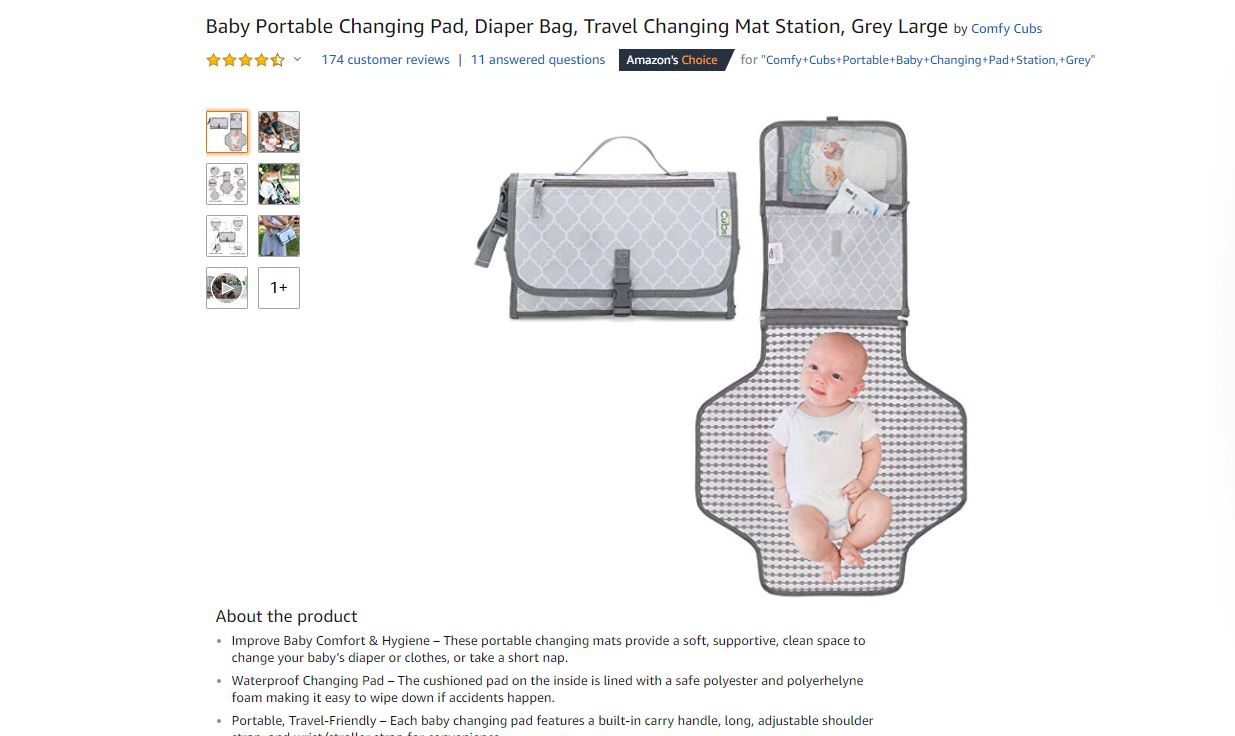 Is it possible for a diaper changing pad to be chic? Believe it or not, the Comfy Cubs Portable Baby Changing Pad Station really is a good-looking baby accessory that boasts a number of practical and problem-solving features. Newborn babies go through an average of 10 diapers changes per day, and changing them on the go can be a pain without the right equipment. A well-designed and attractive diaper pad like his one makes a baby gift that any parent will appreciate receiving and use frequently.
The Comfy Cubs Portable Baby Changing Pad Station is made from sturdy fabric with a grey and white Imperial Trellis pattern outside and on the pockets, and a cute dotted pattern on the inner flip side, where the baby can be laid down for diaper changes. When opened, the changing station provides a soft, clean surface for diaper changes, changing clothing, or even a portable nap surface. The inside of the cushioned pad is lined with a waterproof and non-toxic polyester and polyethylene foam for easy clean-up. There's plenty of room to maneuver; the pad measures 22 inches long and 21.5 inches wide. The pad easily folds up and snaps closed into the size and shape of a small purse.
The Comfy Cubs Changing Station has both a wrist strap and top handle (which can expand into a shoulder strap) for maximum portability. There are two small pockets for storing baby essentials and one large pocket for holding baby wipes and a spare diaper or two. This incredibly practical baby gift is very reasonably priced, costing a total of $17, and is even eligible for free shipping on Amazon Prime.
Pros and Cons
Pros
Attractive design on an extremely functional baby essential makes this a very practical baby gift
Lightweight and multiple handles makes this changing station extremely portable and convenient
Multiple pockets for stashing baby items like diaper cream, baggies etc.
Waterproof surface cleans up easily and has plenty of space for baby to lie down
Can double as a surface for naps on-the-go
Cons
Can only hold 1-2 diapers in the largest pocket- the diapers themselves should be stored in a separate diaper bag if more are required
Imperial Trellis pattern has a traditionally feminine look, meaning dads may prefer to tote around a more gender-neutral diaper changing station
Not a keepsake baby gift- a diaper changing pad makes a practical baby gift rather than a sentimental one, and therefore isn't right for every occasion or recipient
Score
Cost: 84/100
Usefulness: 100/100
Availability: 100/100
Attractiveness: 90/100
Quality of Materials/Construction: 100/100
Overall score: 94.8/100
5. Skip Hop Silver Lining Cloud Baby Play Mat and Activity Gym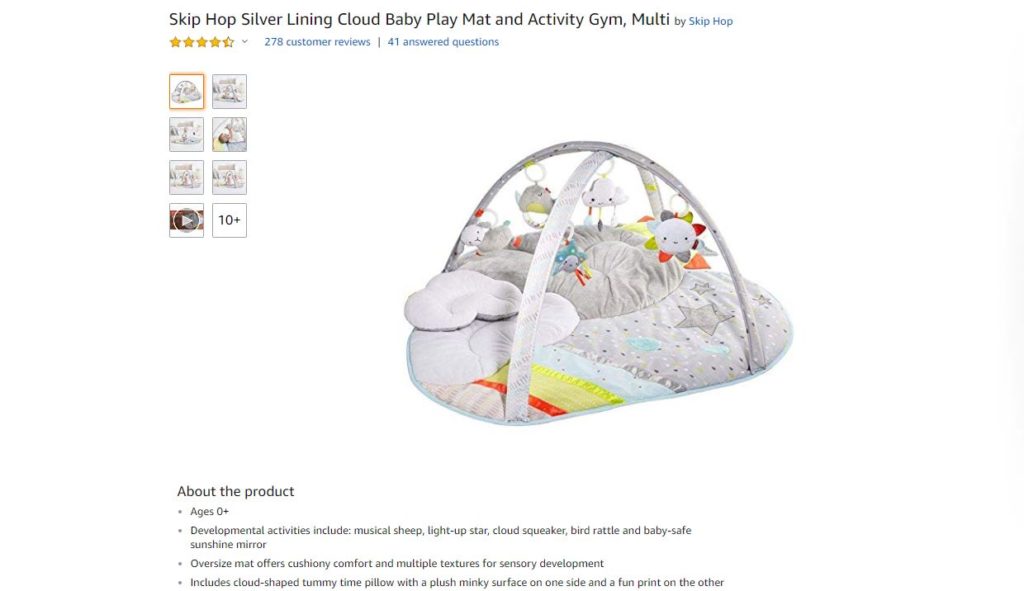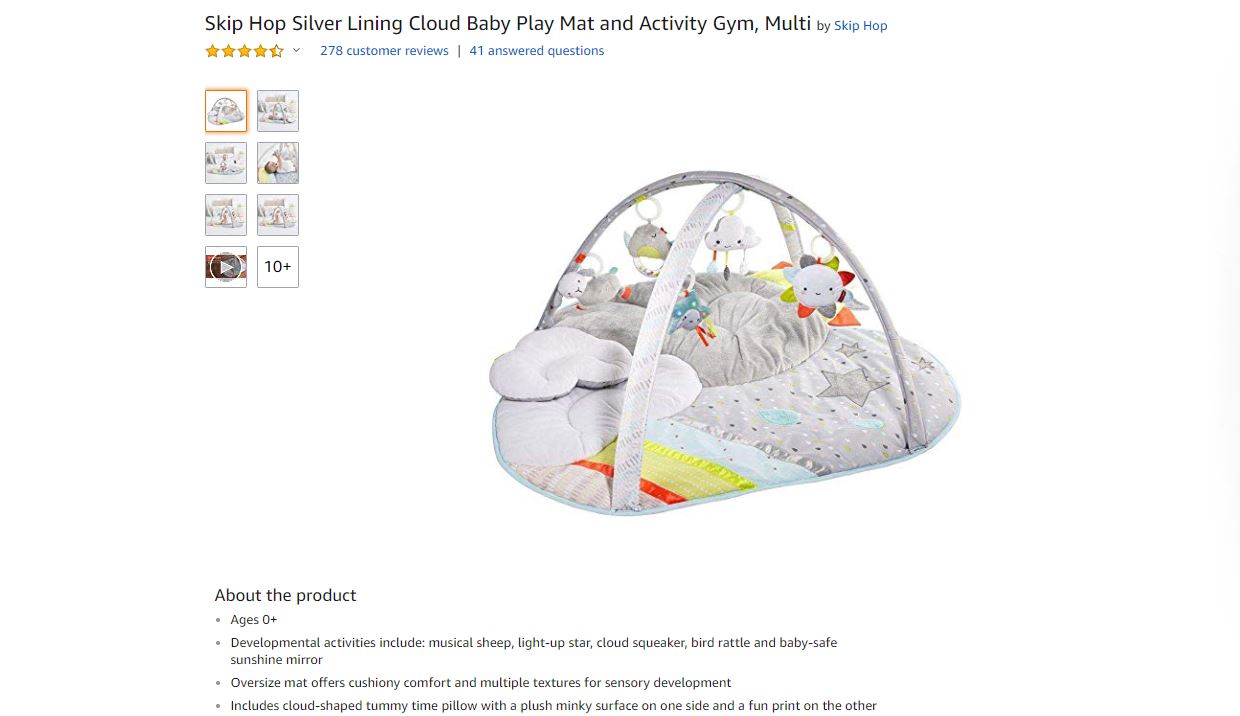 We all know that babies today aren't spending enough time on their tummies. That's thanks in part to new guidelines about having babies sleep on their backs for safety, and also due to the prevalence of keeping little ones in car seats, bassinets, loungers, bouncers, and swings. Pediatricians say babies should spend time each day on a flat surface facing downwards (with supervision) to get the "tummy time" they need to develop motor skills. Lying flat on their backs outside of a carrier is important as well, as it helps them practice rolling over. Activity gyms are a popular way to get babies this dedicated developmental time, and the Skip Hop Silver Lining Cloud Baby Play Mat and Activity Gym is our very favorite in this baby gift category.
The Skip Hop Silver Lining Cloud Baby Play Mat and Activity Gym is useful, attractive, and very high in quality. This baby gift comes with two crisscrossed arches over a soft mat, with a number of clever and engaging baby toys hanging down. There's a musical sheep, a light-up star, a bird rattle, a cloud squeaker, and a baby-safe sunshine mirror. Multiple textures and levels of padding on the mat encourage horizontal exploration, while the dangling toys invite babies to reach up and play with the toys in different ways.
The hanging toys can be switched around so that the activity center never becomes boring, and can even be detached and taken along on car rides or stroller trips. A separate pillow made from milky fabric and shaped like a fluffy cloud is also included. The pillow can be moved around to support baby's neck in various positions, or under the chest for tummy time. The materials are PVC and phthalate-free, making this baby gift incredibly safe. The pillow and mat are also machine washable, for ease of care. At $70, it's a big-ticket baby gift, but an excellent value for such a useful and high quality item.
Pros and Cons
Pros
This is a large baby gift that will make a splash, measuring 36 x 36 x 19 inches. Babies will have lots of room to roll around and explore
Best for babies ages 0-12 months. Babies who are older will probably not find this play mat entertains and will need a baby gift that's not so stationary
Light weight of only 2 pounds and ability to fold flat makes this portable and easy to store away under a bed or in a closet when not in use
Unisex style means this can be given as a baby gift at a shower even if the new child's gender isn't known
Charming design that's minimalistic but still cheery and engaging for babies
Super-soft surface with additional movable cushion
Hanging toys can be detached and used separately or re-arranged to keep this baby gift fresh and interesting
Promotes exploration and development through textures, sounds, visual stimulation and movement. Great resource for tummy time.
Cons
High price of $70 makes this the most expensive item on our list of Best Baby Gifts 2019 by a wide margin
Large size of 36 x 36 x 19 inches makes this an impressive gift, but also a bulky one
Toys can be detached and moved, but the activity gym itself is too large to qualify as a portable take-along toy
Score
Cost: 70/100
Usefulness: 100/100
Availability: 100/100
Attractiveness: 95/100
Quality of Materials/Construction: 100/100
Overall score: 93/100
6. Jellycat Soft Cloth Baby Books, Jungly Tails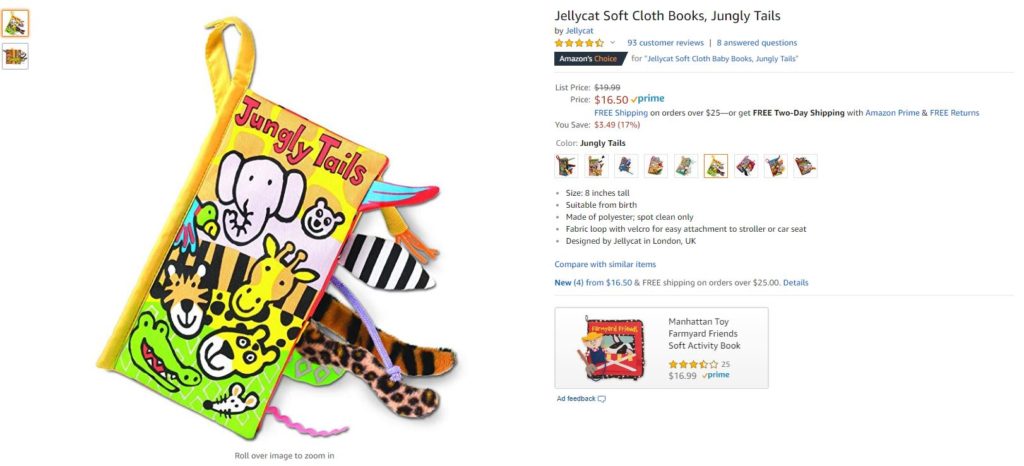 It's never too early to introduce babies to books, and pediatricians even recommend reading to newborns. Traditional books with paper pages can be problematic, since little babies like to grasp and tear the pages. Board books are better suited to babies but still have stiff pages and become scuffed and bent over time. Cloth books are soft and resistant to tearing, and often include flaps and tags for babies to manipulate, making them part book and part toy. The Jellycat Soft Cloth Baby Books are an ideal series to start with.
JellyCat is a popular UK-based company that specializes in brightly colored and artful-looking baby toys. The Tails cloth book series is extremely popular, and has quite a few titles to choose from: Farm Tails, Jungly Tails, Fluffy Tails, Pony Tails, Dino Tails, Fishy Tails, Puppy Tails, Silly Tails, Unicorn Tails, and even Garden Tails.
The books feature different animals, with fabric tails hanging off their bodies for babies to grab, pull, and twist. Different materials and textures include fake fur, scaly fabric, and soft terrycloth. Each page has crinkly material and padding sewn inside, so the pages make stimulating noises when turned, grasped or folded. The bright, high-contrast colors and heavy lines in the illustrations make them easy for babies to see, even small ones whose ability to perceive soft colors and low contrast is limited.
The books measure 8 inches tall and are very lightweight, weighing just 2.5 ounces. They can easily be taken along on trips, and even have a handy velcro strap for attaching to strollers or car seats. The fine craftsmanship and high-quality nontoxic fabrics make this baby gift a great value at $17. Customers agree, giving them an average of 4.6 out of 5 stars on Amazon.
Pros and Cons
Pros
Engaging and activity-rich way to introduce babies to books
Adorable and bright pictures with different textures and activities on each page
Introduces kids to animals and their sounds, body parts, etc.
Highly portable, with a light weight of 2.5 ounces, and a flat shape, this can easily be stashed in a purse or diaper bag for trips
Cons
Pet owners may find this tail-twisting book encourages little ones to play with and pull their real pet's tail
Only 8 pages makes this a short book
Small baby gift if given as a single item. Purchasers may want to buy a set of two or more for a more complete baby gift
$17 is a high cost for a baby book, though the many materials and detailed crafting do justify the expense
Machine washing multiple times can degrade the book, and spot cleaning is recommended instead
Fabric books get dirty more quickly than board books
Score
Cost: 86/100
Usefulness: 95/100
Availability: 100/100
Attractiveness: 95/100
Quality of Materials/Construction: 100/100
Overall score: 95.2/100
7. CaaOcho 100% Pure Natural Rubber Teething Toy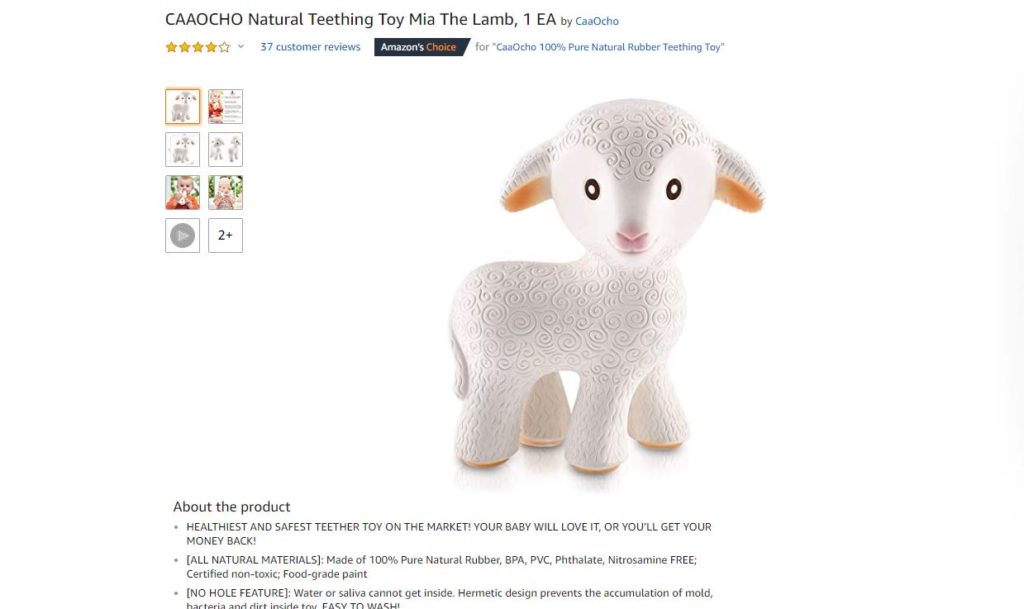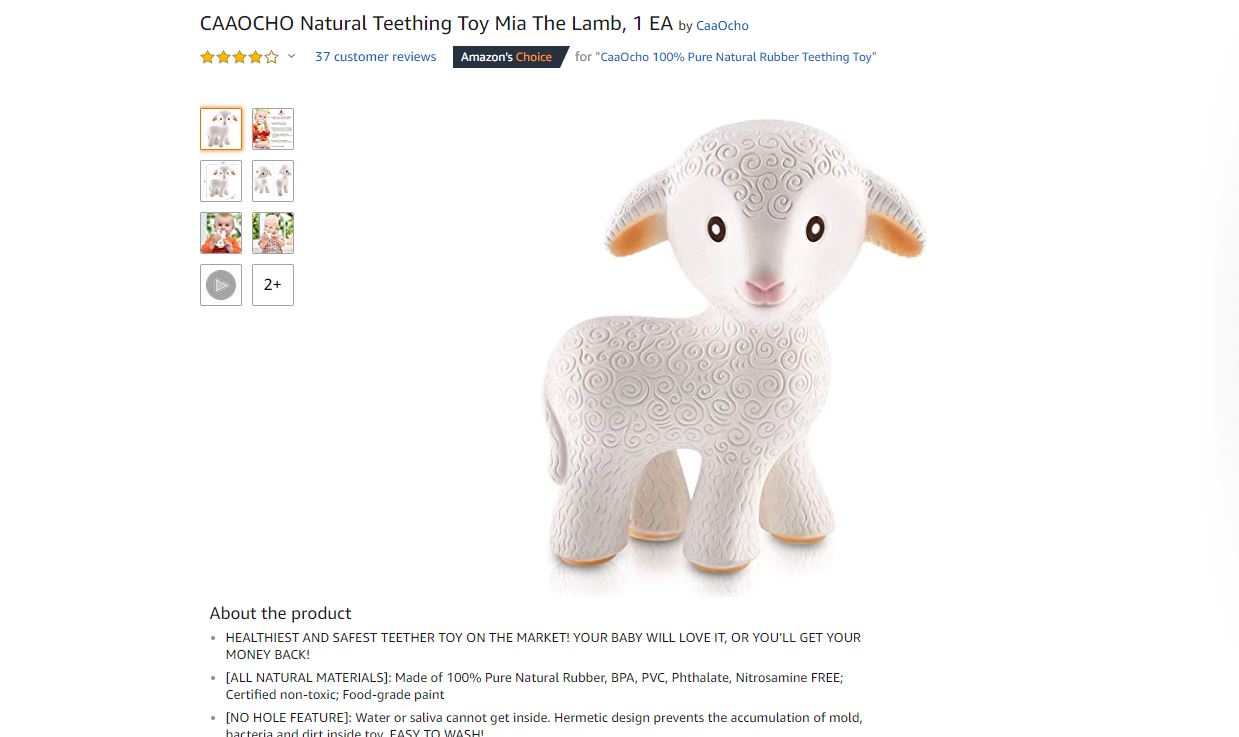 When new teeth are coming in, babies are frequently miserable, which, of course, makes their parents miserable as well. There are many styles of teething toys available that address this problem by giving babies something to chew and suck on that can massage their gums and relieve the itching, pain, and soreness they feel as new teeth come in. Some are highly textured, some are smooth, some are squishy, some are hard, and many are even meant to be frozen to provide a cooling sensation. Which a baby will prefer is largely a matter of trial and error, but the CaaOcho 100% Pure Natural Rubber Teething Toy is an excellent starting point, and makes a wonderful baby gift.
If a toy is meant to be put into a baby's mouth and vigorously chewed, you definitely want to be sure that it's completely nontoxic. The CaaOcho 100% Pure Natural Rubber Teething Toy is an all-natural baby gift, and has been certified as non-toxic: PVC, BPA, Phthalate, and Nitrosamine free. The teether is made from Natural Rubber Latex, the white sap taken straight from Rubber Trees (hevea brasiliensis). It's also an eco-friendly baby gift, as this rubber latex is a renewable resource.
CaaOcho makes three rubber teething toys: a lamb, a white goat, and tan goat. While most baby tethers are unattractive and garish, all three CaaOcho teethers have a charming, classical design and sweet baby animal shapes. All have textured fur, which adds to their visual appeal and also gives babies additional gum stimulation. There's a small squeaky mechanism inside each, so babies get to hear interesting sounds as they squeeze and chew their toys. The teether weighs a mere 2.4 ounces and is 4.5 x 2.5 x 5 inches, small enough to transport easily.
With cure animal features and a fun squeaker, the CaaOcho 100% Pure Natural Rubber Teethers really are both a teething solution and a true baby toy. Parents will appreciate this useful and beautiful baby gift. The cost of $19 is unusually high for a teething toy, but is justified by the premium, all-natural materials. This baby gift is also eligible for free and fast Amazon Prime shipping.
Pros and Cons
Pros
Gender neutral baby gift makes this a good choice for a baby shower gift when the child's gender isn't known
Problem-solving baby gift; this squeaky toy is also a teether, and can effectively massage a baby's sore gums as new teeth are coming through
Charming and classical design, with three animal shapes to choose from
Reduces fussiness and crying by decreasing the itching and pain associated with teething
All natural product, especially important for toys that are meant to be put into the mouth
Cons
Price of $19 is much higher than most teething toys
At a size of 4.5 x 2.5 x 5 inches, this is a small baby gift. Buyers may want to consider buying all three animals in the series to make this a more impressive gift set
Some buyers have reported that if drool or water gets into the squeak hole, mold may develop
Squeaking sound can become irritating to parents
Cannot be placed in freezer to provide soothing coldness, the way many teething toys can
Score
Cost: 82/100
Usefulness: 95/100
Availability: 100/100
Attractiveness: 95/100
Quality of Materials/Construction: 100/100
Overall score: 94.4/100
8. HaloVa Diaper Bag Multi-Function Waterproof Travel Backpack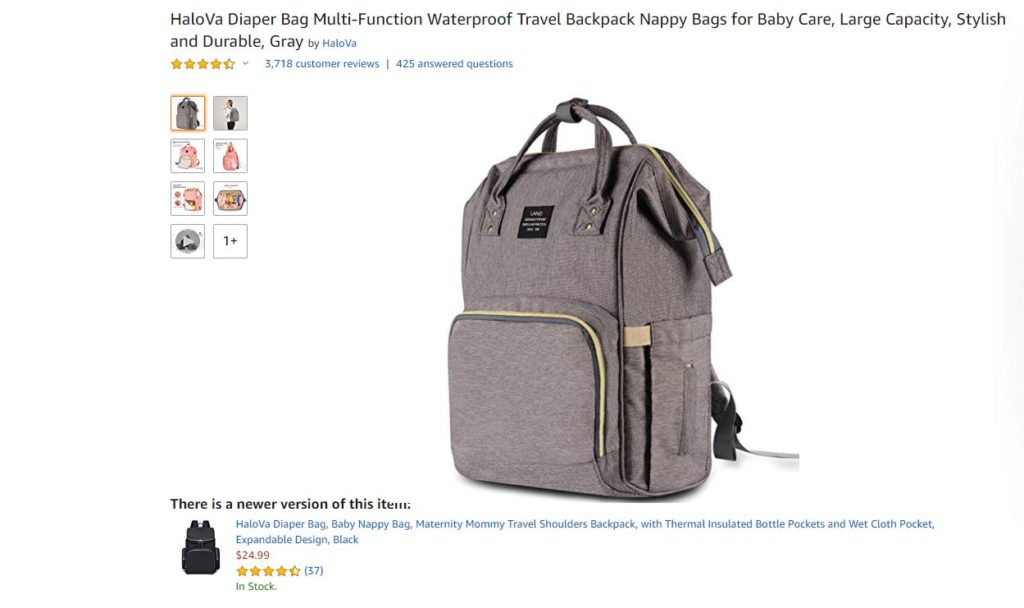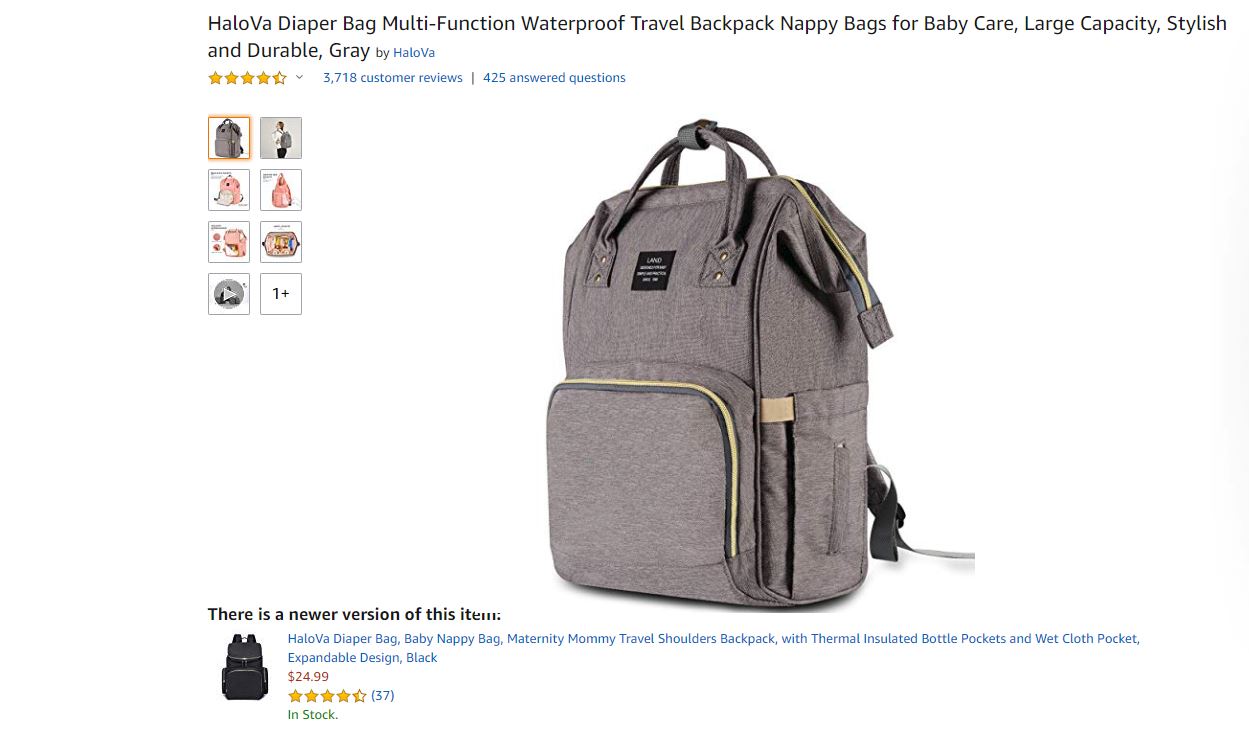 A baby gift for moms and dads? If that seems counterintuitive, consider the HaloVa Diaper Bag Multi-Function Waterproof Travel Backpack as a baby gift. A carrier of some kind is absolutely essential transporting the huge array of baby items that are needed to keep little ones clean, healthy and happy, from diapers and bottles to books and bibs. Every time a baby is moved from home to daycare, playground, restaurant, or just a stroller ride, all that baby gear needs to come along. The well-designed backpack from HaloVa is a problem-solving baby gift that parents will truly appreciate receiving and will use on a daily basis.
The HaloVa Diaper Bag Multi-Function Waterproof Travel Backpack is made from high quality and durable oxford fabric which is water resistant and easily wipes clean. The bag can also be gently washed in the washing machine and air-dried in case of a more serious mess. The clever design starts with a large top compartment with wire-reinforced edges, which stays open on its own when unzipped and opened, freeing up parents' hands as they pack or remove items. A back zipper allows users to take out an item from the bottom of the back without disturbing the items on top. There is a thermal insulated pocket with three bottle-sized pouches that can keep bottles of milk or other liquid warm or cold. There's even a wet clothing compartment where parents can stash soggy bibs, clothing, and blankets if necessary.
Large main compartment, separate storage pockets include insulated pockets & wet clothes pocket, you can put milk bottle, water bottle, clothes, diaper, towel, etc in different separate pockets. A side pocket has a clever slit to dispense tissues and wipes.
The HaloVa Diaper Bag is also very versatile. There are both top and adjustable side handles on this bag, so it can serve as a backpack or as a handbag. Its unisex design means it will look great on parents of any gender, and no less than 17 color options make it easy to match any baby's style. The $27 price tag is very reasonable for an item that's so well-constructed, and shipping is free and fast with Amazon Prime. With its functionality and innovative design, this baby gift has become a favorite among shoppers. In fact, an incredible 3,6719 Amazon reviewers give this well-loved baby gift an average of 4.5 out of 5 stars.
Pros and Cons
Pros
An extremely practical baby gift that parents will use every day
Unisex design means it can be used by all parents and babies regardless of gender
Available in 17 colors, ranging from neutral to bright and pastel colors, this can be matched to any nursery color scheme
Ingenious design makes it easy to put in and remove baby items as needed without suffering around the contents
Numerous pockets and zippered pouches keep everything well organized
Versatile baby gift, which can be used as a backpack with the straps or as a handbag with the top handles
Can be stocked with baby essentials like bibs, pacifiers, wipes, diapers, bottles, diaper cream etc. before wrapping for a truly deluxe baby gift
Huge storage capacity and light weight of 1.45 pounds
Cons
At $27, this is the second most-expensive item on our Best Baby Gifts list for 2019
Many fashionable moms may prefer a diaper bag that looks more like a traditional purse
Doesn't come with stroller clips that allow it to easily attach to the handle of a stroller, as many other diaper bags do
Only solid colors are available, no patterns
Score
Cost: 76/100
Usefulness: 100/100
Availability: 100/100
Attractiveness: 90/100
Quality of Materials/Construction: 100/100
Overall score: 93.2/100
9. Melissa & Doug Wooden Latches Board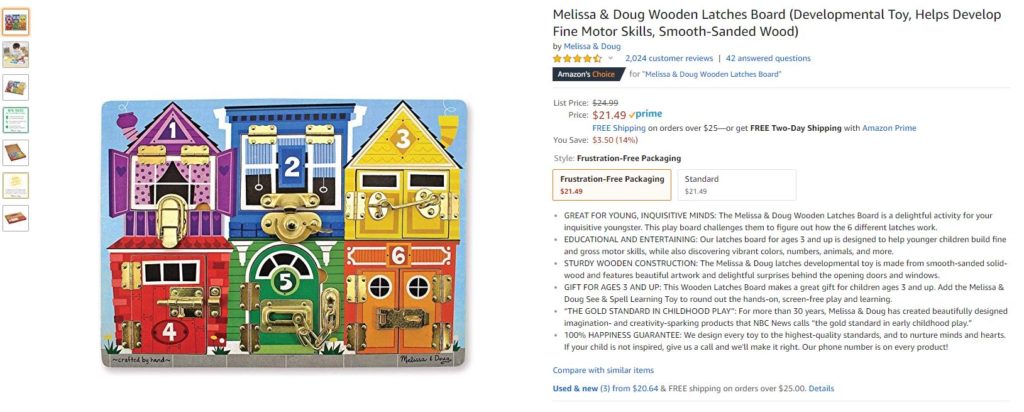 Big babies are busy all the time. Every minute they're not eating or sleeping, they're exploring their world by chewing, pulling, shaking, and twisting any object they can get their hands on. All too often, that includes fiddling with the latches and hinges on their household cabinets and drawers, creating a real headache for parents. The ingenious Melissa & Doug Wooden Latches Board is a brilliant alternative.
This innovative and baby gift was designed with babies' love of latches in mind, and is a clever twist on traditional flap boards and puzzles. The toy consists of a smoothly sanded wooden board with an unfinished back and a colorful front depicting a house with multiple doors that can really be opened and closed by little fingers. The set features a total of eight hinged wooden flaps, with six different closures. Behind each flap is a different animal surprise, each representing a different number and color. Babies can learn about cause and effect, and start to get familiar with animals, colors and numbers.
Melissa and Doug has been called "the gold standard in early childhood play" by NBC News, and is among the most popular toy brands for their economical yet premium-quality educational toys. This wooden latch board from a beloved brand makes an excellent baby gift for older babies, one which will keep them entertained and build their fine motor skills. Kids as old as 2-3 can benefit from it as well, independently solving the more difficult latches like the hook-and-bar configuration. Parents will love receiving this baby gift, both for its entertainment value and for the way to keeps their inquisitive babies away from their cabinet and drawer latches.
Pros and Cons
Pros
Can be personalized with child's name for an additional charge of $10
Entertaining and educational, introducing babies to animals, colors, and numbers
Can continue to be used in more sophisticated ways as babies develop into toddlers
Fun alternative to opening household latches
Safe and premium materials, with natural wood, metal, and bright, nontoxic paint
Cons
Heavier than a regular puzzle, with a weight of 3 pounds
Only suitable for older babies, ages 18 months and up
Babies will need assistance opening latches successfully, though toddlers will be able to solve them one their own
Fingers can easily get pinched in the wooden doors
Score
Cost: 78/100
Usefulness: 95/100
Availability: 100/100
Attractiveness: 95/100
Quality of Materials/Construction: 100/100
Overall score: 93.6/100
10. Dodo Babies Gift Bag Set: Baby Bandana Drool Bibs + 2 Pacifier Clips + Pacifier Case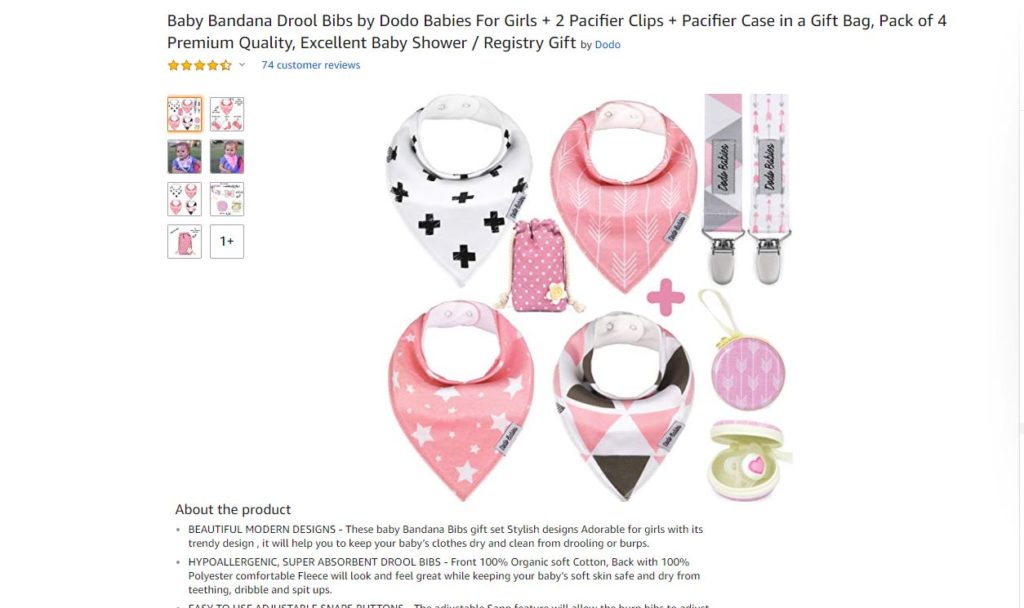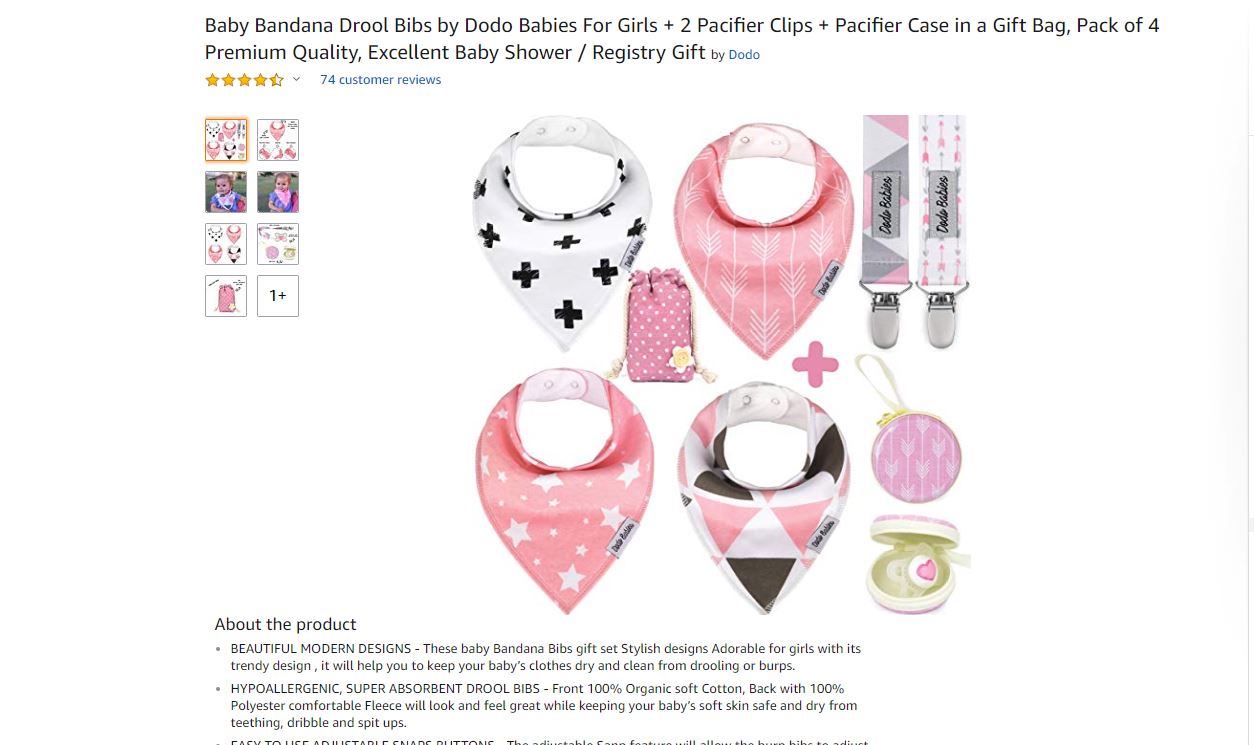 Instead of choosing a single gift, or assembling a gift basket from separate items, you can seek out a ready-to-give baby gift set. The Dodo Babies Gift Bag Set stands out from the other pre-assembled baby gift bags for its high quality and practical value. This set doesn't just look good- it has items that parents will actually need and use daily, all packed into a cute drawstring gift bag.
One of the best kinds of baby gifts is an upscale version of a baby stable. In this case, drool bibs, pacifier clips, and a pacifier case are upgraded and refined with premium materials and modern designs. The drool bibs are the popular bandana-style that looks like a short scarf, and four different patterns are included in each gift set. The fronts are made from 100% cotton, while the back is fuzzy, made from polyester micro fleece. Each bib fits snugly (but safely) around baby's neck, and snap on securely with two metal snaps, which can be adjusted for comfort. The pacifier case is round and zips closed to keep pacifiers clean and organized, and also has a convenient wrist strap for carrying hands-free. Two pacifier clips are also included, which have sturdy and tight metal clips on one side for attaching to a baby's shirt, and a loop on the other end for attaching to a pacifier.
One of the best things about this sweet matching set is its presentation. The entire baby gift set comes backed into a cute fabric drawstring gift bag, which has soft rope-like handles and a decorative flower with a button in its center. At a cost of only $13, this useful and attractive set is also an excellent value. Shipping is free as well through Amazon Prime. Dodo Babies Bandana Bib gift sets are available in several colors, including grey, blue, and pink.
Pros and Cons
Pros
Traditional boy, girl, and unisex color sets available
Cute presentation in a cloth drawstring gift bag means no wrapping is required
Practical baby items like drool bibs look good and are also useful in the daily care of babies
Low cost of $13 and eligible for free shipping
Cons
Drool bibs cannot double as food bibs due to their high absorbency
Unisex gift set actually has a bit of a traditionally masculine look, including a navy blue colored bib with anchors on it
Pacifier case closes with a zipper instead of a one-handed closure, such as pop-open wire
Some reviews observe that the color on the bibs fades after many washings
Score
Cost: 94/100
Usefulness: 100/100
Availability: 100/100
Attractiveness: 90/100
Quality of Materials/Construction: 85/100
Overall score: 93.8/100