If there's one thing that can quickly accumulate germs, it's baby bottles. These bottles are possible areas of bacteria and mold formation because of the moisture coming from milk spillage. If moms are not careful about this and leave their babies holding onto dirty bottles, the little ones get sick regularly.
Naturally, babies still have weak immune systems, so any slight exposure to bacteria can cause severe ailment. Hence, a good baby bottle brush is necessary for all mothers. The list of things-to-buy for babies can be endless, but a reliable baby bottle brush is a priority. There is a multitude of them to choose from, but there are characteristics that help narrow down the choices.
Features of Good Baby Bottle Brushes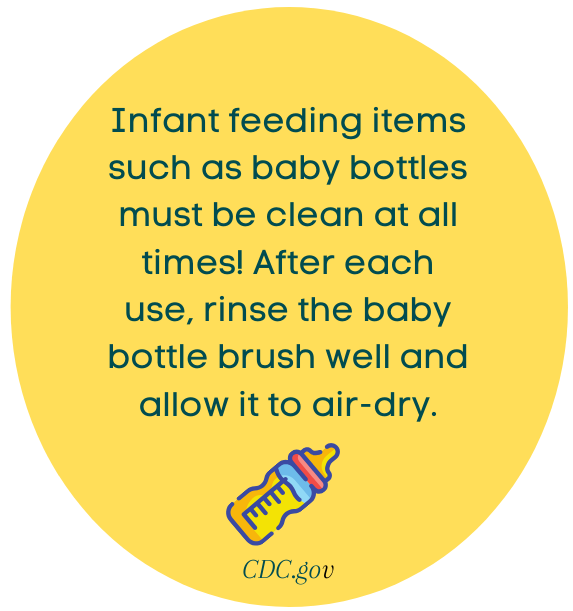 Baby bottles come in different sizes, so when buying the cleaning brush, make sure it's compatible with any shape or size. It is also being practical rather than getting one of each kind.
These brushes usually have the basic straight and simple design, which can go in the baby bottle. The flexible bristles are for a thorough cleaning, especially those hard-to-reach parts of the baby bottles. Other brushes have sponges that are great for soap-based cleaning liquid.
Baby bottles require cleaning as often as needed. Thus, most baby products use rubberized materials or anything that can prevent slipping off. Remember to look for the non-slip features for more precise cleaning. Some of these products have handles that follow a human grip for more comfort. Or there's an added material to avoid hurting one's palm.
As for the shape and size of the brush, pick the model that can clean both the bottle nipple and bottle itself. Besides, the entire bottle needs cleaning; there's no point in buying different brushes for every part of the bottle. Another feature not to miss is that the brush must be dishwasher-safe. These tools also need washing and sterilizing, so there's no easy way to do it but to dump it in the dishwasher.
Importance of Good Baby Bottle Brushes
It may appear insignificant, but using a trusted baby bottle brush is essential. Babies get hungry, and there are cases when there are not enough clean bottles to make milk! A good baby bottle brush can do the job quickly without compromising cleanliness.
Parents don't have the patience to spend more time than they need to; they want to remove any signs of dirt present on the bottle faster. With the right type of bristle, size of the brush, and easy-to-hold handle, cleaning bottles can be done in a jiffy.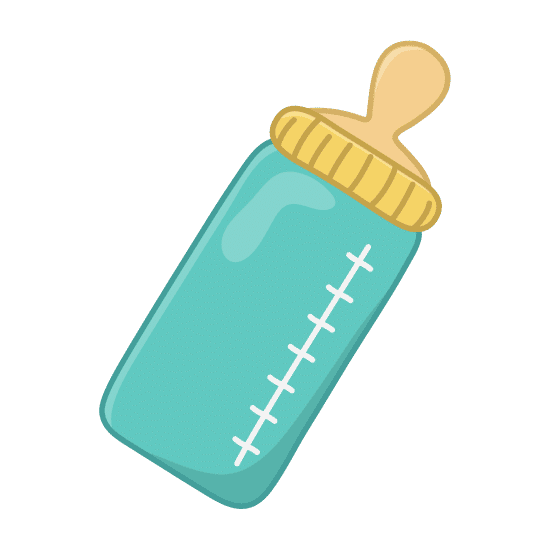 Here are some baby bottle brushes that are a must-have for every parent!
Moms choose a baby bottle brush that can maintain the condition of the bottles-scratch-free. With the OXO Tot Bottle Brush, the bristles are twofold: soft and firmer, for seriously dried on formula.
It also has a flexible neck to get in and around bottle sides. The nipple cleaner is stored in the base of the brush. The non-slip grip feature avoids the delay and makes it efficient for the parents. The product itself is free of BPA, so there's no harmful substance for both moms and babies.
The OXO bottle brush is designed to complement your kitchen storage. The pretty teal color is suitable for any kitchen decor.
Buy from a brand you can trust… OXO. Get it on Amazon.com!
2. MoomooBaby Triple Brush Set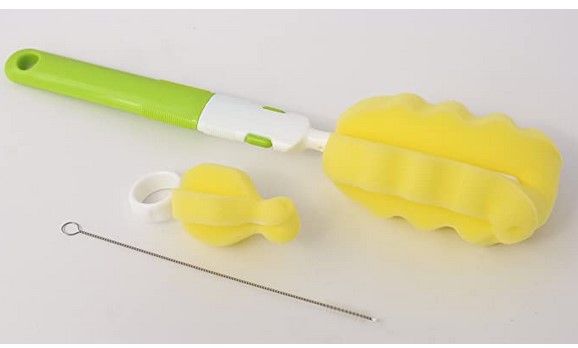 When moms have so many things to do, a nifty bottle brush is a must. MoomooBaby Triple Brush Set can cut short the thorough cleaning process.
The modified sponge can scrub bottle surfaces and inaccessible parts. A significant advantage of this triple brush set is that it's compatible with all premium brands of baby bottles, particularly the regular-sized ones. Aside from that, the nipple brush can get rid of unwanted particles on pump accessories and small bottles.
The sponges have rotating features, ideal for bottles with narrow openings. Not only that, but the sponge also has a lock function to stay in place while cleaning. By the way, there's a new straw cleaner equipped with flexible bristles, ensuring a scratch-free cleaning procedure.
All these parts of the brush are easy to set up. So every after cleaning all the brush accessories, putting it together can be quick and easy. The final touch for this brush set is that it uses eco-friendly materials on its handle and also the packaging.
For a complete bottle cleaning set, choose the MoomooBaby Triple Brush Set to ensure cleanliness and flexibility. AND it comes with a straw cleaner!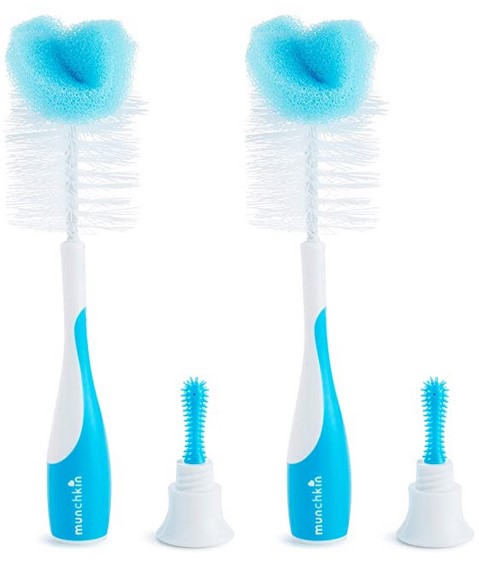 Cleaning baby bottles is part of a daily routine to ensure the safety of the babies. And for on-the-go moms, sanitizing and cleaning should not take so much time.
The Munchkin Sponge Bottle Brush has a dual brush feature both for nipple and bottle. There's no need to remove and replace one with the other. With one handy tool, all parts of the bottle and nipple are spotless.
The tip has a sponge to spread the soapy water in beyond-reach areas. The handle has a non-slip grip feature to ensure the brush is in place even when it has soapy water. The bristles use nylon as its base material, so there's nothing to worry about scratching the bottles.
After cleaning the brushes, leave it on top of the counter, it has a base that can easily stay upright and also dry the brush faster. Make stowing away the brush, hassle-free and far from harmful particles.
Need it fast? Get 2 day FREE shipping through Amazon Prime! Order today!
4. NUK 62012 Triple Action Bottle & Nipple Brush

It's annoying to find out there are no more clean bottles available to make milk. Hence, the NUK 62012 Triple Action Bottle & Nipple Brush will keep clean bottles well stocked.
This set has the three necessary baby bottle cleaning materials, scrubber, sponge, and bristles. There are times when stubborn particles stick on to the sides of the bottle, and a scrubber will get rid of them. The antimicrobial sponge keeps the bottle dirt-free and also avoid getting awful scent because it also has an odor-resistant feature.
One of the best features is the angle bristles which makes scrubbing every part of the bottle with ease. The small nipple brush has the size that can slip in small openings smoothly. Because it's compact, store the brush inside the handle. The good thing about its storage is that it has a ventilation hole to help dry the brush instantly and prevent potential mold formation.
The product has the essential non-slip handle with a broad base so it can sit upright on a flat surface. Not only are the bottles sparkling clean, with this NUK set, storage is also convenient.
And, how do you clean your on-the-go water bottles? This is great for other household glassware as well! Who says it's only for baby bottles, right?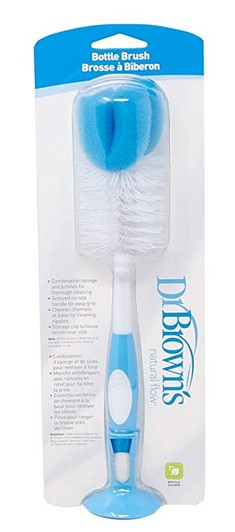 Squeaky clean baby bottles are what Dr. Brown's Bottle Brush guarantees to all parents. The brushes are exclusively for Dr. Brown's bottles, equipped with soft bristles and sponge.
Every corner of the bottle is immaculate because the tip has a combo of sponge and bristle, reaching all hard-to-reach areas. Its chevron channels located at the base ensure the cleaning of the nipple hole free from any unwanted particles.
The grooved handle has a no-slip feature, giving the parent a comfortable grip even when it's slippery with soap water. This brush design can maintain the cleanliness of all wide-neck Dr. Brown's baby bottles. Keeping this stored away is convenient because of the suction cup that comes with it; either it can sit upright or stick it at the side of the sink.
Dr. Brown made the brush BPA-free, so parents are assured no harmful materials are left on this product. By the way, the brush is dishwasher-safe but only on the top rack. Keeping the brush sanitized and clean is not a problem at all.
We all know Dr. Brown's baby bottles are excellent… Why not get the bottle brush designed specifically for Dr. Brown's bottles! Yes, please!
---
related baby and toddler "stuff"