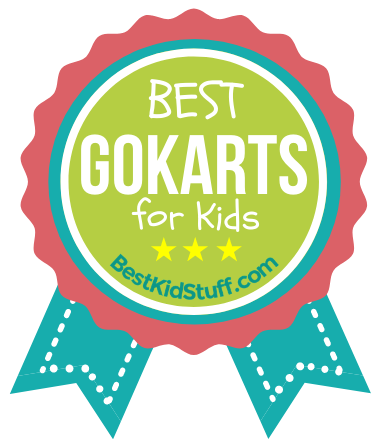 If you're dealing with kids with so much energy, give them a physically exhilarating and fun outdoor activity! Specifically, they have an interest in cars, or you want them to be the next big racing superstar, a Go-Kart is a perfect thing to purchase for young beginners. It can be an ideal present to receive on their birthday or holidays, too!
Go-Karts… So many to choose from…
Go-Karts for kids come in all shapes and forms. Compared to traditional bicycles or even scooters, children need not balance these pedaled, fueled, or battery-operated ride-on-toys.
This makes it less likely to inflict injuries, which is a popular choice for parents. Even though riding toys have been in the market for quite some time, the advent of mobile entertainment forgot some standing features of Go-Karts.
Aside from giving kids a means for outdoor recreation and bringing out the racers in them, a Go-Kart will also provide these benefits: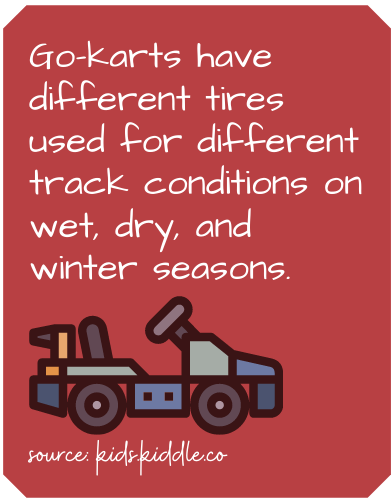 Builds physical strength and stamina. In Go-Karts, kids will maneuver them through all the twists and turns. In pedal types, they need to use their lower parts to get it moving. Without children knowing, it will surely strengthen their reflexes and muscles! The thrill and endurance nature of getting into the Go-Kart also improve their stamina levels at a young age. Many go-karts for 9-year-olds can even be pedaled uphill, which requires physical strength to accomplish resulting in more calories burned and more muscles strengthened.
Helps with blood circulation. Adrenaline hormones are released when go-karting which helps in blood dilation. In effect, oxygen flow is delivered well in blood vessels and other parts of the body! Their energy levels also increase!
Improves concentration. As they are the driver of their little automobile, it sharpens their senses as they will not allow distraction to get in their way. They will concentrate on the road ahead and the work at hand, too! You may even think of go-karts for 13-year-olds as training for the challenges of learning to drive a car, from being mindful of other drivers to judging when to slow down or speed up. In three years' time, your child can look back at his time pedaling his go-karts and appreciate the lessons he learned.
Makes them feel good. The primary purpose of getting them into go-karts is to have fun because that is what they focus on. So if they are having tremendous fun, they will feel good about themselves and it develops a positive attitude. Indeed, if your small children can already fit in and operate their own little go-karts, then go for it if only to boost their self-confidence.
Teaches essential life skills. In this fast-paced activity, they will establish their quick-thinking, have a responsible attitude, and make decisions for themselves. It will also teach youngsters about critical safety skills when outside such as road safety and following rules at an early age.
Choose a Go-Kart that is age appropriate!
With so many advantages of go-karting for kids, you'll find numerous options in the market. However, before buying one, consider the child who will be using it. Every Go-Kart has a recommended age, and most manufacturers specify a maximum weight to guide customers.
Give some thought about the environment where the Go-Kart will be used, too! Some of them are designed for neighborhood concrete use only, while others work best on muddy areas! For example, go-karts for 14-year-olds usually have off-road tires that allow their use on many outdoor environments.
Safety first…
Remember: safety must always be your primary concern! From handbrakes to thicker tires, checking and never ignoring a problem or defective part can help avoid accidents. And before you let your little racers down the road, let them use safety protections such as a helmet, harness, etc. They must also avoid wearing loose clothing that causes injuries when caught in the wheels and mechanisms.
Finally, remind them to slow down and drive at speeds they are comfortable with to avoid accidents, especially when near the road! Even the best go-karts for 12-year-olds will likely not survive a collision with a tree, and it's an accident that parents will want to avoid happening to their children.
Check out these options!
Below are some of the best Go-Karts for children that are available at Amazon, which may best suit your little racer's needs. We included a few fairly cheap go karts for kids that perform just as well as their more expensive counterparts.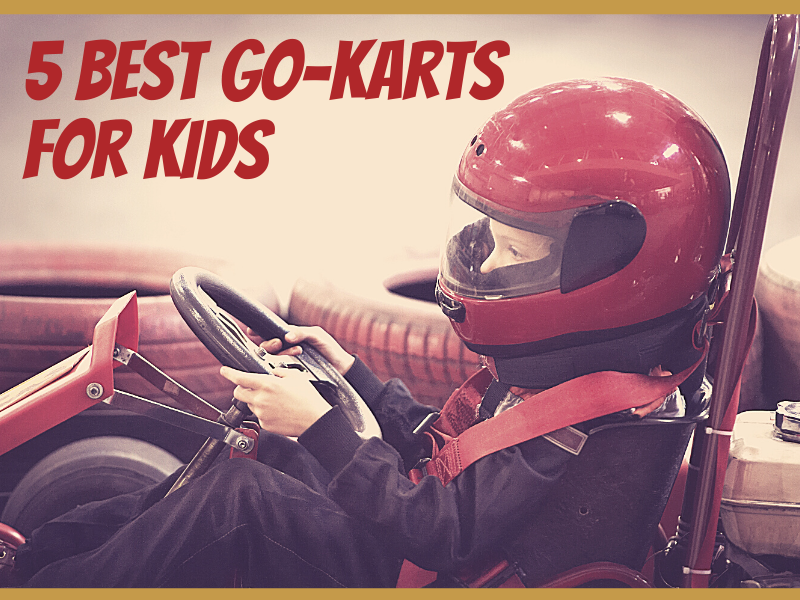 1. Razor Dune Buggy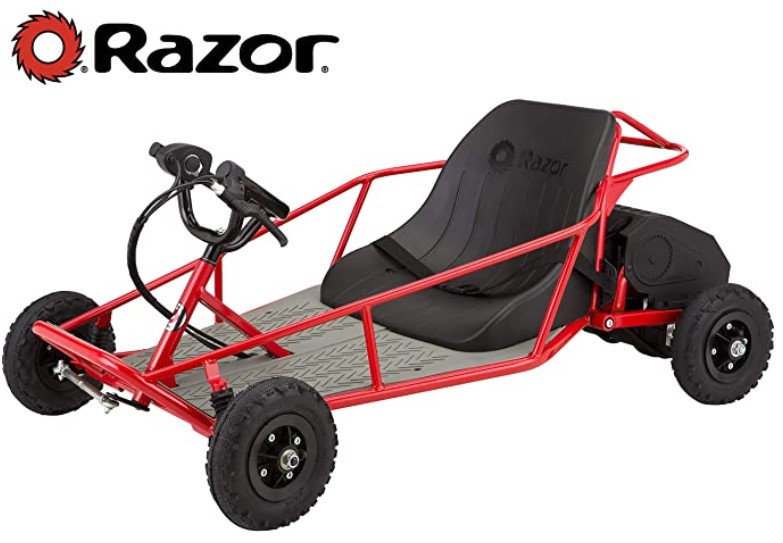 Looking for a Go-Kart that's quite different from the rest? The Dune Buggy is one of these that will surely grab the attention of both children and parents around the world. Made by Razor USA LLC, it is an ideal gift for kids eight years old and up who want to speed around the neighborhood and country roads.
We also recommend it as the best dune buggy for 12 year old children because of its ergonomic design, comfortable seat and stable construction. The company itself has released many motorized toys in the past, and this one is a must-have!
The Razor Dune Buggy boasts of its electricity-operated design with a powerful 350-watt motor, and it's these design elements that make it the best electric go kart for 10 year old children. The rechargeable battery can last for 40 or so minutes in one charge, which should be sufficient time to enjoy the ride. It uses a 24V battery system that is very easy to use.
Before you take your young driver to their first buggy adventure, it is recommended to plug it for 18 hours or more before use. Without any fuel that's needed to operate this go-kart, kids stay 100% safe and not having to pollute the environment. If you're an eco-conscious parent who wants an eco-friendly go kart for 10 year old boy, then be sure to consider the Razor dune buggy!
There are many features that make it among the best go karts for big kids, too! The buggy has Knobby Pneumatic tires, which consists of 8-inch front wheels and rear wheels. The steering wheel has a very responsive and easy to use rear disk brakes.
Whether running in asphalt or grass, the rubber-made wheels allow your child to navigate in areas surrounded by nature and forests. It also provides enough friction for Razor Dune Buggy's stability and support.
During summer, this buggy ride can be their best form of enjoyment as little racers breeze down the road with its nine mph speed. To ensure your kid doesn't go beyond the speed limit, modify the hand throttle and brake controls. The Razor Dune Buggy also has an easily-noticeable safety flag for every parent to reassure them with the speed and safety as their little one rides on it.
When you purchase a Razor Dune Buggy, it comes fully assembled, so there are no hassles in putting the pieces all together. The instruction manual is also included to guide you in using this go-kart, charging, and maintenance tips.
If you're planning to gift this buggy to your school-age kid, this exciting Go-Kart is the perfect combination of fun, safety, and entertainment!
2. Berg Pedal Car Buddy Lua Cart
Hey, girls can race, too, you know?… Although this one's color is on the more feminine side, any child can enjoy it! If you combine 30 years of experience in developing and selling go-karts and 70 years of manufacturing iconic 4×4 sport utility vehicles, what you get is the Berg Pedal Car Buddy Lua Cart for your kids!
Both brands having credible experience in the industry; therefore, this product guarantees years of trouble-free outdoor fun. As it's designed as one of the go-to go-karts for 3 to 8-year-olds, it should last a lot longer; therefore, it will be a great hand-me-down toy for younger siblings.
With this, kids can now tackle anything because of the Berg Pedal Car Buddy Lua Cart! What makes this product unique is its very robust frame made from top quality products. This frame can be even suited for professional use and it's widely considered as among the best pedal go-karts for older kids because it can take the abuse, so to speak.
The sturdy go-kart has real off-road tires as standard for extra grip, which makes it more of an off-road pedal buggy than an indoor go-kart.
Yet another feature that makes it among the best kids go-cart is the pneumatic tires also guarantee the young driver's comfort. The four wheels and a swing axle keep the Go-Kart motion-secure. Hence, little racers can be assured of its grip together with the swing axle as they race on rough terrains.
They can adjust the wheel positions without difficulty with its adjustable steering rods, too. Aside from making a perfect alignment when steering, it also keeps minimum damage to the Kart when used for over a long time.
The Berg Pedal Car Buddy Lua Cart seats can be adjusted so even older kids can enjoy this ride. At the age of three, your kids can enjoy this Go-Kart, but because the saddle is adjustable, they can use it until they're taller and bigger! The manufacturer also offers a spare wheel to help you remedy some part issues in the future.
This Kart comes in two shipping boxes—one for the frame, and one for every other part. It's so easy to assemble; anyone can get it done in an hour using the manual.
With all these well-built features, your little racers will surely have playtime fun like no other!
3. Hauck Lightning – Pedal Go Kart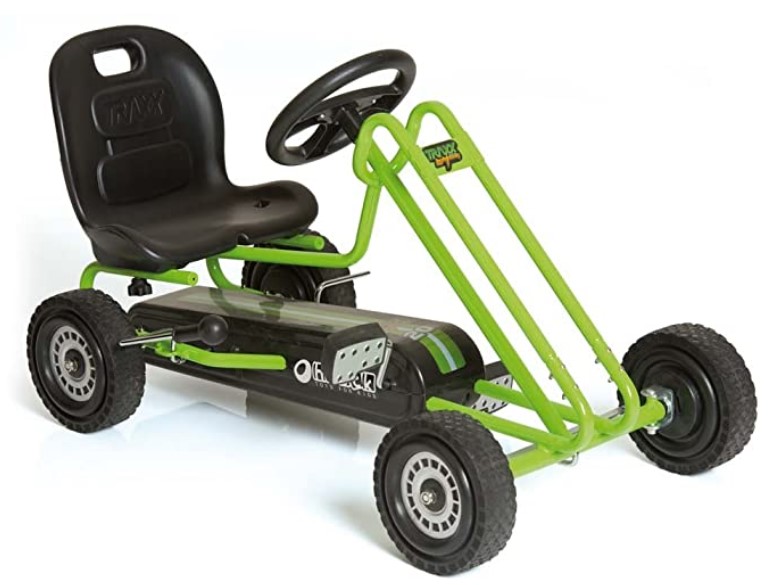 Recommended for children four to eight years of age, the Hauck Lightning- Pedal Go-Kart takes your backyard play to the next level. We think that it may well be the best pedal go kart for 7 year old kids because it's neither too short so as to feel awkward nor too long as make control difficult.
This kid-powered Go-Kart can be pedaled and can be used both indoors and outdoor. Compared to battery-operated Go-Karts, young drivers can control their speed with ease and comfort, and parents will think that it's the best pedal kart for beginners or for budding speed junkies.
Its pedal-power has a quick response, even in curves, that will excite these kids. You will need not to worry about charging the batteries as before use as this Go-Kart can be taken out anytime as long as the weather is suitable for outside fun! The easy-designed push sprocket also engages kids in such physical activity. It builds strength, endurance, and coordination, too!
The Hauck Lightning- Pedal Go Kart has a sporty design. With solid metal construction, it is very well made and sturdy. Its tires have rubber threads making a better grip on concrete terrain. Aside from responsive 3-point steering, the Go-Kart can turn quickly.
The easy-to-use eight-ball style hand brakes complete the driver experience around your neighborhood effortlessly. The bucket seat also can be adjusted for a comfortable and high backrest sitting position as it fits multiple heights.
Another stand out of the Hauck Lightning- Pedal Go Kart is kids can choose different product colors from race green, pink, or orange. (Parents, you've found the more attractive go karts for 8 year olds who want their own ride without sharing it with their siblings!)
This may only be a minute detail for some, but for near-age siblings and twins, they can identify themselves with their new and big toy! Upon the delivery of the product, the assembly is also very easy. It will take adults less than an hour to finish.
With this ready-to-go-fun Go-Kart, young drivers will sure to be zooming around and racing on the sidewalks of your neighborhood in no time!
4. Berg Pedal Car Buddy B-Orange
Another gold standard from Berg Toys, the Berg Pedal Car Buddy B in Orange is a smart and stylish go-kart. Designed for little racers aging from 3 to 8 years old, it can take your kid racing on many types of surfaces. This is an excellent
pedal go-kart for 5-year-old children because of its stable frame, easy-to-control steering wheel, and low profile, all of which are must-have safety features for any 5-year-old kart racing session.
The Berg Buddy Pedal Go Kart features a good build quality with a robust design. It features a well built powder-coated tubular steel frame with perfect paintwork. All wheels are ball raced with pneumatic offroad tires giving it excellent handling in different kinds of terrain firmly and safely.
Parents need not worry about putting lube in the wheels as it has sealed bearings to keep it rolling with ease. There are also full-sized pedals, and the chain-set houses a pedal-back brake. Another feature is the swing axle that makes riding comfortable if there are any irregularities they might bump on the road.
This girls and boys go kart go-kart features an innovative BFR (Brake, Forward, Release) Hub from Berg, too! This allows the child to brake by back-pedaling and effortlessly maneuver their driving experience. When stopped, the gear can be switched to either forward or reverse pedal!
From unpaved surfaces to country roads, young drivers can surely pedal forward, pedal backward, or use the coaster brake or the single axle to give them complete control of their Go-Kart adventure.
The Berg Buddy Pedal Go Kart is entirely about pedal power! As there is no battery required to charge it for hours. Mom and Dad can take it out from the garage at kid's will!
For compact parking, Berg Buddy Pedal Go-Kart can be stored upright. Trips to the park will never be an expensive endeavor as there are no fuel and electricity costs to worry about in pedal Go-Karts.
Additionally, by using "real" energy, this is the right way for kids to stay healthy, strengthen their muscles, and enhance physically while playing! This Go-Kart has an adjustable steering wheel and seat position for a comfortable ride. It also makes this Go-Kart adaptable to your kid's changing height and it grows with them.
The Berg BFR Pedal Go-Kart comes with assembly instructions, and adults can build this in less than an hour for anyone competent with a spanner. As the Berg BFR Pedal Go-Kart meets all the safety standards, your little racers are on for another off-road adventure!
Get your little tikes off the couch and outside for some "FUN" exercise!
5. EzyRoller Mini – Red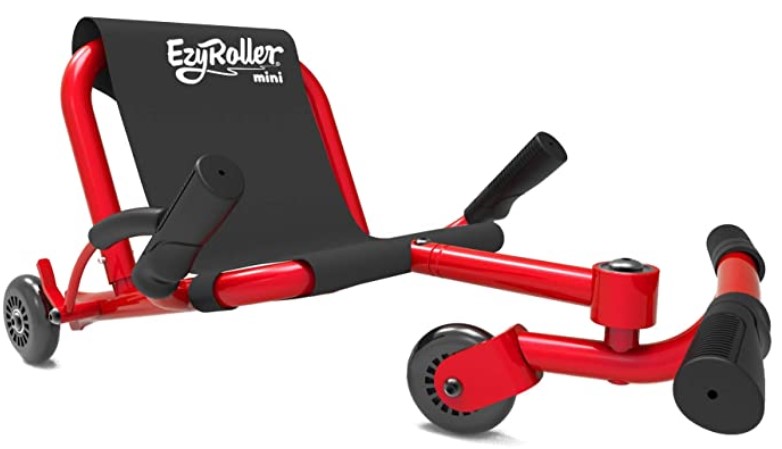 Last on our list is the EzyRoller Mini, a toddler go kart that's designed for the safety of little ones and the peace of mind of their parents.
A shrunk-down version of its flagship EzyRoller Classic, it is engineered for young children aging between 2 to 4 years old. This is a low-to-the-ground ride-on-toy that can be ridden on any hard surface outdoors and also indoors!
The EzyRoller Mini is a fun and unique toy– truly, the standout among go karts for little kids. Like its bigger form EzyRoller Classic, it has the same steel frame, with handbrake and an extension, just smaller!
There is no risk of falling from EzyRoller Mini as it does not require a child to balance like an average bike. It is hardly possible to overturn due to its low center of gravity design, making it a safer and reassuring ride for kids.
This product's all steel-frame is sturdy with reinforced solder points. Extensions are available as your little ones grow with this as it can be adjusted on their leg length. The handgrips are kid-friendly in this lightweight ride. The sturdy plastic seat is comfortable for your little drivers.
Children not only can play it outside but also inside your house as the wheels are non-marking! Its safe wheels have a unique design, so little racers can't put their fingers through the spokes.
Compared to other mentioned products that have chains, pedals, and batteries, young drivers can use their feet in the EzyRoller Mini for self-propelling action as they push their legs back and forth to move forward and to get high speed.
As kids move with ease like a snake, all it takes is an effortless and gentle swing on the front paddle that generates forward momentum.
Just because it's one of the little go karts doesn't mean that it will be left eating dust! Indeed, it has several superior features that make it the little go kart that made it big in our books. For quick stops and rad-drifting action, the direct brakes in EzyRoller Mini are also easily accessible.
Since this is a beginner ride for kids, you'll be surprised how quickly they can control EzyRoller Mini and will soon drive with them! With these right-left leg movements, it promotes coordination and dexterity, which provides mobility training.
The EzyRoller Mini can be packed and carried effortlessly as it is small and lightweight. It is easy to assemble with a product leaflet and assembly tools included in the package, too! With the simplicity of the design, parents need not worry about expensive components to repair.
This lightweight Go-Kart has a limited warranty that does not include wear and tear parts such as wheels and the seat. So whether its a park playdate or neighborhood fun, the EzyRoller Mini guarantees a fun way to challenge your kids' motor skills!
C'mon, young racers, let's get your engines starting! Get the kids outside and moving… and a little friendly competition never hurt anyone!
---
What is the range of fun stuff go-karts can provide for children of all ages?
Well, there's always the good old-fashioned rides around the house and the neighborhood that children can enjoy. There's also the possibility of friendly races with real go karts for kids where parents and families cheer from the sidelines. Children can also explore their surroundings while honing their driving skills.
Other Fun Options: