If you're reading this you probably didn't have a hoverboard as a kid. Unfortunately, the hoverboards you may have imagined (ones that float) aren't yet available cheaply to the public. No worries. There are still incredible boards that will let your feet feel like they're coasting on clouds, even though they're actually atop tires.
Hoverboards are a great way to keep your shoes clean and crisp, learn about balance, and have fun that's relatively safe in comparison to some other forms of transportation. Plus they're a sleek, slick way to get from A to B.
This is the kind of toy you get for your kids, and then discover you might want to have some fun too. Some of the boards on our list can handle adult riders, letting this become a gift for everyone.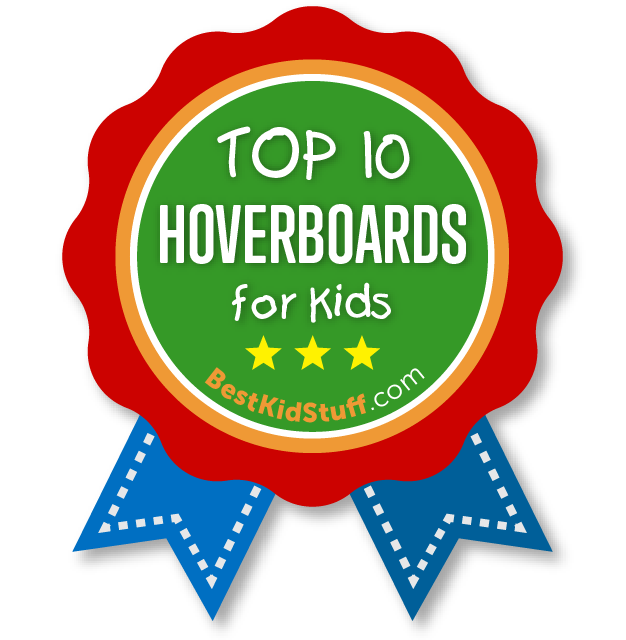 Many of these boards come with exciting perks like apps to monitor battery life, distance covered, and other stats. You might also choose a board with a built-in Bluetooth speaker to enhance your riding experience with sweet tunes. Or perhaps maximum safety is your top concern. On this list, you'll find boards that were certified for through a battery of different tests to prove they were safe for riders in myriad ways.
On this list we've ranked boards based on their price, whether they've got an app and a built-in Bluetooth speaker, and the top speed they hit. We've also looked at and summarized the pros and cons of the different models based on reviews from owners.
A quick note on the cons: it seems like (as with many electronics) there are duds from the factories that make these vehicles. Depending on the warranty you receive, and others' experiences with customer service, if you were to get a dysfunctional hoverboard you might get it replaced for free with a working one.
Make sure to scrutinize warranty terms, and look at the experiences verified users have had dealing with different companies' customer service. In some cases, it seems better to buy these devices from websites other than Amazon.
One thing we learned while researching these vehicles is they often use ion batteries, which can die if left unused in packaging for a long time. So the longer these hoverboards have been sitting unboxed since they were manufactured, the more likely they won't start after being opened.
These devices can be pricy, so you want to get the most out of them. We're here help you make the right call. Let's check these hoverboards out!
Ranking Methodology:
Price: the price on the most common locations not including limited-time-online sales
App: whether or not the hoverboard may be monitored (speed, battery, location) or controlled via an app
Speed: the top speed of the hoverboard as well as range of speeds at which the hoverboard can go
Charge: the length of charge in distance or time between charges, also the time it takes to charge
Bluetooth: whether the hoverboard has built in bluetooth connectivity and speakers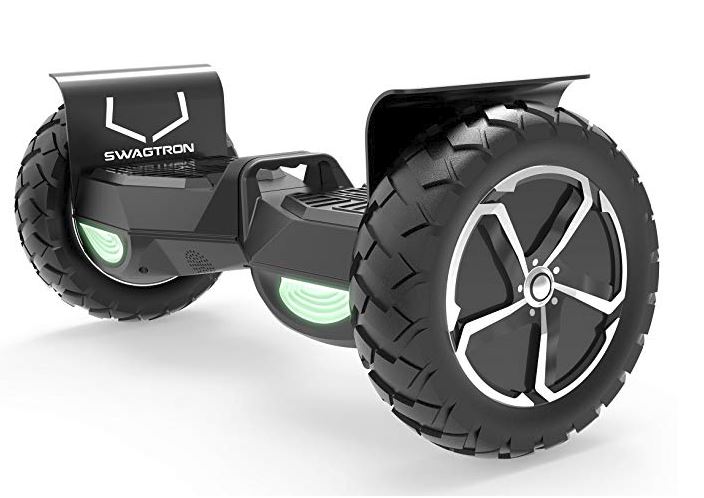 The name really says it all. If you're looking to cut a ostentatious profile on a hoverboard, this one's for you. But the Swagtron T6 Offroad isn't all about looking cool: it's extremely functional.
This device can handle up to 420 pounds. Think about that for a second. It can go on all terrains, has a bluetooth speaker, 10″ rugged tires and a 300 watt dual motor. To top it all off the T6 has a 12 mile range when fully charged, and can reach speeds of 12 MPH. This board boasts an app that lets you monitor riding modes, distances covered, battery level, and speed. It's no wonder this board was chosen as the official hoverboard of the Chicago Cubs and Wrigley Field.
What We Love:
Owners said the device was incredibly fun to ride.
Users said the device was challenging but fun to learn how to use.
Users said the device was versatile.
Owners said the device was holding up better than expected.
Reviewers were thrilled with its battery life.
Owners loved its ability to ride on all terrains.
One owner who weighs over 300 pounds was very happy with this device.
Score
Cost: 9th
App?: Yes (1st)
Speed: 12mph (1st)
Length of Charge: 12 miles (1st)
Built in Bluetooth: Yes (1st)
You can order the Swagtron T6 Offroad on Amazon.com!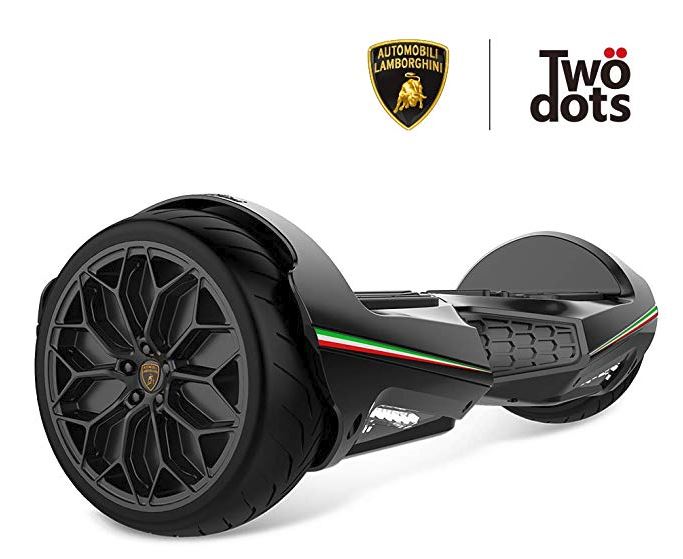 This Lamborghini Hoverboard comes to us from the legendary automakers. If you're hoping to look cool, this is a beautiful, compact board. It has 6.5″ rubber racing tires, shock-absorbing petals, and a non-slip footpad to keep you upright.
It also boasts a great sound quality bluetooth speaker. It's expected that you can figure out this device in three minutes of use, which will make it fun for anyone. Lamborghini prizes itself on safety and security, and this product should reflect those commitments. It has received the UL 2272 certification, meaning it went through "hundreds of thousands" of tests looking at its safety. UL is an independent safety science company which makes sure hoverboards are safe for riders.
What We Love:
Can handle between 33 and 165 pounds.
Out of 73 customer reviews, 81% of users gave this board 5 stars.
Users were impressed with the stylishness of this board.
Owners complimented this board's ability to get kids away from screens.
This board can be operated in three different modes, allowing users to work their way up to advanced from beginner.
This board was praised as durable.
Owners said this device charged well.
Users said this board brought them a lot of joy.
Score
Cost: 6th
App?: Yes (1st)
Speed: 10kmph (10th)
Length of Charge: 2 hours (1st)
Built in Bluetooth: Yes (1st)
Interested in this hoverboard? The Lamborghini Two Dots is available from Amazon.com!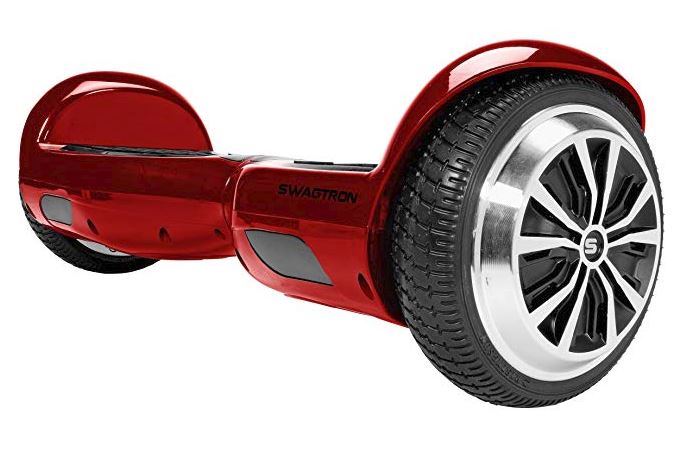 Swagtron returns to our list with the Swagtron T1, which beckons with, "your swag personal transporter awaits you." This model hits 8mph at top speed and has a 7-12 mile range. It handles riders that weigh up to 220 pounds. This model performed spectacularly in electrical safety tests, also earning it the UL 2272 certification. It also earned the UL 2271 certification for its battery pack. It's the first company with boards on the market carrying both of these safety certifications.
It offers LED lights, two riding modes (learning and standard), and can climb 30 degree inclines. It also boasts safe stop technology, a protected battery that withstood a 10 ton crush test, and battery indicator lights that let you know precisely how much battery your board has at all times. Once again, this board was designed for kids and their safety, but has the capacity to work with adults as well.
What We Love:
Out of 1,004 reviews, 62% of buyers gave this model 5 stars.
Owners were happy that this board was tested to prove it wouldn't catch on fire.
A 42-year-old reviewer said he loved it so much that he got one for his daughter, and they had fun riding together.
Owners were happy with the battery life.
Reviewers said they were happy with how their youngsters were able to learn to ride the T1.
Users said they picked this product because of its safety, and were happy with their choice.
One reviewer said this board charged quicker and lasted longer than expected.
Score
Cost: 5th
App?: No (5th)
Speed: 8mph (4th)
Length of Charge: 12 miles (2nd)
Built in Bluetooth: No (4th)
Perfect for the kid OR the adult! Order the Swagtron T1 on Amazon with Prime… ONE DAY SHIPPING!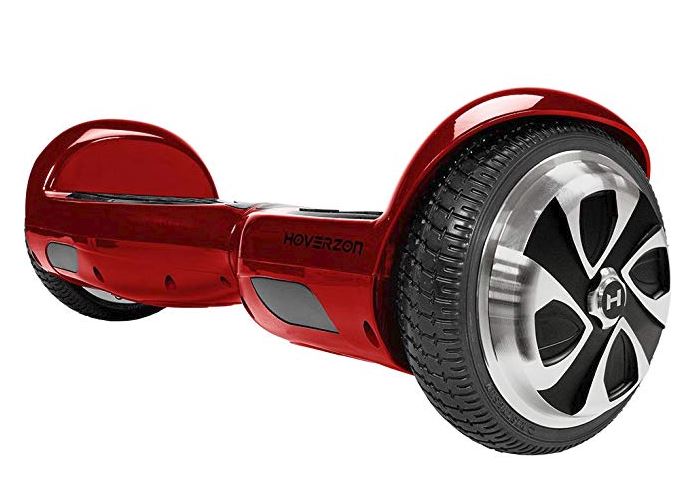 Hoverzon offers this entry to the list with two gyorscopic motors in the Hoverzon S. This promises to give you more control in how the board responds to you shifting your weight. It also has LED headlights, battery indicators, two riding modes, and rubber bumpers to fill out its slick frame.
You'll make use of 250 watt dual motors and a patented battery management system. Hoverzon says you can get up to 11 miles out of this model on one full charge. And lastly, this model got the UL 2272 certification after passing a battery of safety tests.
What We Love:
Owners said this made a great Christmas present for their happy children.
One user said this device was great for their 6 and 16-year-olds.
One owner said they can't keep their 10-year-old off it, he refuses to walk and only wants to hover.
Owners were happy with the battery life on this device.
Reviewers complimented the safety of this device.
Users found this device as described.
Score
Cost: 4th
App?: No (5th)
Speed: 8mph (4th)
Length of Charge: 11 miles (4th)
Built in Bluetooth: No (4th)
Order this hoverboard on Amazon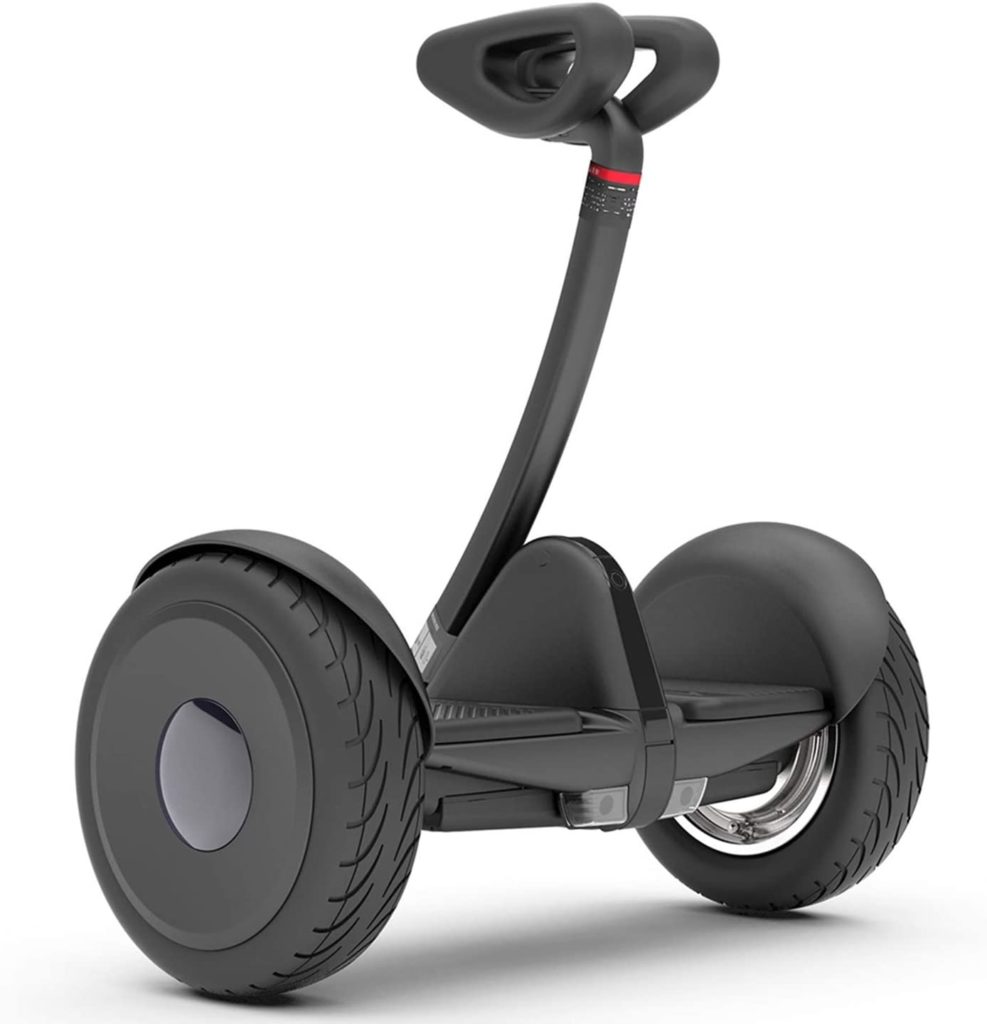 Before there were hoverboards, there were Segways. The rise of the hoverboards heralded the Ninebot S, a Segway with an adjustable and removable steering bar. It comes with 10.5″ pneumatic air-filled tires, an aircraft grade alloy frame, customizable LED lights and a mobile app with controls.
This device was designed to teach riders how to use it. It will only go to 4.3 mph until riders complete an instructional tutorial. This device is for older children, and was made for riders 16 and up. There's a max load of 220 pounds. It has a charge time of 4 hours. It can cover 13.7 miles, and has a 10mph top speed. Its maximum climbing angle is 15 degrees.
What We Love:
Users described this product as very fun.
A user with MS found the handle bar extremely useful.
One reviewer said this device is great for riding on tough roads.
One user said they had fun using the remote control part of the app to play with their cat.
One reviewer said after practicing you could get this model to reach its top speed for a full minute, or just below its top speed for several minutes.
One user described it as "so close to wonderful."
Users said this model was easy to master.
Score
Cost: 8th
App?: Yes (1st)
Speed: 10mph (2nd)
Length of Charge: 1 hour (5th)
Built in Bluetooth: No (4th)
Order this awesome Segway Ninebot S hoverboard on Amazon!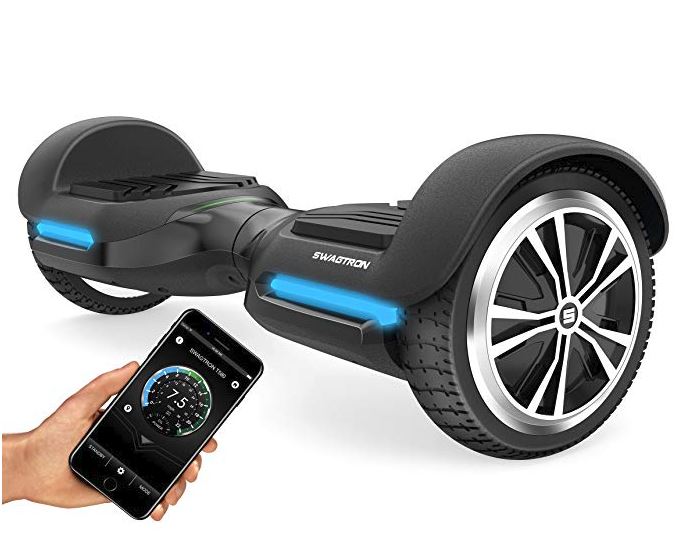 Swagtron makes its third and final appearance on the list with the Swagtron T580. It's got a bluetooth speaker, an app, and smart balancing wheels. This model was made to go up to 7.5mph, and climb inclines of 30 degrees. It also has dual 200 watt motors.
This model was designed for all riders between 44 and 220 pounds, and has three modes to bring users up to speed. It has also received UL certification for its electrical system and overall safety. Its app allows users to monitor speed, battery life, choose the mode you ride in, and more. It also tracks where you've been and how far you've traveled.
What We Love:
Users said this model had a high quality speaker.
Of 591 customer reviews 65% gave the T580 5 stars.
One reviewer said their kid easily mastered this model.
One user said this board thrived on sidewalks, concrete, grass fields, uphill, and on paved roads.
One reviewer said this model was much better than slightly cheaper ones they'd purchased previously.
Users were happy with the quality of this board for its price.
Score
Cost: 3rd
App?: Yes (1st)
Speed: 7.5mph (7th)
Length of Charge: 8 miles (10th)
Built in Bluetooth: Yes (1st)
The Swagtron T580 hoverboard climbs a 30 degree incline! And, it's on Amazon!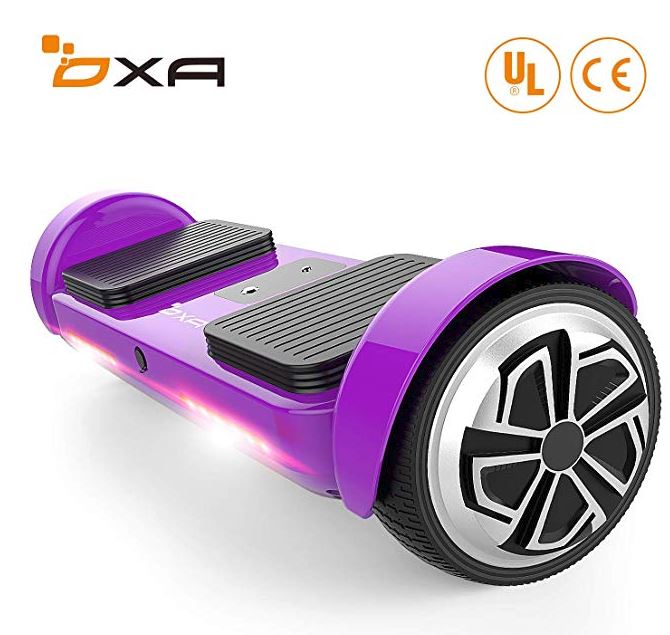 The OXA comes in a vibrant purple hue that makes it stand out from the competition. It has an advanced, third generation intelligent control system that is extremely responsive to shifts in weight. This system responds by leveling to give users a smooth ride, and can be easily mastered and controlled.
This device has received the UL 2272 and 2271 certifications for its overheat protection, battery protection, and other safety benchmarks. It can go between 15-17 kilometers, or roughly 10 miles on a single charge. It takes 3 hours to charge it fully. OXA says this device has an "unbreakable body" that can handle a 330 pound load, and offers 15-30 degree incline climbing. It also has two riding modes for new and experienced riders.
What We Love:
Users were happy that this device came with a full charge.
Users said OXA was responsive and replaced their hoverboards when they had problems with them.
Riders praised this model's water resistance.
Out of 92 customer reviews 77% of owners gave this model 5 stars.
One user said this device was much safer than other boards.
Riders said this machine was sturdy.
Riders said this device was easy to balance on.
Score
Cost: 2nd
App?: No (5th)
Speed: 7.5mph (7th)
Length of Charge: 10 miles (6th)
Built in Bluetooth: No (4th)
This OXA Hoverboard can be ordered via Amazon and it's one of the most affordable on our list!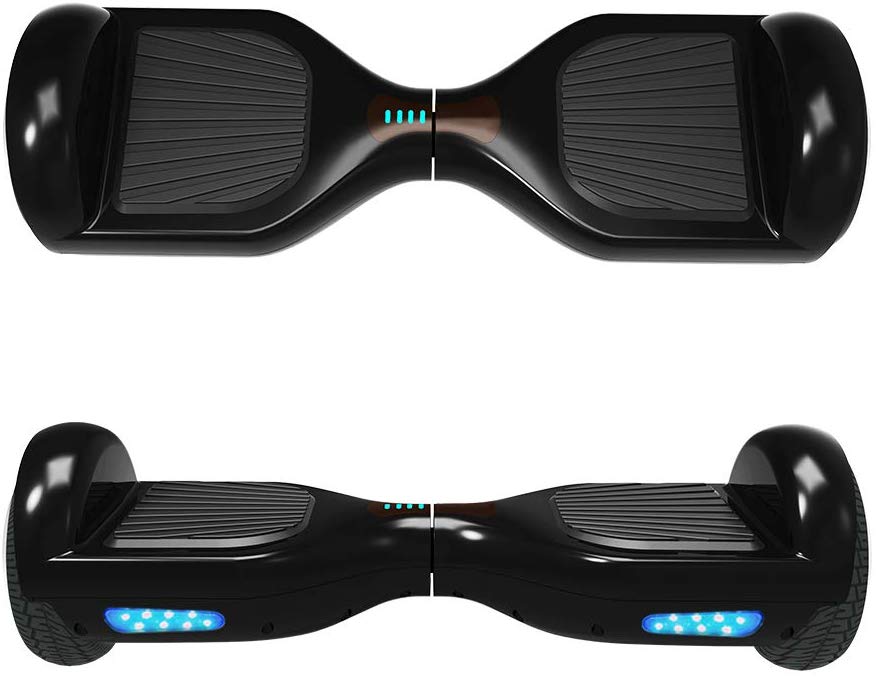 Here we have the most affordable self-balancing board on this list. If you've been considering dipping your toe into the hoverboard game but didn't know what to get, this might be the device for you. It has the UL 2722 certification to assure owners it won't overheat or catch fire. It also promises a smooth responsive ride.
This device comes with LED lights and a Bluetooth speaker. It can go 10km/hour, and with a 2-4 hour quick charge it can cover between 8 and 11 kilometers. It has 6.5 inch rimmed-tires, and all-terrain, aluminum alloy wheels. It also comes with a 12 month warranty, and was made for kids, teens, and adults to use. Maximum weight is 225 pounds, and it can handle 15-20 degree inclines.
What We Love:
Extremely affordable compared to other boards.
One user was very happy with the style of this board.
One user said it runs well and is amazing.
One user simply said, "great".
Score
Cost: 1st
App?: Unknown (5th)
Speed: 6mph (9th)
Length of Charge: 1.5 hours (9th)
Built in Bluetooth: Yes (1st)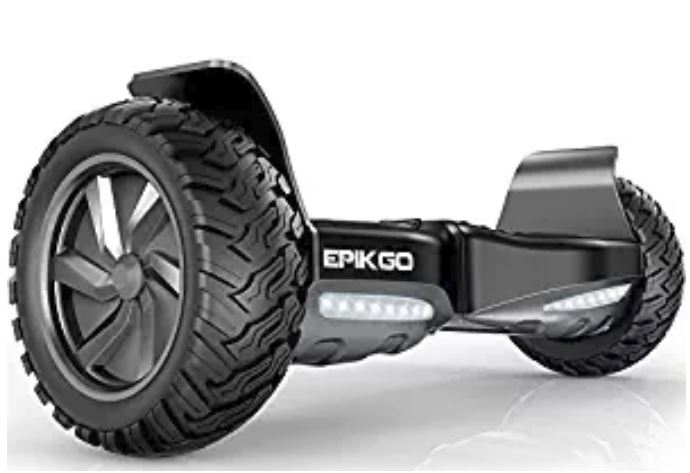 Here we have the most expensive board on the list, the EpikGo Scooter, which unsurprisingly boasts the UL 2272 and 2271 certifications. It has 400 watt dual motors that make it two times more powerful and 30% larger than its leading competitor (it says). It only takes two hours to charge, which is significantly less than some of the other devices on the list.
This board is solid, water resistant, and can handle sand, mud, and grass. It can climb 18 degree steep slopes, lasts over an hour on a single charge, and has a 10 mile range on one charge. It can support between 44 and 240 pounds.T It's recommended for riders 13 and older.
What We Love:
One user said this board sets the standard for the field.
That same user noted they weighed 235 pounds and were able to ride through grass on the EpikGo easily.
Users noted this board was extremely durable.
One rider said their 11-year-old had a great time using this board.
One user recommended contacting Power-Innovation to get replacement pieces or for other customer service needs.
Users found this model extremely fun.
Users were extremely happy with this model's ability to handle different terrains.
Score
Cost: 10th
App?: No (5th)
Speed: 10mph (2nd)
Length of Charge: 1 hour (6th)
Built in Bluetooth: No (4th)
Order the EpikGo Scooter on Amazon today!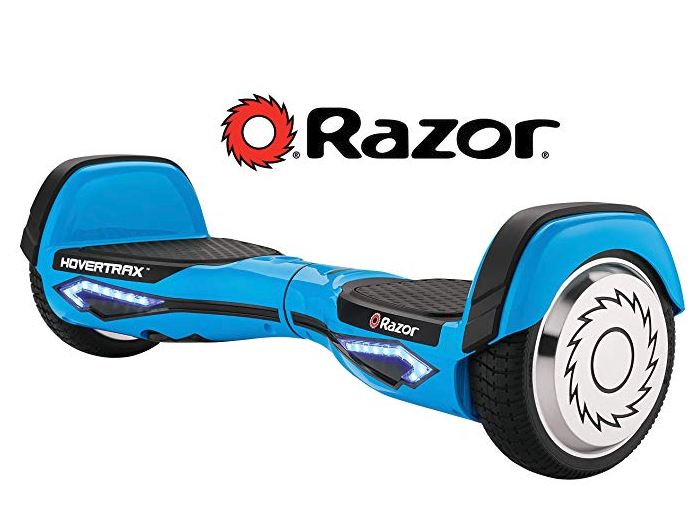 Razor is known for its scooters, but has entered the hoverboard fray with the Hovertrack 2.0 which offers a usage time of an hour for riders up to 220 pounds. Charge it while you're on the go to extend your ride with its easily swapped out 36V lithium ion battery pack.
This board has cool-blue LED light displays and battery power indicators, a training and normal mode, fender bumpers, and much more. Its EverBalance technology promises an easy mount and smooth ride. It's UL 2272 certified for safety. It also has "silent" 350 watt motors.
What We Love:
Reviewers say this model will not explode.
Of 234 reviews 68% gave this model 5 stars.
One user described their kids as being "in love" with this board.
Users praised the "stutter free" smooth glide of this board.
One user said their five-year-old could easily use this board.
One reviewer gushed about the battery life and durability of this model.
It won't mark wood floors according to one owner.
Users were overwhelmingly happy with the functionality and longevity of this model.
Score
Cost: 6th
App?: No (5th)
Speed: 8mph (4th)
Length of Charge: 1 hour (8th)
Built in Bluetooth: No (4th)
The Razor HoverTrack board has 76 Percent 5-Star Ratings on Amazon!