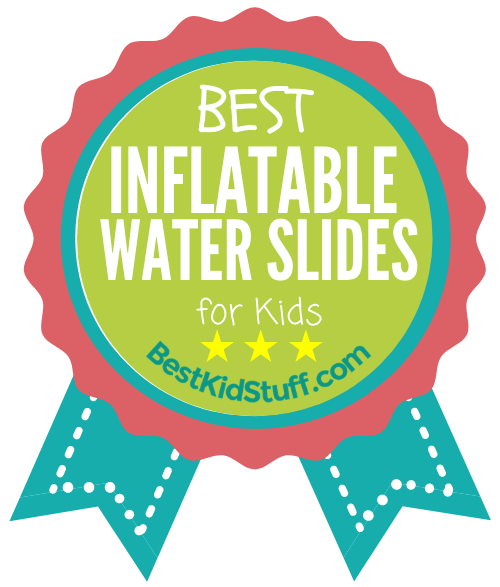 Give your kids a fun outdoor activity…
The convenience of technology sometimes makes us turn a blind eye to things that are equally imperative in our lives. One of which is the importance of physical activities among our kids and toddlers.
The Centers for Disease Control and Prevention states the advantages of being physically active and the consequences of being inactive as well. Only 24% of children ages 6 to 17 years old would engage in some sort of physical activity for 60 minutes every day. Hence, as parents, we need to urge our kids to participate more in sports and other physical events.
The benefits are numerous…
The benefits kids can gain from staying physically active are reduced risk of obesity, improved sleep, mental health benefits, and healthy development of bones and muscles. It is essential to find something that can spark their interest. And what better way to do this than to surprise them with an inflatable water slide! This is undoubtedly an exciting game for them, much better than any video game they've encountered.
Why is an Inflatable Slide Perfect for Kids?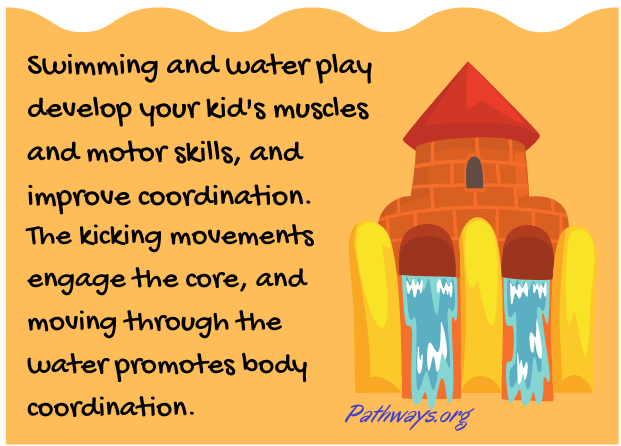 With the summer season getting far longer year by year, unfortunately, due to global warming, your kids would want to cool themselves off in the heat of the season. Water play on inflatable slides can be the best way for them to have endless hours of fun. This is even much more enjoyable than lining up in the long queue to an amusement park.
This is also an even better alternative than constructing a permanent pool, considering cost, convenience, and time for installation. Depending on your kids' interests, there are different designs of slides that can make them enjoy the activity the most. They could come in multiple slides, with sprinklers, water sprays, climbing walls, or bouncers too. With some of these added features to your slide, your kids will never be bored.
Take a look at our favorites…
Here are our consolidated top 5 water inflatable slides and why they are the best among the rest: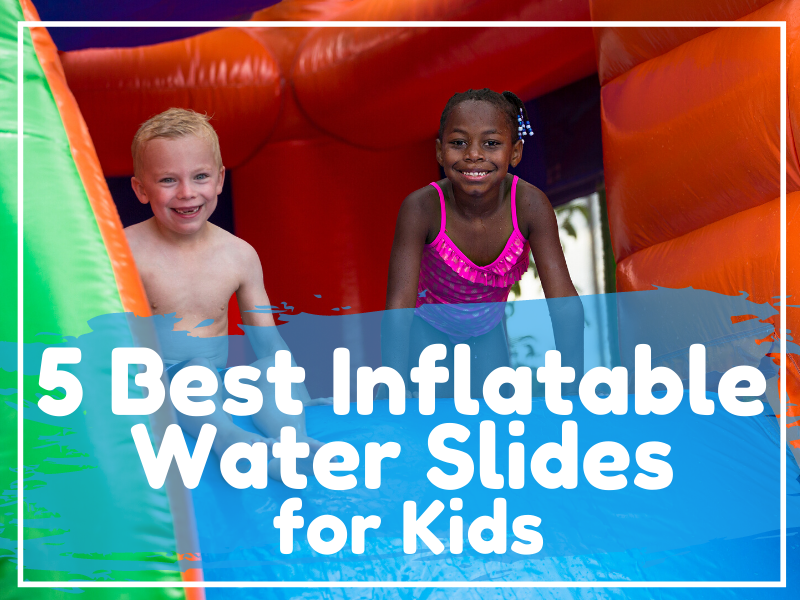 1. BANZAI Slide N Soak Splash Water Park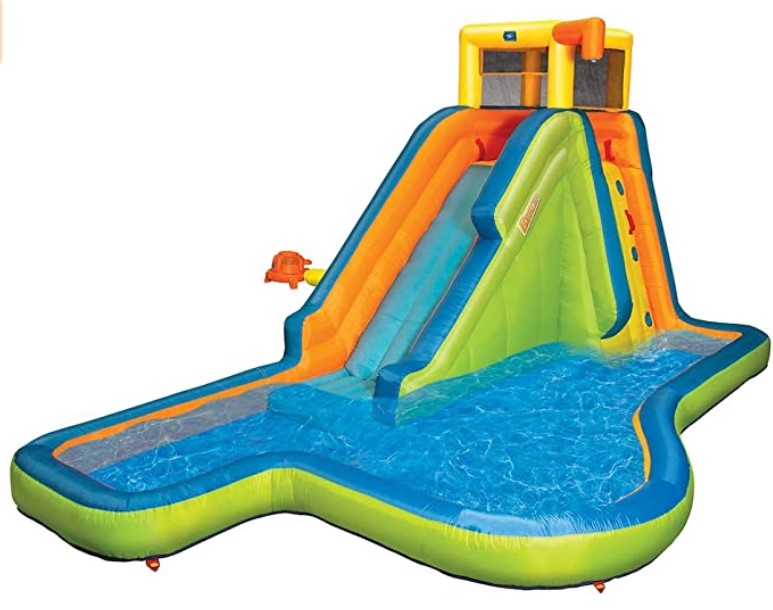 If you want to go for a water slide that has an added feature of an overhead sprinkler, then Banzai Slide N Soak Splash Water Park would be your best candidate. The manufacturer of this slide is Banzai, and they have used the most reliable materials to sustain the weight of your kids.
The slide is constructed in a combination of materials such as Oxford polyester, PVC, PP, and electrical components. It is a well-cushioned lagoon-style product that is perfect for your kids' splash party! It can accommodate about five players, so it has enough space for them to swim and chase each other around. This is perfect to be assembled in your backyard or garden, and your kids can have extended hours of fun sliding, showering, and splashing water.
The feature that truly sets this item apart from the rest is the detachable water spraying hose. It can serve as an overhead sprinkler and acts as a refreshing shower for your kids. They can surely have fun with the cold shower while staying under the sun.
This cool activity for them will beat the heat, and they can go back home feeling happily tired. This is advisable for your kids who are at least five years old and up. This product can be installed in two minutes with a blower motor, which features a ground fault circuit interrupter device (GFCI) for maximum safety and security. If you experience any minimal damage or deflating, don't worry as this comes with four repair patches.
If you think your children will enjoy a refreshing shower under the sun, this slide might be the perfect fit for them.
2. Bountech Inflatable Shark Bounce House & Water Slide
Are your kids very energetic and excited especially during the summer? Staying indoors may suffocate them mentally and physically, so summer is an excellent opportunity for them to spend some time outdoors.
The Bountech Inflatable Shark Bounce House and Water Slide offers several different fun games all in one slide. It comes with a bounce house, which is perfect for training your kid's bouncing ability. This serves as physical training and strengthens the bones and muscles of your children too.
This also comes with a rock-climbing wall and a water slide that is very easy and safe for them to use. It is equipped with a cute shark design castle, attracting your little ones to go outside and play under the sun.
Another feature is the water spray, which adds more fun for them to splash water in the pool. You can simply connect the water pipe to the faucet, and you can start assembling your children's water park. It's easy as can be!
This 4-kid capacity (or maximum weight of up to 265 pounds) water inflatable slide is designed and offered by Bountech, made from heavy-duty materials such as thick waterproof Oxford cloth, and is safe for children.
After using it, it is very convenient to store as you can simply drain the water and air and let them dry. You can then fold and roll them up once they are dried up totally.
This shark design and the bounce house are enough reasons for your kids to spend time outdoors rather than playing with their toys inside your home. This is an excellent idea as a birthday or surprise gift to your toddlers!
3. Costzon Inflatable Water Slide
Giving your kids the best memories of their childhood life is your greatest gift for them. They will look back on these enjoyable days, and remember how fun and adventurous their summers were.
Your kids are always full of energy, and it would be a better idea for them to release these energies by playing in a Costzon Inflatable Water Slide. This is constructed with heavy-duty 420D & 840D Oxford materials that won't quickly deflate no matter how much your children will jump on it.
The Costzon company has designed this water slide to be a bouncy castle that can accommodate 3-4 kids ages 3 to 10 years old, or up to 300 pounds max. Along with the wide jumping area, two slides are connected to it, and it also comes with a climbing wall for your kids to enjoy.
This slide is designed with heavy-duty puncture proof materials that have been stitched twice to quadruple times to ensure its durability. It has used a heavy-duty 840 D and 420 D Oxford cloth with air leaks on the seams to prevent over-inflating. It is quick to assemble and move around, even your children can move it wherever they want to situate it in your yard.
Because of its lightweight feature (44 pounds), you can take this product in a carry bag and place it inside your luggage for on-the-go use! This is ideal if you go for a vacation somewhere with the family.
Your little ones can enjoy an unlimited jumping session with this water slide that features a massive jumping space!
4. Bounceland Inflatable Bounce House & Water Slide
It's summertime, and your kids are up and about looking for activities and games to spend their energies in. School is out, and the sun is in. It's a lovely time for the family to get that breath of fresh air. If you have a yard or a lawn, it's ideal to set up this Bounceland Inflatable Bounce House and Water Slide.
And, what else? There's a ball pit (with 30 balls included), basketball hoop, water cannon, and climbing wall! This bounce house comes with a water slide that has an attached water sprayer in front of it.
Your kids can enjoy cooling off with cold water as they slide through. They can go back to the bounce house again and jump as much as they want and when they want to go down the water slide, they just need to climb up. As a parent, you can also continuously monitor your kids because the walls are entirely visible.
Bounceland is the manufacturer of this inflatable exciting water slide. It is made from heavy-duty PVC coated Terylene/Laminated Oxford Terylene. It can accommodate a total of 400 lbs. (100 pounds per person) and is very easy to assemble and install. It comes with a nice sunroof for those extra hot days.
Distract your kids away from an all-day television session and take them out in your backyard to have some real fun!
5. ACTION AIR Inflatable Waterslide
Let's face it; our children can be a handful sometimes. They are always seeking your attention, and they would even run around the living room, or worse, hurt themselves while doing so. Why not find an outdoor activity that can perfectly suit their taste and preference?
When water, splash, and jump all meet together, then your kids are surely in for the game. Thus, having the ACTION AIR Inflatable Shark Water Slide can come in real handy on your lawn. This is a high-quality inflatable pool that comes with two slides (right and left) and a wall climber in the middle. If you have toddlers with the age of 3 to 10 years old, then this is the best outdoor game for them. It can hold up to four children totaling 200 pounds at maximum.
Action Air Store is the responsible manufacturer of this inflatable pool. They made sure that the commercial-grade sewing standards are met and have complied with the manufacturing laws and safety standards too.
The materials used for this water slide are extra thickness of PVC tarpaulin. It also includes a splashing water gun. It will only take you about two to three minutes to inflate and deflate this water slide with the help of the powerful blower.
Kiddos, don't let the shark bite you!… Reviewers say it's fun without the water, too!
---
Additional Fun Stuff to Check Out: