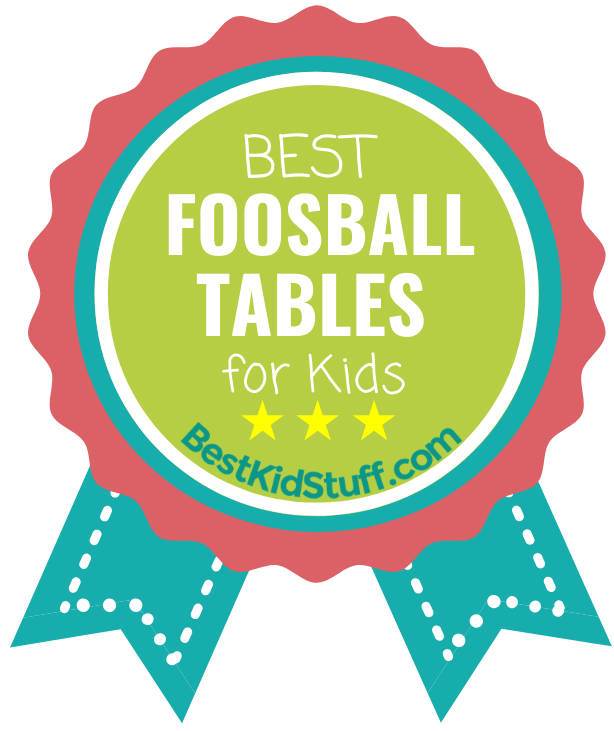 Playtime is fun… and develops motor skills!
Children between the ages of 3 and 7 years old love playing with their siblings, parents, and peers! Playtime isn't just about having fun with others but also about learning new skills, strengthening old skills, and establishing relationships with others. Indeed, it isn't about the expensive toys but the quality time spent together.
Tabletop models are really affordable…
And speaking of affordable toys, we recommend getting a table football set for your children! You will spend less than $50 on it, yet your children will have hours upon hours of fun playing with it. You're getting great value for your money while your children will have a great time – it's a win-win purchase.
How to play…
Table football, also called foosball in North America, is a no-contact game but a tabletop game. As its name implies, the game's appearance, structure, and rules are loosely based on soccer or football. The foosball table has several rods with small figures, which represent the players attached to them. The rods can be manipulated up and down or pushed and pulled to simulate the "players" kicking the ball.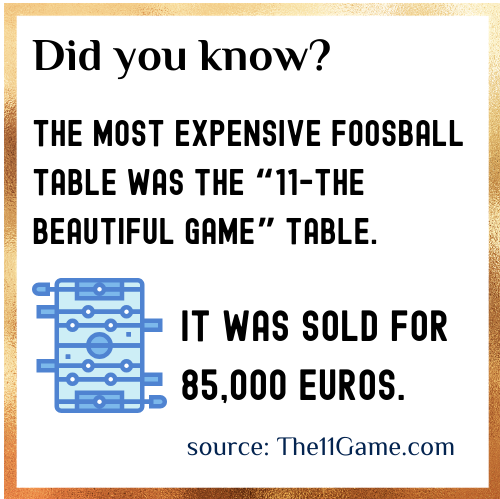 While the rules vary between countries, the common goal is to move a small ball into the opponent's goal. The winner is the person or team that first achieves a predetermined number of goals.
Kids and adults can enjoy foosball…
Keep in mind that the foosball tables reviewed here are best for small hands, although adults can also enjoy them. These are significantly smaller than the adult-sized foosball tables in arcades, game rooms, and college dorms.
But don't dismiss them just because of their size either! Younger children will enjoy playing foosball on these tables. You, the parent, will love that your children are learning new skills and values while playing foosball, too. You and your children will even agree that it's a great way to spend quality time together without the distraction of gadgets and the Internet.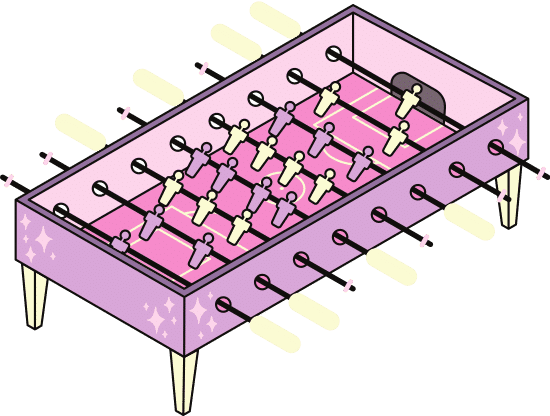 The benefits that your children will get from playing foosball include:
Improve their hand-eye coordination, a motor skill that will serve them well in everyday activities,
Establish a sense of camaraderie, teamwork, and fair play, as well as sportsmanship,
Provide them with the opportunity to engage in friendly competition with their siblings and friends,
Give them a sense of pride over their achievements,
Enhance their sense of compassion for their competitors.
With these physical and mental benefits, it's high time that you buy one or two of these foosball tables! We will leave the choice in your hands, of course.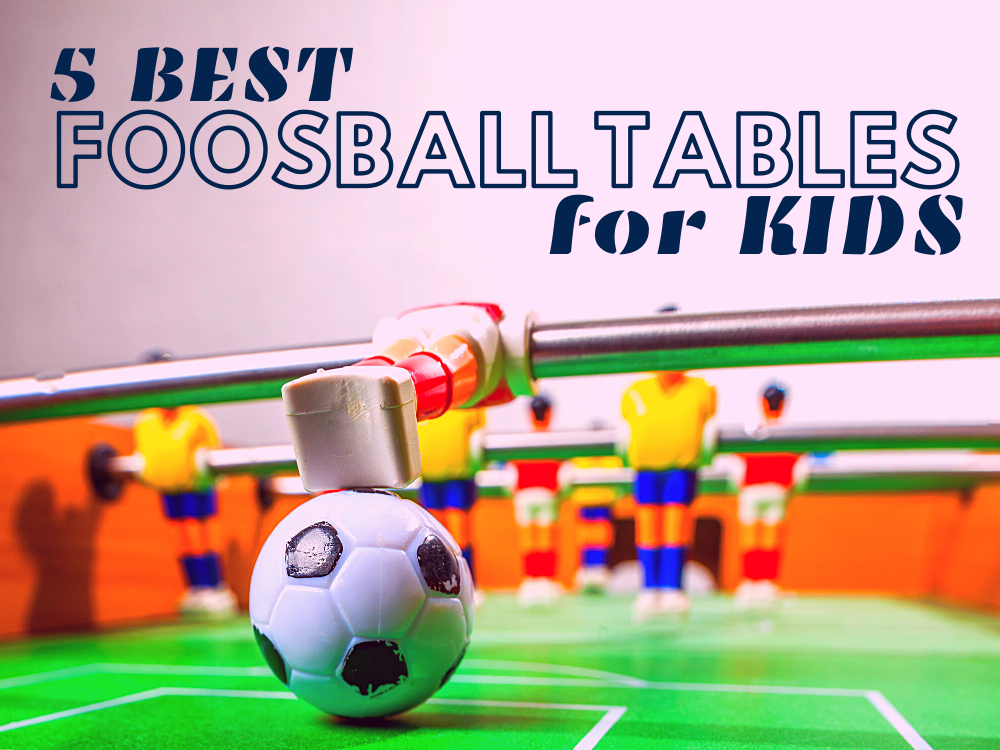 1. Giantex 27″ Foosball Table
If you're looking for a portable foosball table, you will love this Giantex 27″ Foosball table set because of its compact size and lightweight. It can be set up at the dinner table, a camping table, or even a coffee table, thanks to its 27″ x 15″ x 9″ dimensions. It's a game that can be played indoors and outdoors, in your home, or during a camping trip.
Did we mention that it's lightweight? Even your children can carry it without your assistance. It's easy to assemble, too, since the instructions are clearly stated, and it has an intuitive design.
Note: We suggest an adult assemble the table first for fast and easy assembly. There may also be choking hazards in the set.
There's no need to make a separate purchase of accessories, too, since everything is already included in the package. The set includes the foosball table, six steel rods, 18 players/figures, two balls, and plastic slide scorers on each end. Once it's assembled, it's ready for playing!
Despite its compact size, it's sturdy and stable when assembled correctly. Both kids and adults can play with it well without worrying about the rods falling apart with vigorous movements.
We love its attention to detail, too! Everything on it stays true to the classic foosball game, from the square-shaped figures and ball to the rod bars and green field. You and your kids will feel like you're playing on a full-sized foosball table, even feel like you're on a miniature football field.
Playing with the set is also a comfortable experience, thanks to the comfortable grips on the rod bars. Your hands won't slip and slide even as you maneuver the rod bars and, thus, the players. You will love it, too, that the court is made of a smooth material that makes the ball slide easily and into the goals.
Getting the ball is easy, too, since there are an internal goal and ball collector features.
Lightweight and portable, this Foosball Table Game by Giantex is for the whole family!
2. CHH 20″ Mini Foosball Tabletop Set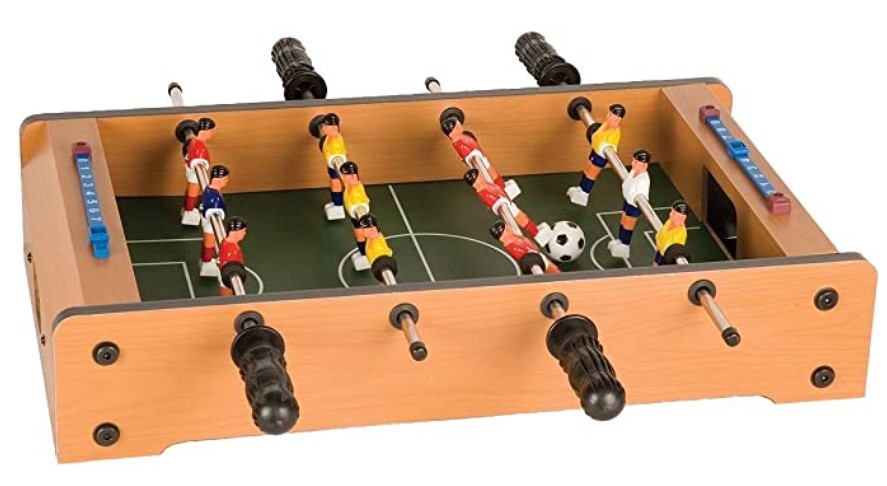 Adult-sized foosball tables typically have four rods for each player since adults have more developed hand-eye coordination and enjoy a faster-paced game. But younger children aren't up to the demands of handling four bars at a time! In comes the CHH 20″ mini-foosball table with just two bars.
Each player then manipulates just two rods, an easier configuration for smaller hands with slower hand-eye coordination than adults. But kids still enjoy the two-bar approach because they can focus more on turning them than changing from one bar to the next. Let's just say that the two-bar design provides enough physical and mental challenges for kids.
Take note that it doesn't come pre-assembled. But there's little assembly to be done anyway, and the required tools are already included in the package.
Once assembled, this mini foosball tabletop set can be placed on a flat surface, such as a table or on the floor. There's no need to bolt it down in place since it's sturdy and stable enough for little hands. We suggest, however, placing it on a non-slip surface, so it doesn't slip and slide easily during play.
The wood grain finish is simple yet attractive, thick and sturdy, and easy to maintain. You can wipe it down with a damp cloth to remove slight stains and oils from the little ones' hands.
Each team has six players, which have appealing details like eyes, nose, and mouth. There are two teams – a red team and a yellow team – just as it is in real-life football.
This foosball table may be small, but it has most of the features of a full-sized foosball table! There are scoring sliders (0-9) on each side so kids can easily keep track of the scores.
If your kids don't know how to count yet, they can keep track of just sliding the scale. In time, they will be able to know the numbers and count, a bonus point for playing mini-foosball.
Two balls come with the game. The green playing surface is smooth enough to allow the ball to slide easily and, thus, allow the players to make a goal.
Don't wait… This is a perfect Foosball set for little hands!
3. Real Wood Toys Neon Table Top Foosball for Kids and Adults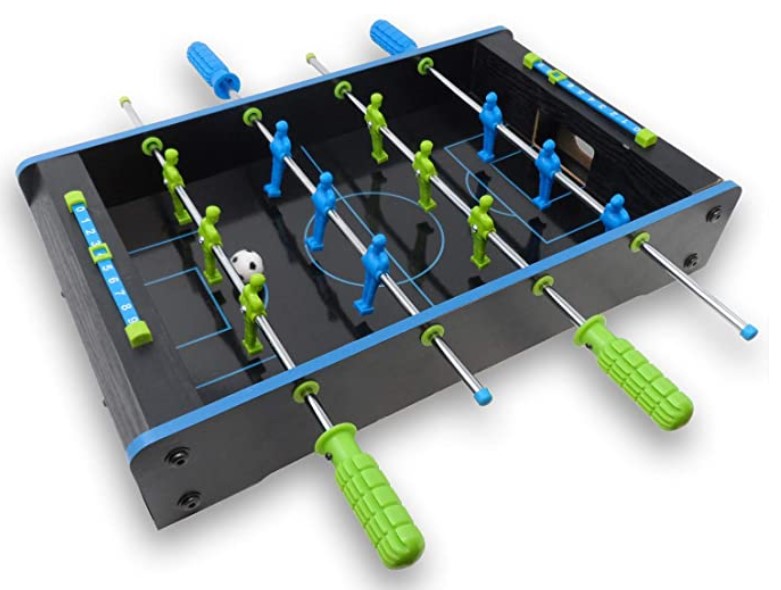 Most mini-foosball tables are in light colors with a green field, a combination that works excellently among kids. But if you're looking for something more striking for your kids, you should consider this Neon Table Top Foosball for Kids and Adults. Its black background and neon figures certainly stand out in a sea of primary colors in your kids' playroom!
Your kids may even play with it more often, even at night, because of their attraction to glow-in-the-dark objects. Of course, the figures aren't glow-in-the-dark, but they seem so. The green and blue neon colors are a departure from the usual non-neon colors used in most foosball tables.
The black wood grain finish is also a bonus for parents! It's easier to hide stains, oils, and dirt on a black background than on a light one, and it will require less cleaning.
With its compact measurements (20.1″x12.4″x3.9), it offers the best of both worlds, too! It's light and compact enough to carry and set up anywhere, such as in your home, recreational vehicle, and picnic table. But it's large enough for younger kids to feel like they're playing on a full-sized foosball table.
Players should ideally be six years old and above. The soccer balls can be choking hazards for toddlers, and they won't understand the game yet at their age anyway.
Adults can also play with it and not worry about it falling apart under their hands. This means that you and your kids can alternate playing with it, a great way to spend quality time without the distractions of technology.
There is also two green-and-blue sliding scorekeeper (0-9) on both ends. It slides easily, too, just as the ball slides smoothly on the black playing surface. The package comes with two soccer balls, although only one ball is needed for each play.
There's no hole in which a ball goes in when a goal is made. But it makes it easier for small hands to retrieve and reposition the ball afterward.
Appealing to the eye, and fun for the whole family… Let the Neon Table Top Foosball for Kids and Adults be the centerpiece of your game room!
4. Franklin Sports 20″ Table Games – Table Top Mini Game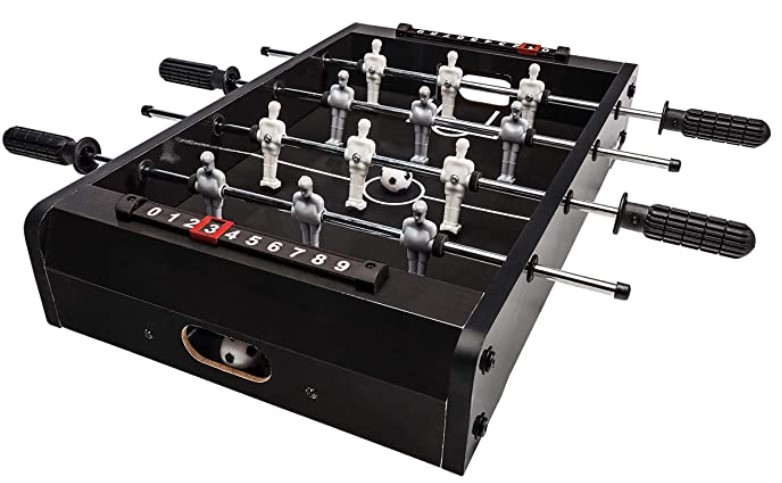 Yet another family-friendly mini-foosball table is this Franklin Sports set. Like the Real Wood table, it comes in darker colors than typically seen in kids' toys. But if your older children like darker colors, then they will probably like it.
In keeping with its color scheme, the playing field is in black with white lines. The figures are grouped into two teams – a white team and a gray team – and each figure is quite detailed. Your children should play with foosball in a well-lit room to appreciate the black-and-white contrast and see the game well.
Even the sliding scorekeepers on opposite sides are in a black-and-white scheme. But the monotony is broken by a red slider.
Don't be misled by its compact size, too! The steel player rods and plastic base are sturdy enough actually to withstand aggressive play from children and adults.
The grips feel comfortable in the hands, and the rods turn smoothly with every movement. Your children will have tons of fun playing with it because of these features. You won't even hear them complain about the grips making their hands sore!
But it doesn't come pre-assembled, too. We have to say, however, that it should take only 15 minutes from unboxing to setup. There are clear instructions and handy tools in the package, and the parts are designed intuitively.
Plus, it's also compact enough to carry everywhere and store in a storage closet along with other family games. Bring it along when traveling so you and your kids will have something to pass the time. It's undoubtedly a better entertainment option than playing video games.
For the more sophisticated game room, the black and white design of the Franklin Sports set is perfect!
5. Ideal Premier Foosball Kids Tabletop Game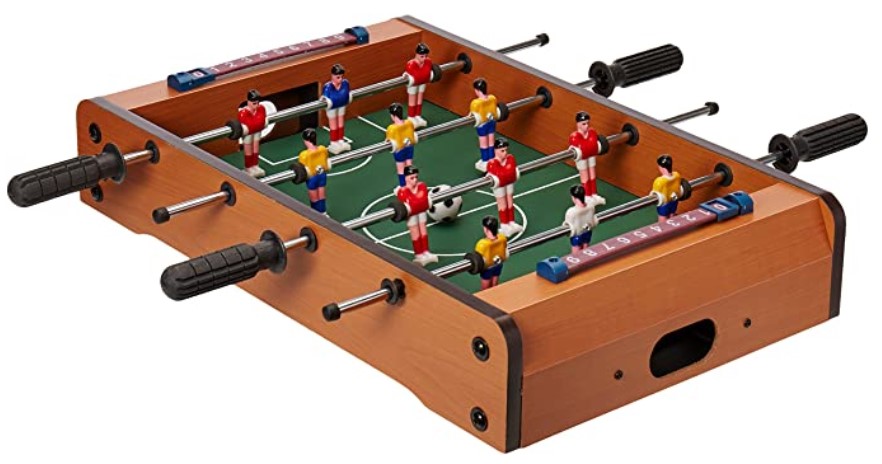 We want to emphasize first that the Ideal Premier mini-foosball table is only suitable for kids five years old and above. This is because it has small parts that can become choking hazards for children under three years old. Even the ball can become lodged in a child's throat!
This is truly a child's tabletop game, from its bright primary colors to its comfortable grips. It's also small enough for children to carry around, such as from their bedroom to the living room, yet sturdy enough for vigorous play. It has a thick material for the sides and playing surface that will withstand years of play.
The green playing surface is made of a smooth material that allows the ball to slide easily from one side to the next. The "goal post" allows for shooting the ball into it and allowing its easy removal from the other side, too. Even little hands should have no problem retrieving it for the next play.
Your children will find it both easy and challenging to play. Easy because of its responsive rods and two-bar design, challenging because it puts their hands and eyes to work while also encouraging fair play.
Order it today! Get it fast with 2-day FREE SHIPPING through Amazon Prime!!!
Which of these five mini-foosball tables is the best? We think that every one of these tables has its merits, so we recommend all of them. But as previously mentioned, you have to choose based on your unique needs and wants in a tabletop game.
---
More Fun Stuff: